Maiden 'Cashless Expo' set to gather proponents of digital transactions
November 13, 2023 | 12:00am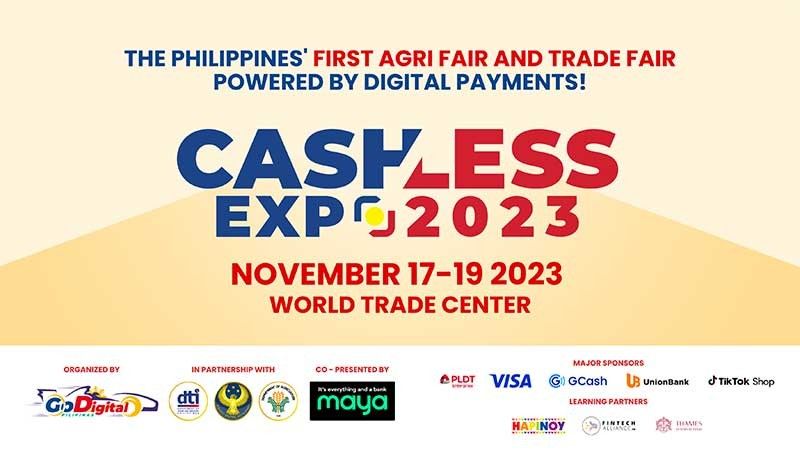 MANILA, Philippines – GoDigital Pilipinas is set to mount the first-ever "Cashless Expo 2023" from November 17-19 at the World Trade Center in Pasay City in line with its mission to build "a highly digitalized Philippines".
"The organizers and stakeholders from both the public and private sectors are joining together in order to create awareness and boost the Filipino consumer's confidence in exploring the world of digital transactions and understanding its countless advantages," said Executive Director Mishy Co. "Thus, we see the event as a celebration in digital progress and innovation."
The three-day expo is supported by the Department of Trade and Industry (DTI), Department of Agriculture (DA), and the Bangko Sentral ng Pilipinas (BSP).
The event is expected to draw hundreds of exhibitors who support the so-called "cashless" movement, including farmers and SMEs.
It will also showcase a "one-stop bazaar" where shoppers can experience the best of the Philippines from all regions at affordable prices.
Exhibitors will only accept digital payment methods such as cash transfers via digital banks, e-wallets, and debit/credit cards in the hopes of encouraging more consumers and merchants to feel at ease and secure in shifting to digital payment transactions.
"In fact, two of the leading fintech companies, Maya and GCash, are uniting in this event to support our mission," says Co.
The event is also co-sponsored by PLDT, Visa, Unionbank, Tiktok, Lazada, Zalora, McDonald's, UnionDigital Bank, RCBC, Grab and Foodpanda.
Attendees will also be treated to an array of engaging talks and insightful learning sessions curated by the stakeholders from both public and private sectors.
"Cashless Expo 2023 aims to provide visitors an immersive and transformative journey. We conceptualized the event as a sort of 'platform' for consumers to experience firsthand the ease and advantage of doing digital transactions and for the market to develop a profound appreciation for going "cashless," said Co.
"We are all united in these key messaging pillars: 1. Digital transformation is the key to propelling economic growth and prosperity; 2. Digital transactions are both convenient and secure; and 3. Switching to digital payments reduces the cost associated with producing and managing physical currency, thereby fostering financial stability and sustainability."
Register for free by visiting https://www.cashlessexpo.ph/ or follow GoDigital Pilipinas on social media to get the latest updates.