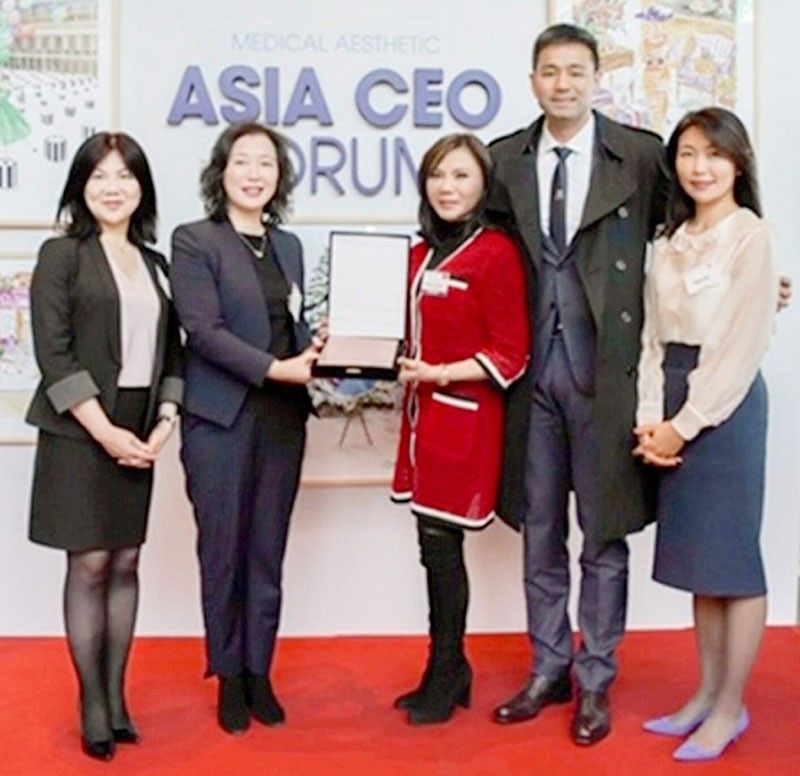 (From left) Allergan Medical Institute (AMI) Asia sub-region director Maggie Liu, Al- lergan country manager-Singapore, Malaysia and Philippines Lainey Lei, Belo Medi- cal Group founder and medical director Dr. Vicki Belo, Dr. Hayden Kho and AMI vice president Asia sub-region Angie Kim during the awarding for Belo Medical Group as the number one user of botox and fillers and the number one aesthetic clinic in the Philippines
Belo: At the top of her game
The inspiring and beautiful Belo?Medical Group CEO and founder Dr.? Vicki Belo flew to South Korea for the Asia Medical Aesthetic CEO Forum?organized by Allergan, the distributor?of botox and fillers brand Juvederm.?Attended by the top 20 users in the Asia?Region, the forum featured lectures on?the latest trends in toxins and fillers as?well as insights on business and collaboration. Belo Medical Group was the?only aesthetic center in the Philippine/ Singaporean/Malaysian region that?made it to the elite group and was recognized as one of the Centers of Excellence in Asia. The clinic was also awarded the number one user of botox and fillers and the number one aesthetic clinic in the Philippines. For almost three decades, Dr. Vicki has truly paved the way for the growth of the aesthetic industry in the Philippines and has given the community international recognition. Congratulations dear Vicki for these prestigious citations!
A view from the top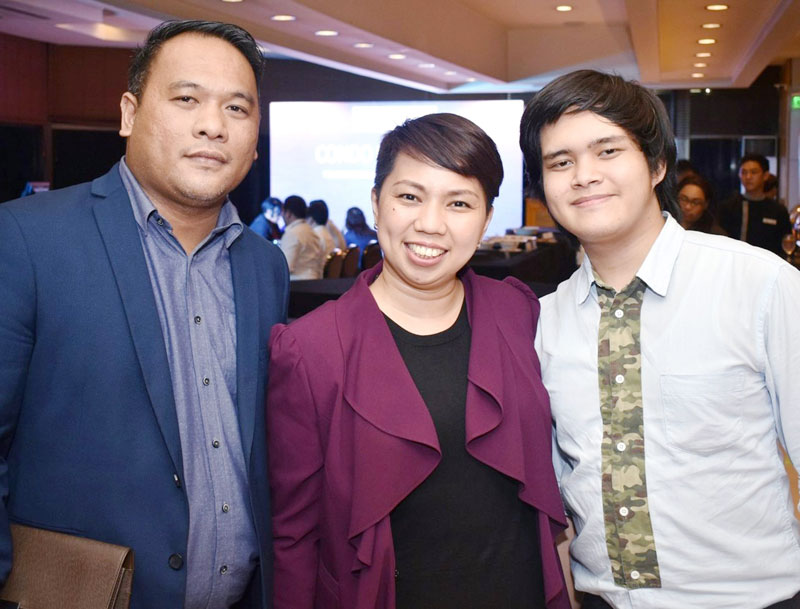 Robinsons Communities sales director Randy Mestiola, associate marketing director Kristynne Tan and senior marketing associate Ian Igoy.
Robinsons Land Corp. (RLC), through one of its residential brands Robinsons Communities, hosted a one-of-a-kind property preview to showcase its most recent proj- ects. During the event, a photo gallery featuring Robinsons Communities developments from interesting and unique angles was unveiled, giving guests a distinctive perspective of condominium living that inspires and promotes imagination. Also launched during the event was a photo contest for Robinsons Communities unit owners, tenants and potential buyers, which encouraged aspiring photographers and art enthusiasts to express their cre- ativity, the winners of which were showcased in selected Robinsons malls. Congratulations to Robinsons Land Corporation for its continued success! To stay updated on Robinsons Communities developments, visit https://www.robinsonscommunities.com/ or like them on Facebook https://www.facebook.com/RobinsonsCommunitiesPH/.