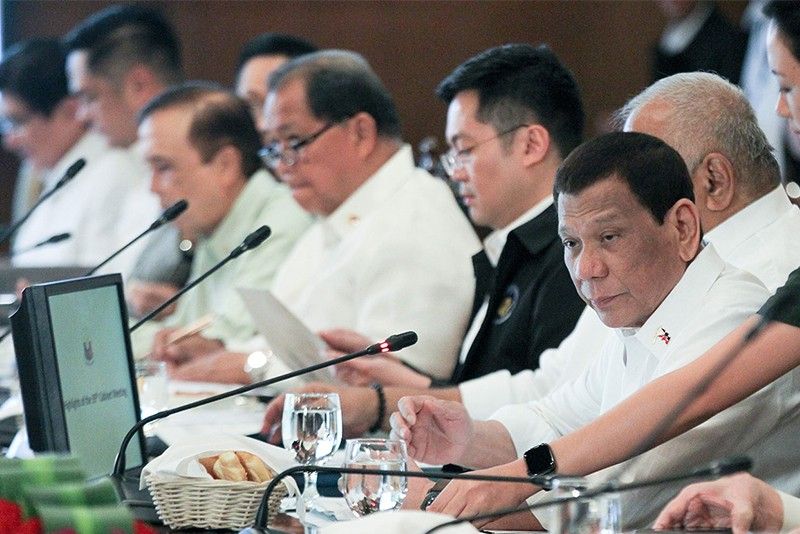 President Rodrigo Duterte presides over the 40th Cabinet Meeting at the Malacañan Palace on August 5, 2019.
ACE MORANDANTE/PRESIDENTIAL PHOTO
Duterte okays proposed P4.1-T national budget for 2020
MANILA, Philippines — Malacañang on Tuesday announced President Rodrigo Duterte has approved the proposed P4.1-trillion national budget for 2020, with lawmakers hoping for the timely passage of the new outlay.
In a statement, presidential spokesman Salvador Panelo said Duterte approved the spending plan during a Cabinet meeting Monday.
"We assure everyone that our people's money, with education receiving the biggest slice of the budget, followed by public works, transportation, and health, will be spent wisely," Panelo said.
The proposed budget for next year is 9.1% or P343 billion higher than the 2019 appropriations of P3.757 trillion.
Last April, then Budget Acting Secretary Janet Abuel said the 2020 expenditure plan would still be cash-based to ensure the faster implementation of project and delivery of services.
A cash-based system seeks to force agencies to finish projects on time by allocating funds only for projects that can be procured within the fiscal year, as opposed to the former "obligation-based" scheme that had provided for a two-year time frame.
Both chambers of Congress reportedly vowed to approve the 2020 budget in time to prevent a repeat of the four-month delay in the passage of the 2019 outlay that sapped economic growth to a four-year low in the first quarter.
The government will release the second quarter gross domestic product data on Thursday, with some analysts expecting the impact of the reenacted 2019 budget to carry over in the April-June period.