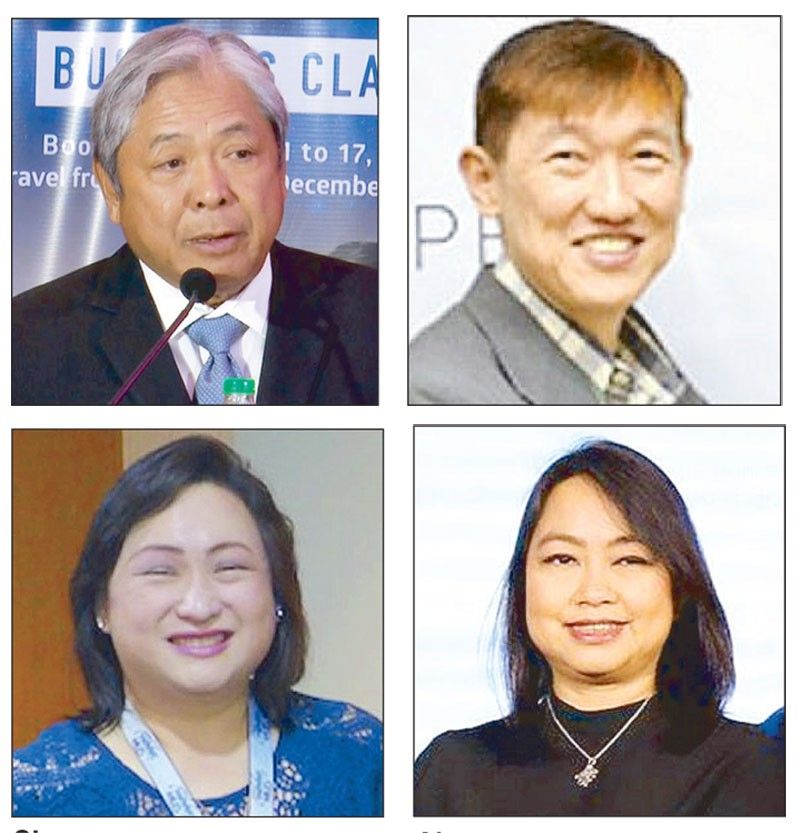 Jaime Bautista, Kevin Hartigan-Go, (bottom left) PAL assistant vice president Babyruth Chuaunsu and PAL chief customer experience officer Jessica Abaya
File
MANILA, Philippines — Lucio Tan-owned Philippine Airlines is in the midst of a major shake-up, from the cockpit all the way to the rest of the cabin, so to speak.
PAL president and COO Jaime Bautista is retiring, a move that comes after major changes have taken place in the flag carrier over the last three weeks.
Vivienne Tan, the daughter of the taipan, has been named PAL officer-in-charge and concurrent executive vice president, treasurer and chief administration officer.
The STAR earlier reported that Vivienne is taking on a more active role in the empire of her father.
Over the past several weeks, a number of key ranking executives of PAL have left – either of their own volition or otherwise, sources told The STAR.
They include Stewart Lim, the executive vice president, treasurer and chief administrative officer of Philippine Airlines since 2014. Lim was also treasurer of PAL from 1994 to 2014.
Vivienne replaced Lim as executive vice president, treasurer and chief administration officer and has since been instituting key reforms in the company.
She was also named treasurer and director of PAL Holdings, the listed parent firm of PAL.
Other senior executives who have left PAL are PAL vice president for Ancillary Business Unit Kevin Hartigan-Go, PAL assistant vice president Babyruth Chuaunsu, and PAL chief customer experience officer Jessica Abaya.
These sweeping changes come on the heels of Vivienne's entry in PAL.
Bautista, or JJB as he is known in the group, leaves the flag carrier after serving PAL as its president and COO for 13 years (from 2004 to 2012) and (2012 to 2019).
He left in 2012 after diversified conglomerate San MIguel Corp. acquired PAL that year, only to be asked to serve again by no less than the taipan himself in 2014 when Tan regained ownership of the flag carrier.
Prior to being appointed president of PAL in 2004, Bautista started as the head of the company's accounting division in 1993. It was one year after the taipan invested in then state-owned flag carrier.
Bautista became chief finance officer two years later.
Through the years, Bautista has successfully steered PAL through turbulent skies, enabling the flag carrier to hurdle challenging periods in its history -- from labor strike of pilots and employees to financial problems.
With Bautista at its helm, PAL became the country's first four-star airline after bagging the prestigious rating only last February.
Bautista is an accountant by training, but he is no ordinary accountant. At the young age of 20, he was accepted at the prestigious Sycip Gorres Velayo & Co. and was mentored by renowned auditor Washington Sycip.
In Toulouse, France last year, when PAL accepted delivery of its new A350 aircraft, Bautista told The STAR that PAL is in a better position compared to when Lucio Tan acquired it in 1992, having journeyed from government hands to the private sector and withstanding all the challenges that came its way.
He said that when the company decided to spin off its catering, ground handling and call-center reservation units, it faced a lot of labor issues, but the moves were necessary for PAL to become more efficient.
"When I joined PAL in 1993, we had 14,000 employees with only around 40 airplanes. Now, we have around 86 airplanes, almost 90 and with 8,000 employees so we are able to concentrate on our core business which is flying passengers safely and comfortably," he said.
Vivienne Tan for her part said: "On behalf of my father, I am asking all of you to continue working toward our goals. I am personally committed to working with all of you hand in hand and build on what we have already accomplished."
She recently led the signing of a landmark five year collective bargaining agreement between PAL management and employees.