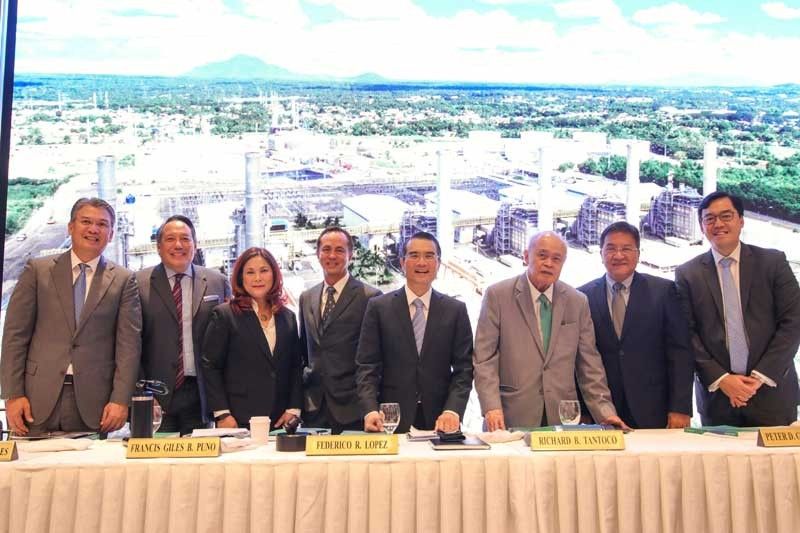 FIRST GEN RE-ELECTS BOARD: Federico Lopez (fifth from left), chairman and CEO of First Gen Corp., the country's leading renewable energy firm, joins other members of the company's board after stockholders re-elected them during their annual stockholders' meeting yesterday. Also in photo are directors (from left) Francis Giles Puno, concurrent company president and COO; Jaime Ayala, Alicia Rita Morales, Eugenio Lopez III, Peter Garrucho Jr., Cielito Habito and Richard Tantoco. Also re-elected was Oscar Lopez (not in photo), the patriarch of the Lopez Group of Companies.
First Gen nears EPC deal for planned LNG project
MANILA, Philippines — First Gen Corp. expects to finalize a deal with its engineering, procurement and construction (EPC) contractors and additional partners for its planned $1-billion liquefied natural gas (LNG) terminal "in the next few months."
The EPC contract for the LNG terminal is a toss up between two international firms, Texas-based Fluor Corp. and JGC Corp. of Japan, said First Gen executive vice president and chief commercial officer Jon Russell.
"Front-end engineering design (FEED) is already finished…We're just finalizing the terms. We hope to make the decision in the next couple of months," he said.
At the same time, First Gen is also in talks with several foreign and local potential investors as it eyes more partners for the massive project.
The project is currently being jointly pursued by First Gen with Tokyo Gas Co. Ltd., Japan's largest natural gas utility.
"We're in discussions with a number of entities…within the next few months, we may have an announcement," Russell said.
"Hopefully leading to a final investment decision (FID) either late this year or early this year. That still allows us to meet the deadline to have the terminal ready by 2024 when the Malampaya contract expires," he said.
Construction of an LNG terminal usually takes four years to complete.
Even without the FID, First Gen and Tokyo Gas will proceed with the groundbreaking of the LNG facility on May 28, First Gen president and chief operating officer Giles Puno said.
"The way it works is we anticipate that we will bring in more partners. In the meantime, between ourselves and Tokyo Gas, we want to proceed already so the formal FID will have a complete group of owners," he said.
FGEN LNG Corp., a subsidiary of First Gen, signed a joint development agreement (JDA) with Tokyo Gas in December last year to build the project.
Currently, First Gen owns 80 percent of the project while Tokyo Gas owns the remaining 20 percent. The Lopez firm is willing to sell down its stake and retain a good majority in the project, Puno said.
"We don't intend to own the entire 80 percent, we can go down to 50 or 51 percent," he said.
In terms of capital expenditure, bulk of the project's spending will be made next year although initial ground work has already been prepared.
For this year, First Gen is spending up to $250 million this year, mostly going to its renewable energy arm Energy Development Corp., its chief financial officer Emmanuel Singson said.
The FGEN Batangas LNG terminal project is intended to serve the natural gas requirements of existing and future gas-fired power plants of third parties and FGEN LNG affiliates within the Batangas Clean Energy Complex.
The onshore storage and regasification terminal will have a capacity to supply three to five million tons of natural gas equivalent to 5,000 megawatts (MW) and is expected to cost more than $1 billion.
The Batangas Clean Energy Complex also houses approximately 2,000 MW composed of four gas-fired power plants – the 1,000 MW Santa Rita Power Plant, the 500 MW San Lorenzo Power Plant, the 414 MW San Gabriel Power Plant and the 97 MW Avion Power Plant.