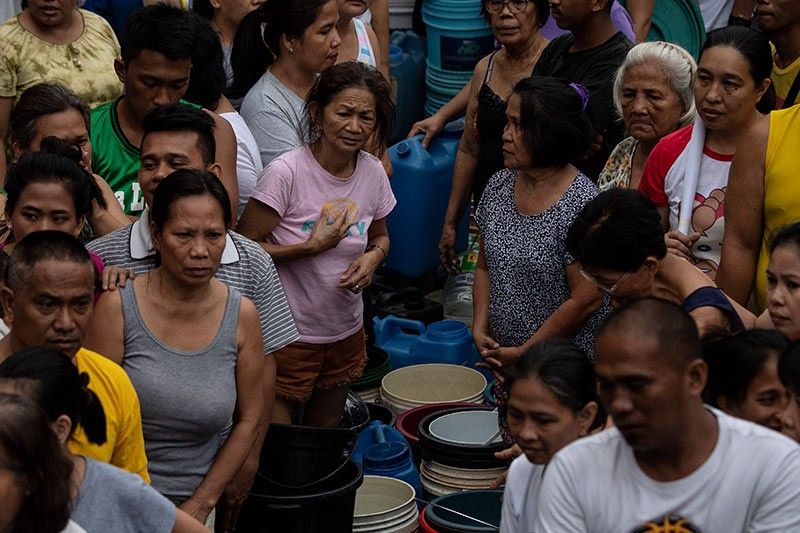 Residents of Addition Hills in Mandaluyong City, Manila, queue to receive water distributed on water tank truck and fire trucks on March 15, 2019. Manila has been hit by its worst water shortage in years, leaving bucket-bearing families to wait hours for a fill up from tanker trucks and some hospitals to turn away less urgent cases.
Noel Celis/AFP
Zobel de Ayala brothers 'take responsibility' for Manila water crisis, ask for patience
(Philstar.com) - March 27, 2019 - 4:50pm
MANILA, Philippines — Brothers Jaime Augusto and Fernando Zobel de Ayala on Wednesday accepted blame for the water supply shortage that hit customers of Manila Water Co. Inc., the utility owned by Ayala Corp.
In a statement, the Zobel de Ayalas said they continue to appeal for everyone's patience "as our teams at Manila Water are working hard and overtime to immediately and comprehensively remedy the situation."
"These past weeks have been difficult for many of us with the current water shortage situation. A multitude of factors resulted in this lack of supply, and we take responsibility for our own shortcomings in the company," the duo said.
"We recognize and understand the difficulties that all our customers are going through," they added.
Manila has been hit by its worst water shortage in years at the onset of summer, affecting homes of about half of the Philippine capital's roughly 12 million people.
The government has admitted that it has long anticipated the problem of increasing demand for water but it failed to address it due to delays in projects that would expand capacity.
Customers of Manila Water in the East Zone concession area will not have to pay the minimum or basic charge for March because of service interruptions this month, the concessionaire announced Tuesday.
Manila Water also announced that those living in severely-affected areas will have their whole March consumption waived. — Ian Nicolas Cigaral