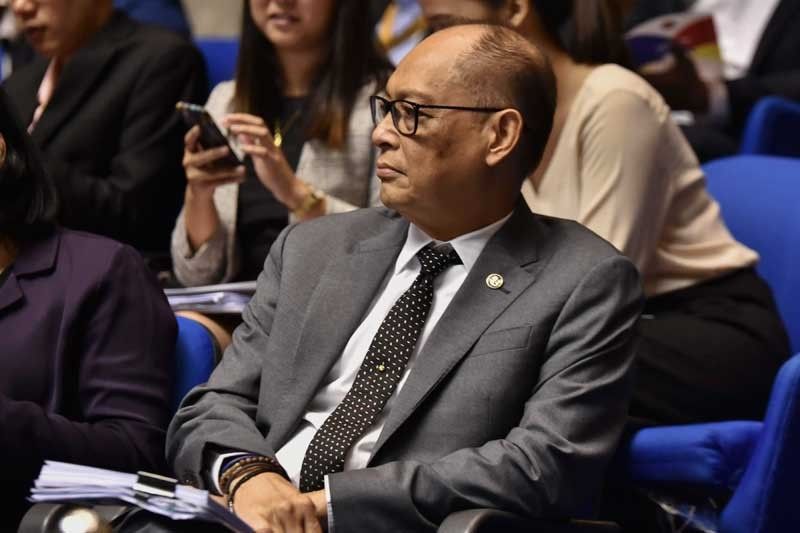 President Rodrigo Duterte took everyone by surprise when he appointed his budget secretary, Benjamin Diokno, as governor of the Bangko Sentral ng Pilipinas.
The STAR/Boy Santos
All eyes on Benjamin Diokno as he takes the helm of Bangko Sentral
MANILA, Philippines (Update 2, 5:02 p.m.) — President Rodrigo Duterte took everyone by surprise when he appointed his budget secretary, Benjamin Diokno, as governor of the Bangko Sentral ng Pilipinas.
Diokno, 70, replaces the late Nestor Espenilla Jr. who passed away last February 23 after battling tongue cancer.
Central bank watchers had expected an insider or someone from the banking community to succeed Espenilla. Known for his expansionary fiscal policy stance as budget chief, all eyes are now on how Diokno will face a tough balancing act of reining in soaring prices without hurting the economy amid a softer global outlook.
"Mr. Diokno's relaxed attitude to fiscal deficits as budget secretary suggests he will be dovish as governor. We have been expecting a rate cut at BSP's meeting in May for a while, and this news makes that more likely," London-based Capital Economics said.
READ: Diokno appointed as new Bangko Sentral chief
Under Espenilla's watch, the BSP hiked its policy rate by a cumulative 175 basis points to 4.75 percent last year after inflation hit a near-decade high in September and October. Soaring prices have eased since then, with headline inflation decelerating to 3.8 percent in February, the first time in a year since the monthly rate fell within the central bank's 2-4 percent target range.
The late central bank chief was also vocal about his goal of gradually reducing bank reserves to single-digit level. He likewise spearheaded the digitalization of the retail payment system in the country for a more inclusive and efficient financial system.
"I was surprised that an outsider has been chosen. It will definitely have some adjustment time compared to someone who is already used to the workings of the BSP on a daily basis," said Ruben Carlo Asuncion, chief economist at the Union Bank of the Philippines.
"An outsider will almost always have to learn the ropes first, as they say. However, this may also be positive with someone coming in with different inputs and ways of doing things," Asuncion added. "As Diokno takes the helm of the BSP, I think the markets would want to hear continuity — continuity to the next level."
A BSP governor also sits as chairman of the Monetary Board, heads the financial intelligence unit Anti-Money Laundering Council and occupies ex-officio seats in various national government agencies and state-run corporations.
Pro-growth bias
Diokno has been part of Duterte's economic team tasked with supercharging growth to 7-8 percent by heightened state spending and delivering on a massive infrastructure program.
HSBC Global Research economist Noelan Arbis — who expects a 100-basis point cut in banks' reserve requirement ratio in the second quarter — said the appointment of the new BSP governor "is likely to signal more pro-growth measures."
"Gov. Diokno has already noted that the BSP's monetary policies must be 'in sync' with fiscal policy, in addition to its considerations for inflation and financial stability," Arbis said. "Given the Duterte administration's expansionary fiscal policy stance, this signals a bias for more monetary accommodation from the new governor. This is not entirely unexpected."
READ: Diokno slams Andaya over 'illusory' allegations
Diokno will complete Espenilla's six-year term, which several bankers had expected to be finished by any of the three central bank deputy governors. On Tuesday, BSP Deputy Governor Diwa Guinigundo struck a cautious tone in tackling "policy issues," saying in a statement that it is still "premature" to talk about cuts to bank reserves and interest rates despite the slower inflation recorded last month.
For Jonathan Ravelas, chief market strategist at BDO Unibank Inc., Diokno's stint at the Budget department "highlights his commitment to keep fiscal discipline which will be the balancing force to support government but maintain independence."
Politicization of BSP?
Diokno assumes the position of central bank chief at a time members of the House of Representatives accuse him of several budget anomalies, which he strongly denied.
A House panel led by Rep. Rolando Andaya Jr. (Camarines Sur) has conducted an investigation into supposed irregularities in the budget department, including the supposed "insertion" of P75 billion in the proposed 2019 budget of the Department of Public Works and Highways without the agency's knowledge.
Andaya also claimed that Diokno's relatives received favors for government projects.
"Well, Diokno is technically competent and an excellent professional," University of Asia and the Pacific economist Cid Terosa said. "He's a good choice but the market may perceive him as politically tainted by allegations of corruption by the opposition."
READ: Diokno skips House probe into 2019 budget despite subpoena
Under the 1987 Constitution, congressional confirmation of Diokno's appointment is up to the powerful Commission on Appointments. At a press conference Tuesday, presidential spokesman Salvador Panelo said Malacañang is optimistic that allegations against Diokno won't impede his CA nod.
Meanwhile, Capital Economics said Diokno's appointment as central bank governor "raises questions about the politicisation of the BSP."
"While Diokno himself is not seen as politically aligned – he is a technocrat with a long history as a civil servant under several administrations at the Department of Budget and Management – his appointment is being seen as a move to free up the position of Budget Secretary for a Duterte ally," the London-based think tank said.
"There is a risk that markets ultimately become less confident in the BSP's independence and willingness to tackle inflation and financial risks," it added.
"It is still too early to say whether Governor Diokno will be able to maintain the BSP's credibility as a well-run and independent central bank. But the news does add to the catalogue of evidence that Duterte is willing to break norms and politicise political institutions."