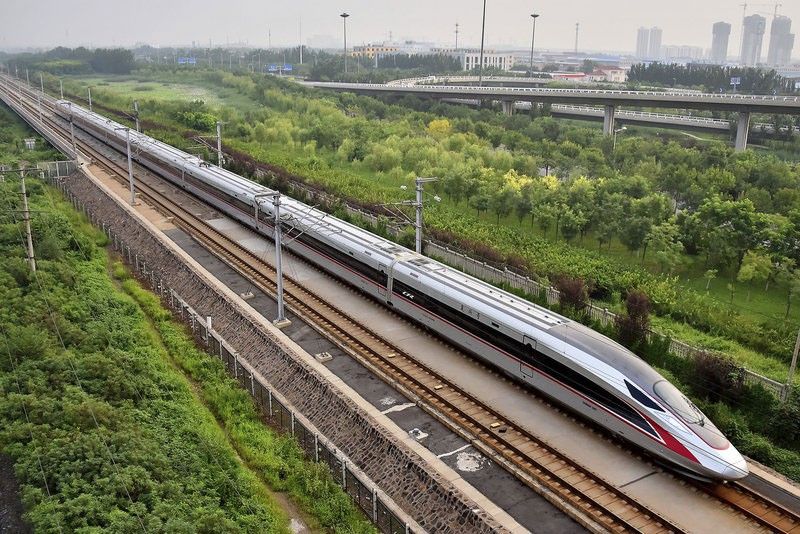 In a press conference, CCECC president Zhao Dianlong said the Chinese company has been in the Philippines for several years but continues to look at various opportunities.
Yang Baosen/AP
State-owned China railway firm eyes more deals in the Philippines
BEIJING – State-owned China Civil Engineering Construction Corp. (CCECC) and parent firm China Railway Construction Corp. Ltd. (CRCC) are looking at other infrastructure projects under the Philippine government's Build Build Build program aside from the $3.7-billion subway project in Makati City.
In a press conference, CCECC president Zhao Dianlong said the Chinese company has been in the Philippines for several years but continues to look at various opportunities.
"We have been there (Philippines) many, many years and we have been discussing other projects such as railway lines, roads, and other housing projects," Zhao said.
He said CCECC is ready to face the challenges of the first subway project in the Philippines especially in the areas of terrorism prevention, labor laws as well as safety and other precautionary concerns.
"We are ready to face the challenges in the operation of subway line. We want to improve and boost the economy," Zhao said.
Makati City administrator Claro Certeza said the proposed Makati subway project would not be the last undertaking of CCECC and its parent firm in the Philippines.
"I would like to believe also that the Makati project is not the first and the last project that CCECC will undertake. Once completed, it will be a catalyst," Certeza said.
Certeza, who is also head of Makati City's public private partnership (PPP) committee, said he has received queries from administrators of neighboring cities about the planned subway.
"In other words, it will move other neighboring cities. In fact, other city administrators from neighboring cities have been talking with me and asking me about the subway," he said.
According to Certeza, both CCECC and CRCC are willing to partner with the city government of Makati despite being one of the biggest companies in China and the world.
"This only shows that it is not only the financial side that they are interested in, but also the overall development of the city. So there is a strong bond between the city government and CCECC," Certeza said.
Certeza said it is the vision of the city government of Makati, headed by Mayor Abby Binay, to make the city the first ever digital city in the Philippines.
"In our country we don't have a subway. So there are many fears, questions. It might flood, it might cause the buildings to vibrate and fall because the train will go under. All of these, I believe are fears that can be easily and competently answered now with this team in front of us," he said.
Zhu Xiaogang, vice president and professorate senior engineer at CCECC, said the company's construction projects in light railways and subway projects are mostly in Asia.
"We believe Asian countries are relatively more developed and ready for urban transit systems that we can develop. Makati is ready for it and Manila as well. We are very confident," Zhu said.
Philippine Infradev Holdings Inc. president and chief executive officer Antonio Tiu said the publicly-listed company has executed a binding memorandum of agreement (MOA) with CCECC last Wednesday.
"With the support of CRCC and CCECC, financially we do not see there is no more constraint to make this happen. With Makati's strong political support we are already 100 percent sure this is going to happen," Tiu said.
Under the agreement, CCECC has committed to invest between $300 million and $350 million into the company or its subsidiary in connection with the Makati City subway PPP project.
Last October, Makati's PPP Selection Committee gave the green light to IRC to proceed with the $3.7 billion subway project after the firm hurdled a 30-day competitive Swiss challenge.
The system can accommodate over 700,000 passengers per day would connect key points in Makati such as the current Central Business District along Ayala Ave. Makati City Hall, the Poblacion Heritage Site, the University of Makati, Ospital ng Makati and the other new business districts within the city via 10 air-conditioned, underground island stations.
The national government has committed to invest P8.4 trillion between 2017 and 2022 as part of its massive infrastructure build up.