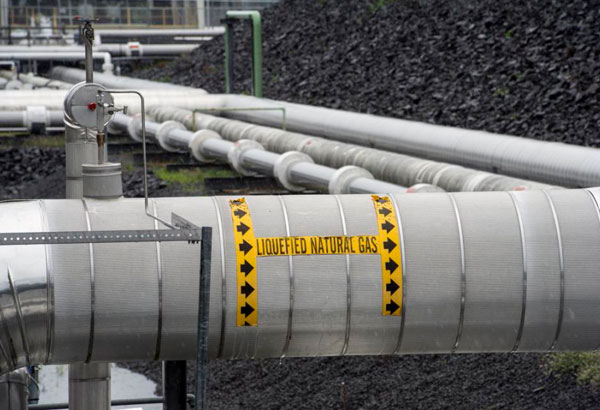 The Philippine government earlier announced its plan to build an LNG terminal estimated to cost P100 billion to replace the Malampaya natural gas reserves off Palawan province, which is expected to diminish by 2024. File photo
Philippines, Japan in talks to supply liquefied natural gas
(Philstar.com) - December 26, 2017 - 9:13am
MANILA, Philippines — The Philippine government is currently in talks with the Japanese government and investors to supply liquefied natural gas ahead of the depletion of the Southeast Asian nation's key local gas reserves.
"We are already talking to Japanese businesses and the Japanese government to set up LNG receiving stations," Finance Secretary Carlos Dominguez III said in a statement on Tuesday.
The Philippine government earlier announced its plan to build an LNG terminal estimated to cost P100 billion to replace the Malampaya natural gas reserves off Palawan province, which is expected to diminish by 2024.
The multi-billion peso LNG facility project will be built by the Department of Energy and state-owned Philippine National Oil Company.
READ: PNOC mulls bidding for $2-B LNG terminal
The Malampaya gas field supplies up to 50 percent of the energy requirements for Luzon, the country's largest island and home to the capital Manila.
According to Dominguez, the rehabilitation of the Agus-Pulangi hydroelectric power plants in Mindanao and the construction of an LNG facility to replace the Malampaya natural gas reserves will "spell the country's stable power supply."
"So those are the two big projects," he said.
The Finance chief added that the first stage of rehabilitation of Agus power plant will be included in the second basket of projects for possible financing by China through official development assistance.
"For the medium term, we are upgrading or rehabilitating the Agus power plants. They are operating at roughly 60 percent of their capacities right now. And we have sought financing — ODA financing — from China to implement the said power plants in Mindanao," Dominguez said.