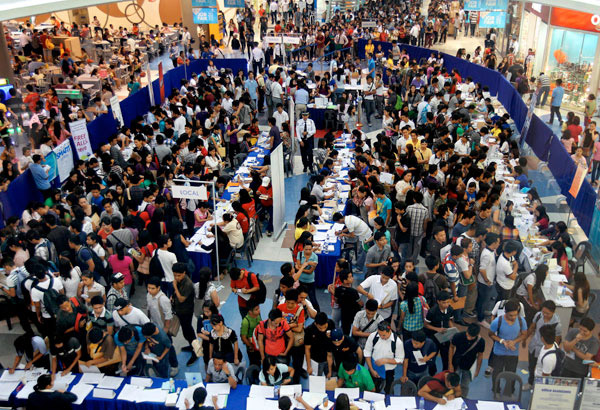 Employers complain about the ballooning mismatch between their requirements and the skills set of job applicants, saying this undermines the productivity and competitiveness of business and industry. Philstar.com/File
Employers support House bills on job mismatch
(The Philippine Star) - December 25, 2017 - 4:00pm
MANILA, Philippines — Employers are supportive of four House bills that seek to develop a more competitive Filipino workforce by providing qualified people free access to technical and vocational training.
Employers complain about the ballooning mismatch between their requirements and the skills set of job applicants, saying this undermines the productivity and competitiveness of business and industry.
Donald Dee, president of the Employers Confederation of the Philippines (ECOP), said their group is "endorsing the substantive provisions of House Bills (HB) 5729, 5889, 5923, and 6287, all of which seek to institute a Philippine Labor Force Competencies Competitiveness Program."
Dee said the four bills, to be uniformly known as the "Tulong Trabaho Act of 2017," share the common development goals of instituting a labor force competitive program and establishing free access to technical and vocational programs for the poor, but qualified segments of the population.
To fund the program, three of the bills – HB 5729, 5889, and 6287 – aim to establish a Tulong Trabaho Fund to be included in the General Appropriations Act.
"Under these three bills, the Tulong Trabaho Fund will be used to pay the training fees of qualified recipients who are at least 15 years old and who are not employed, not in education, and not in training, as well as employed workers who intend to develop and expand their current skills and training," ECOP said.
Meanwhile, HB 5923 authorizes the Technical Education and Skills Development Authority (TESDA), the Philippines' technical vocational education and training authority, to establish the fund with specified duties and functions.
"The common objectives of the measures include strengthening the qualifications of the Filipino workforce to meet the challenges of the rapidly evolving workplaces and work structures, and providing for more innovative approaches to education and training linked to the requirements of industry," ECOP said.
"The bills also want to facilitate access of qualified applicants to quality technical education and training, and encourage participation of industry and communities in competencies formation and upgrading towards a more competitive Filipino workforce," it added.
HB 5729, 5889, 5923, and 6287 were authored and filed by Rep. Alfred Vargas, Rep. Sherwin Tugna, Rep. Luis Villafuerte Jr., and Rep. Bernadette Herrera-Dy, respectively.