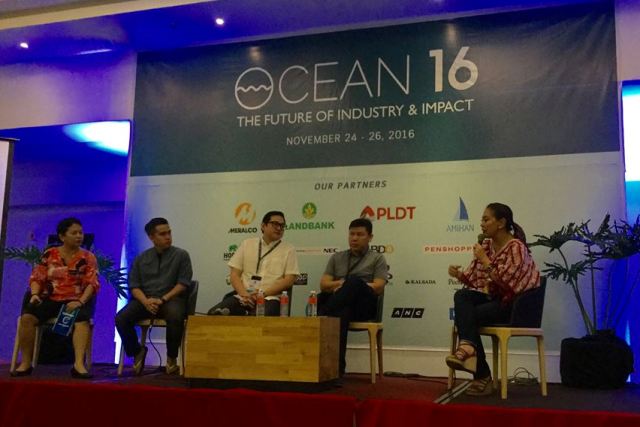 Young Global Leaders Analisa Belares (CEO & Founder, Womensphere & NewChampions5050), Richard Dacalos (Co-Founder, Upstart the Board Game & SPIN), Sen. Bam Aquino, Winston Damarillo (Head of PLDT Capital / Executive Chairman, Amihan Global) and Karen Davila (Broadcast Journalist, ABS-CBN) wrap up the Ocean 2016 Summit at BE Grand Resort in Panglao, Bohol. OCEAN Summit
Filipino startups lack in 'scaling up'
PANGLAO, Philippines — Lack of innovation is not the main reason why most startup companies don't make it big.
During the Ocean Summit in Panglao, Bohol a few weeks ago, broadcast journalist Karen Davila dismissed the notion that the success rate of startup companies is big.
"One percent of startups only succeed," Davila said.
Davila noted that the founders of successful companies now such as Uber and Airbnb are not from the Philippines.
Unilab Foundation Rhodora Palomar-Fresnedi said that Filipinos are innovative but lack in different aspects.
"We're not lacking in innovation. We're lacking in patience, professionalism and scale up in terms of dreaming big and going beyond," Fresnedi said.
"We don't really dream big," Davila agreed.
Fresnedi added that Filipinos tend to be content with what they have. This not entirely good or bad but this is also not the key to building a "mega-billion" company.
"My thought has always been think big, start small, move fast. We fail on the move fast bit because we become very happy," Fresnedi said.
Meanwhile, PLDT Disruptive Business Group Head Benedict Patrick Alcoseba said that Filipinos have great ideas but lack in the sustainability side.
"The challenge we've had is not the lack of entrepreneurial spirit but the scaling up part and I try to think why we have not scaled up. Looking at examples from abroad it's an ecosystem thing," Alcoseba said in the same conference.
The ideas are great but there is no place to make it bigger, Alcoseba said.
"Although we are resilient as a people, if these ideas are not nurtured, these ideas are not supported, are not granted a place or platform where it can grow bigger into something that the original owner envisioned for then it dies a natural death. That's a reality," Alcoseba said.
Alcoseba also noted that there should be a movement from the government to support venture capital.
"I think we have not really thought about the impact we can make as a people with our ideas if we go beyond 7,107 islands and maybe we should start now. All of those ideas in a way that they could really, truly change the world from wherever we are," Fresnedi said.
The Ocean Summit is a bi-annual gathering of the World Economic Forum community in the Philippines, where leaders across sectors connect and discover new ideas.
RELATED: Entreps need paradigm shift to compete in the digital economy