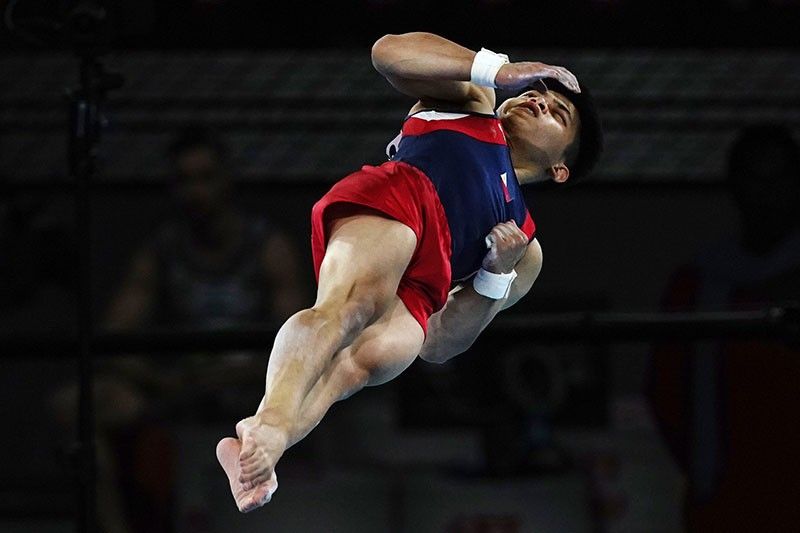 Superb routine nets Phl 1st gymnastics world championship
MANILA, Philippines — Carlos Edriel "Caloy" Yulo delivered a tour de force performance and made history as the first Filipino gymnast ever to win a gold medal in the FIG Artistic Gymnastics World Championships at the Hans Schleyer Halle in Stuttgart, Germany yesterday.
Yulo, a pocket-sized 19-year Malate, Manila native, wowed just everyone with a near flawless effort in men's floor exercise to garner a score of 15.300 with a level of difficulty of 6.500 as against Israeli Artem Dolgopyat's 15.200 with a level of difficulty of 6.400.
Former world champion Xiao Routeng of China, performing last, did not have enough to topple Yulo and wound up with a bronze with 14.933.
It was a major improvement for Yulo after copping a bronze last year in Doha, Qatar.
What made it more significant was the fact that because of the feat, Yulo will be the favorite in next year's Tokyo Olympics where he will have a chance to capture the country's very first gold in the quadrennial summer games against practically the same opponents he beat in the Worlds.
He will also be the favorite to harvest the gold medals in the 30th SEA Games in December at the Philsports Arena in Pasig City where he is projected to prevail in the seven events he is entered into – vault, parallel bars, high bar, rings, pommel horse, individual all-around and his pet event, the floor exercise.
Just the day before, Yulo clinched a berth to Tokyo via Olympic allocation in advancing to the finals with a seventh-place effort in the men's floor exercise and 18th out of 160 athletes in the individual all-around.
In the Tokyo Games, Yulo will join pole-vaulter EJ Obiena in an attempt to nail the elusive gold for the country.
Whatever happens from here on, Yulo has secured his place in the elite list of Filipino world champions that includes Manny Pacquiao of boxing, Paeng Nepomuceno of bowling and Efren "Bata" Reyes of billiards among others.
But Yulo is still young and is expected to rake in more awards and accolades for the nation.
The Philippine Sports Commission, which has been funding Yulo's training since he started training in Japan three years ago, is reportedly rewarding Yulo a cash incentive worth somewhere around P500,000 to P1 million for his feat.
Yulo will also be accorded a hero's welcome as he returns to the country Tuesday night, heading straight to Malacanang for a courtesy call to President Duterte.