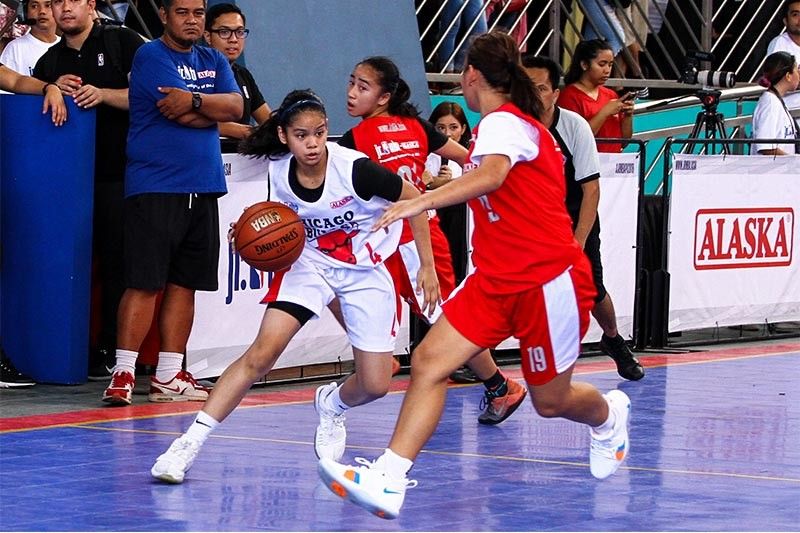 Jr. NBA All Star Camille Nolasco dribbles against her opponent in the Jr. NBA 2018 National Training Camp at the Mall of Asia Music Hall, Pasay City.
Photo courtesy of Keith Magcaling
'Not just a boy thing': Jr. NBA's inclusive basketball
MANILA, Philippines – Basketball has always been a male-dominated sport.
It doesn't matter where you look – from international tournaments to your local barangay leagues, there will always be more boys.
But that doesn't mean girls should just stay in the sidelines, and Jr. NBA Philippines is making sure they don't.
"When we go to some camps, there's a huge difference between the number of boys and the number of girls," NBA Asia Associate Vice President for Basketball Operations Carlos Barroca said.
"We will not change society, but we can help the girls who choose to play basketball and give them the same kind of platform and the same kind of rights," Barroca added.
Boys and girls are given the same opportunities in the Jr. NBA program, usually going through the same training regimen under the same coaches.
Both will also be given the same number of slots to compete in the Jr. NBA Asia Pacific Qualifiers.
Meanwhile, Jr. NBA Coach Tony dela Cruz recognizes the value of having both male and female coaches for the kids in the program.
"It's great [that] we have female coaches as well. These are great coaches that have played at the national team level," the former Alaska player said.
"For them to see these coaches, it gives them the idea that 'Hey, I can play basketball at a high level. It's not just a boy thing,'" he added.
But it doesn't end there for the Jr. NBA and its move towards inclusion in basketball. After 12 years of holding the program here in the Philippines, there's still room for improvement.
"As we progress, we are making more and more steps… in doing more initiatives that reflect zero tolerance for discrimination," Barroca said.
Jr. NBA kicks off its regional selection camps on March 9-10 at Lucena, Quezon.