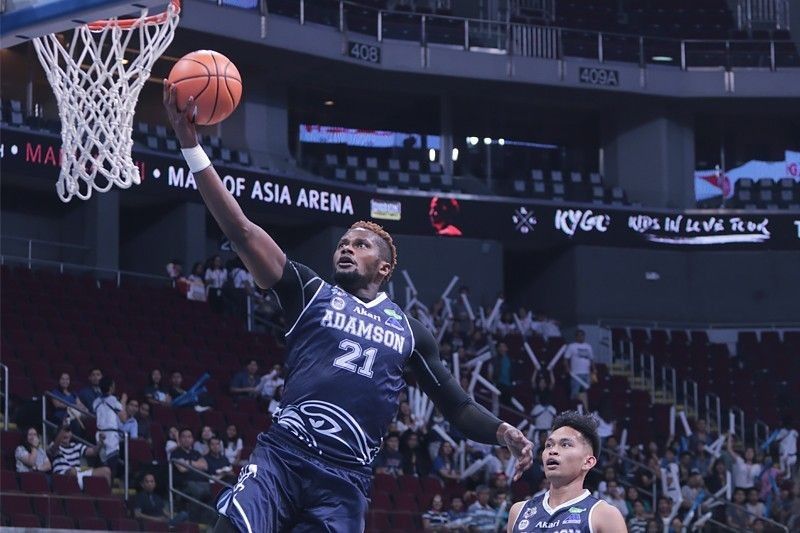 In this September 2018 photo, Papi Sarr scores 15 points and had 21 rebounds for Adamson.
Philstar.com/Kat Leandicho, File
#WalangPasok: Adamson cancels Wednesday afternoon classes for UAAP game
MANILA, Philippines— The Adamson University on Monday announced that classes and work from noon onwards are suspended on Wednesday, November 28, for the UAAP semi-finals game against University of the Philippines.
The Adamson Soaring Falcons and UP Fighting Maroons are set to battle for a do-or-die game at 3:30 p.m. on Wednesday to secure the finals slot for the 81st UAAP men's basketball tournament.
Whoever wins the game will go against the Ateneo de Manila Blue Eagles in the finals.
In his statement, Adamson University President Marcelo Manimtim called on the university community to support their team.
"We are appealing to the entire AdU Community to support our team. Please wear navy blue Adamson U shirts," Manimtim said.
Last Saturday, the UP Fighting Maroons extended their final four appearance by beating the Adamson Soaring Falcons. The thrilling post-season game ended with a 73-71 triumph over Adamson.
Adamson has a twice-to-beat advantage which forces a deciding game against UP Fighting Maroons.