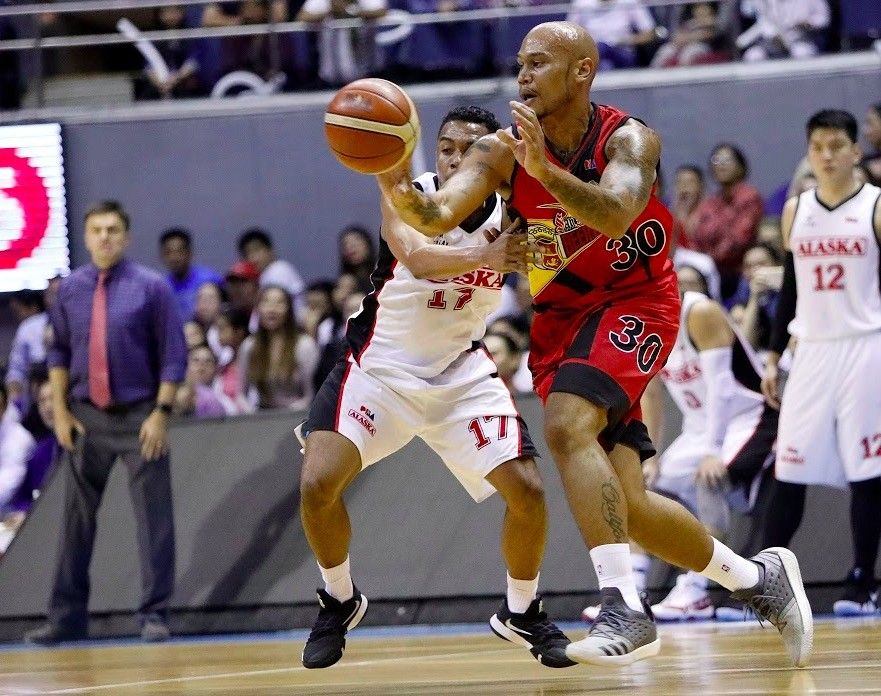 Forward Kelly Nabong—pictured here against Alaska's Ping Exciminiano in Game 4 of the semifinals—has found both purpose and greener pastures at San Miguel Beer.
PBA Media Bureau
Nabong ecstatic for Finals shot with Beermen
MANILA, Philippines — The animated and equally eccentric Kelly Nabong of San Miguel was all over the space between the Big Dome dugouts and its backdoor gates.
"Mama, we made it!" he yelled.
The Filipino-American cager dapped each one who was getting behind his revelry.
And who could blame him?
While he hasn't won a championship, he braces for a crack at one after his new team booked its 40th PBA Finals appearance at the expense of the second-seeded Alaska Aces on Sunday night.
"I'm enjoying every single day of it," Nabong said. The 29-year-old California-raised cager came from a the gritty side of GlobalPort where he was a primary contributor on offense and the hustle department.
Nabong's scoring averages dipped a little, but his usage came as a surprise as San Miguel's rotation is notorious for only utlizing six or seven — at best — players in its games.
During his time with the Batang Pier, Nabong was averaging 7.3 markers per night. Now he's norming 6.5 in the playoffs — but that's within a team that is featuring two Most Valuable Players and an NBA-tested veteran import.
But that aside, Nabong made it clear that he is just having the time of his life — even if this entry to the PBA Finals has brought up memories of a championship run that was cut short.
"Definitely," he said when asked if his mid-conference shipment turned out to be a blessing in disguise. "I wanna thank San Miguel management and the coaching staff for bringing over in such a time. I mean, damn. We're going to the Finals!"
"I'm just enjoying the team, enjoying basketball. I mean, that's what's life is about— enjoying everything that's given to you," he continued.
Nabong's lone bid for a championship in his six years in the PBA came in October 2017 with Meralco. But an altercation with the Bolts abruptly ended his campaign as he was indefinitely suspended and then later on releaesed by the team.
The San Miguel bruiser, who finished with six points in the game, shared that he is now looking ahead. At the same time, he is aware that there is still work that is ought to be done.
"The dream is not over yet," Nabong said. "We still need four more wins to get the crown again. We made it to the Finals but we not done yet."
"We still got a mountain to climb," he closed.
Nabong and the Beermen await the winner of the series between the top-seeded Rain or Shine and crowd darling Barangay Ginebra which could be known by Monday night.