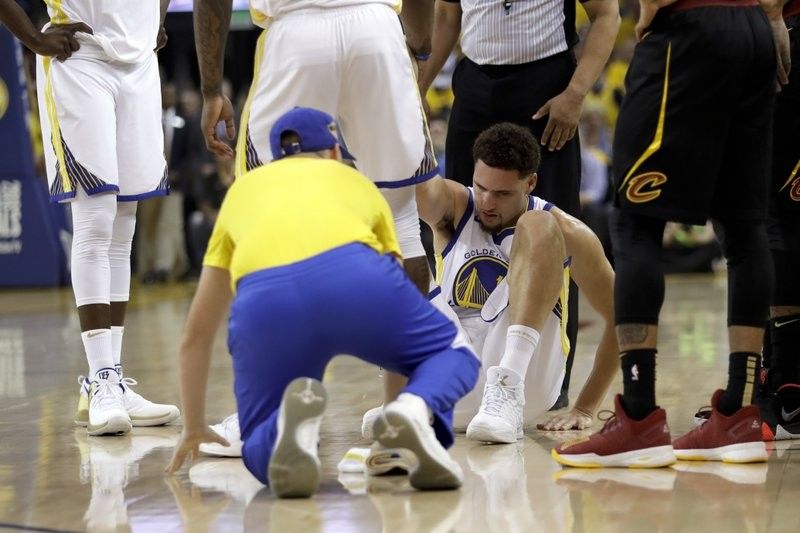 Golden State Warriors guard Klay Thompson is helped off the floor during the first half of Game 1 of basketball's NBA Finals between the Warriors and the Cleveland Cavaliers in Oakland, Calif., Thursday, May 31, 2018 (Friday in Manila).
AP Photo/Marcio Jose Sanchez
Klay Thompson expects to play Finals Game 2 with sore ankle
OAKLAND, California — Golden State All-Star guard Klay Thompson expects to play in Game 2 of the NBA Finals after spraining his left ankle in a scary fall during a collision when Cleveland's JR Smith slid into him in the first quarter of the series opener Thursday night (Friday in Manila).
"It is a Finals game, and I'm going to do everything I possibly can to play," he said. "It's something you definitely don't want to have in the NBA championship."
The Warriors listed Thompson as questionable for Sunday's second game (Monday in Manila) with a bruise in his left leg, though Thompson offered more specifics Saturday after practice. He didn't do much work on the floor and limped to his media availability at Oracle Arena.
Thompson said he is in more pain: "It's not good. From watching that replay, it pissed me off." Yet Thompson did receive some kind words from Smith.
"Yeah, he was remorseful, so I don't think he meant to do it," Thompson said.
Thompson grabbed at his lower left leg and grimaced in pain, a frightening moment for the defending champions.
He said the pain level and swelling increased overnight into Saturday, when he was working to get it loose and eliminate some of the stiffness.
Thompson briefly went to the locker room during the game then returned and finished with 24 points and five 3-pointers on 8-for-16 shooting in the Warriors' 124-114 overtime victory.
"I was just trying to go for the ball. It looked like an opportunity for me to get a steal. Unfortunately, I didn't. I fouled him," Smith said Saturday. "They called the foul. I don't know what more he was looking for."
Thompson grew up playing multiple sports with his brothers and has said he has a high tolerance for pain.
"My ankle's just sore," he said. "It's stiff at the moment, but I'm going to do what I can in these next 24 hours or so to loosen it up as much as possible, get some stability back. I'm optimistic for tomorrow. So that's the hard part of the game we all have to endure. Got to let it go. It happens. I've just got to move on."