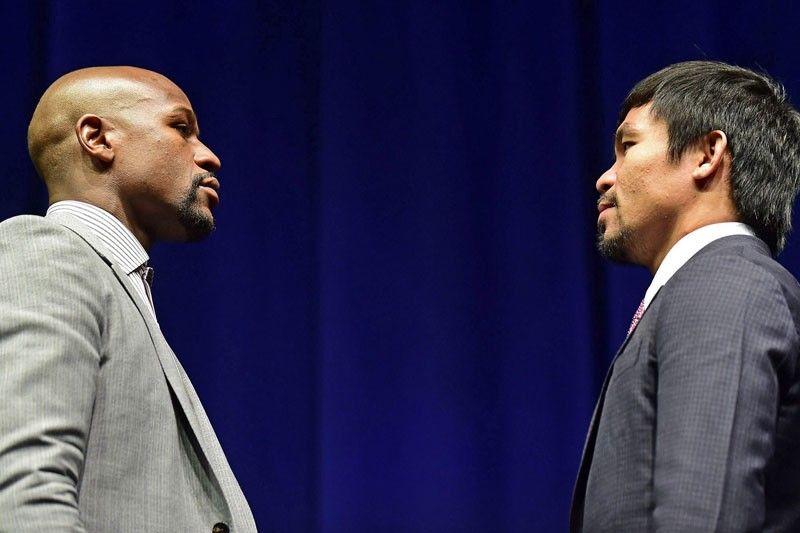 Floyd Mayweather Jr. and Manny Pacquiao
Pacquiao trains; Mayweather stays on
MANILA, Philippines — While Floyd Mayweather Jr. is doing mall tours and extending his stay in the country, Manny Pacquiao is stepping on the gas in training in General Santos City.
Pacquiao went hard in training last week that he needed to take a rest over the weekend. He went scuba-diving last Sunday.
The 39-year-old was at the gym the past couple of days, and according to his information officer, he looked very impressive in training.
Pacquiao is making the most of his days in his home province, where he can train with hardly any distractions. He flies to Manila on May 14 to catch the resumption of Senate session on the 15th.
In Manila, he will train at the Elorde Gym in Pasay City. Work gets heavier each day, and sparring should begin the first week of June.
"I have tapped three sparring mates, two Filipino boxers and one foreigner," Pacquiao said without naming the boxers.
But he described them just "as big" as Lucas Matthysse, the WBA champion from Argentina.
Mayweather, meanwhile, is enjoying his stay in the country. He'd been around the past days, went island-hopping in Palawan last Tuesday and then thrilling Pinoy fans by visiting a couple of malls the other day.
Originally, he was to stay in the country for just three days.
The retired boxer had plans to visit Cebu City yesterday. He spoke to Pacquiao on the phone while he was in Palawan, and was invited to a basketball game with the Pinoy boxer in North Cotabato.
"Nothing is definite. There's no schedule at all," said an associate.