Racal issues public apology for racist remarks on Adeogun
October 30, 2015 | 11:25pm
MANILA, Philippines -- Letran Knights' Kevin Racal issued a public apology to San Beda Red Lion's big man Ola Adeogun on Saturday for his deleted racist comments a day after winning the NCAA Season 91 title.
Racal failed to contain his emotions upon seeing a video posted by his former teammate and now NLEX Road Warriors' guard Kevin Alas on his Facebook account showing him getting hit by Adeogun in a rebound battle.
Racal referred to Adeogun as mabahong unggoy (dirty monkey), which did not sit well with netizens especially San Beda alumni and supporters. Alas immediately admonished his former teammate before things get out of hand. While the comment has been deleted, a screenshot of it went viral.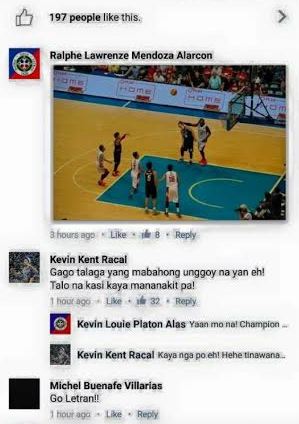 The graduating senior, who recently signed a two-year rookie deal with the Alaska Aces on Friday, posted his public apology on his Facebook account.
"Good morning sa lahat, especially to Letran and Bedan Community. I am making this public apology for the things I've said against Ola yesterday. I don't mean what i said to him, nadala lang ng emosyon at humihingi ako ng kapatawaran para sa aking mga nasabi. For my supporters please stop na rin tayo for bashing San Beda Community, we're the Champions already, we just defeated a great basketball program, pero hindi ibig sabihin na may karapatan na tayong mang bash. May kasalanan din ako pero pinagsisihan ko na yun, hindi na yun mauulit," Racal said in his post.
"Again to Ola and to his family, I'm sorry sa mga nasabi ko, tao lang din at nasasaktan. Wishing you the best on your career, hope to see you soon and say my apologies to you personally. Godbless!," he added.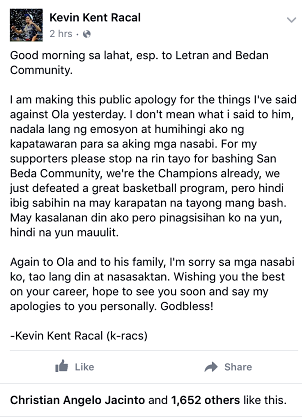 Racal was instrumental in the Knights' title conquest scoring a career-high 28 points in Game One then hit crucial three-pointers in Game Three en-route to game-high 23 points that helped them fend off the Lions' late charge.