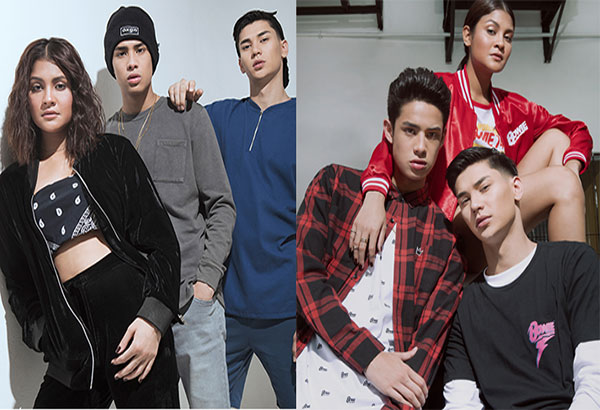 Easy breezy: MYX VJ Donny Pangilinan, musician Kiana Valenciano, and model Mauri Loosli are the new endorsers of streetwear brand Oxygen.
CHECK OUT COUNTER: Your new holiday helpers
MANILA, Philippines — Making the rounds at a zillion Christmas parties this year can be a lot of fun, but it can also be a real pain. After all, in a time of constant documentation via social media, your closet can only handle so many outfit changes. The solution: focus on key pieces that you can rotate with ease. Think reliable denim wear and active-inspired separates that you can pair with trendier pieces. And if you need any more inspiration, look no further than Oxygen's new kids on the block.
The streetwear brand recently launched MYX VJ Donny Pangilinan, musician Kiana Valencia, and model Mauri Loosli as their latest endorsers. It's easy to see why. Besides being a host, Donny also happens to be a singer and dancer. His preferred style echoes Oxygen's own casual aesthetic — from the pants, the long sleeves, and the hoodies. Kiana happens to be a fashion girl through and through. Having studied fashion design in London, she makes for the ideal girl to rep Oxygen's ladies line. Mauri was discovered by the brand when he came to a shoot wearing clothes from Oxygen. When he isn't in front of the camera, he's also a pretty accomplished dancer.
And just like the kids themselves, Oxygen's Holiday 2017 pieces are no slouch either. "It's really good!" Kiana says of Oxygen's newest line. "People should check out the whole new collection."
In fact, you can fit them effortlessly into your wardrobe for a good mix of trends and staples. Their tees and accessories start at P299, their bottoms go as low as P799, and jackets are only P999. With over 70 Oxygen stories in the Philippines and in Vietnam, shopping for a new outfit will take no time at all. Believe us when we say that thanks to Oxygen, holiday dressing will now be a breeze.
* * *
Check out more of Donny, Kiana, Mauri, and Oxygen at oxygenfashion.com, facebook.com/oxygenclothing, twitter.com/oxygenclothing, and instagram.com/oxygenclothing.