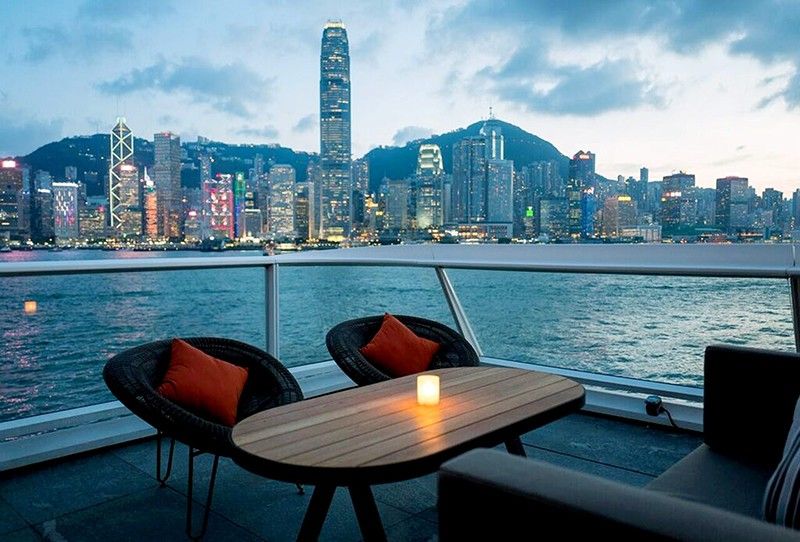 Mall with a view: Harbour City's Ocean Terminal extension boasts a spectacular view of Hong Kong's Victoria Harbour.
A beauty junkie's tour of Hong Kong
Hong Kong is like paradise to beauty junkies: you can find all of your cult obsessions — many of them still unavailable here — and discover a ton of new brands, all within reach a mere hour-and-a-half flight from Manila. (We took Cathay Pacific Premium Economy, an affordable way to travel in style.)
Even better, you don't have to crisscross Hong Kong and Kowloon to amass your beauty haul.
Where to shop
Harbour City. One stop at a massive shopping mall like Harbour City in Tsim Sha Tsui, which houses 320 beauty brands over two million square feet, and your quest (and your luggage) will be pretty much fulfilled. The mall is currently holding "Sun-Kissed Summer @HarbourCity" until July 22, a lipstick event featuring a lippie "tasting" bar and exhibition by American lipstick artist Lipstick Lex, aka Alexis Fraser. Lex started making art from kiss prints in 2012, after a friend commissioned her to do an unconventional portrait of notorious kiss-blower Marilyn Monroe. For the exhibit she made a "Victoria Harbour Sunset" painting out of 10,000 kisses, using lipsticks from NYX, MAC and Kat Von D that has to be seen to be believed.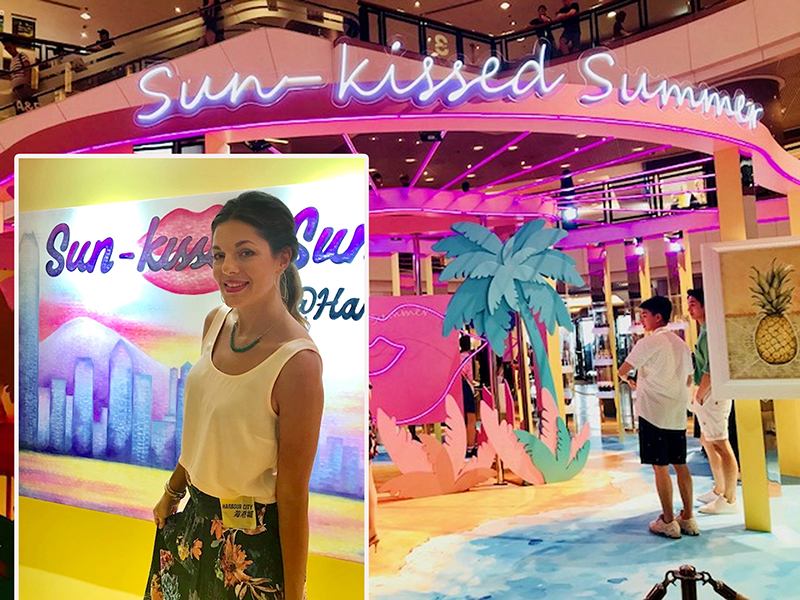 Lipstick artist Lipstick Lex with her paintings at the "Sun-Kissed Summer" event at Harbour City
Facesss in Ocean Terminal is like Sephora on steroids, featuring over 100 international brands of makeup, skincare, hair care, hairstyling, body care and fragrance. Established in 2003, they now have three branches, whose neon-lit, industrial atmosphere (complete with photo booth) is geared towards millennials. Perennial favorites MAC and Nars sport younger, eye-catching counters, but the majority of brands are still unavailable in the Philippines, which should suit Pinay trendsetters just fine.
I've long been a fan of Urban Decay, one of Facesss' exclusive brands, and their neutral Naked palettes. There's a new one out, called Heat, not to mention a whole slew of Naked contouring kits, blush palettes, and cushion compacts. Check out the makeup setting sprays, which keeps your look fresh all day.
Madonna's very own skincare line, MDNA Skin, is launching at Facesss in August. The Material Girl banded together with high-tech Japanese company MTG to harness the healing waters of Montecatini, a popular Italian spa destination. Madonna says she's never without The Rose Mist, which she keeps in her travel and gym bag, and she's created a beauty balm appropriately called The Reinvention Cream.
Facesss also carries bareMinerals, the pioneering skincare-makeup brand. New products have manifold benefits like the 5-in-1 BB Advanced Performance cream eye shadow, which primes, brightens, smoothens, protects, and wears all day; and the 10-in-1 Lash Domination mascara, which makes short, stubby lashes look like falsies.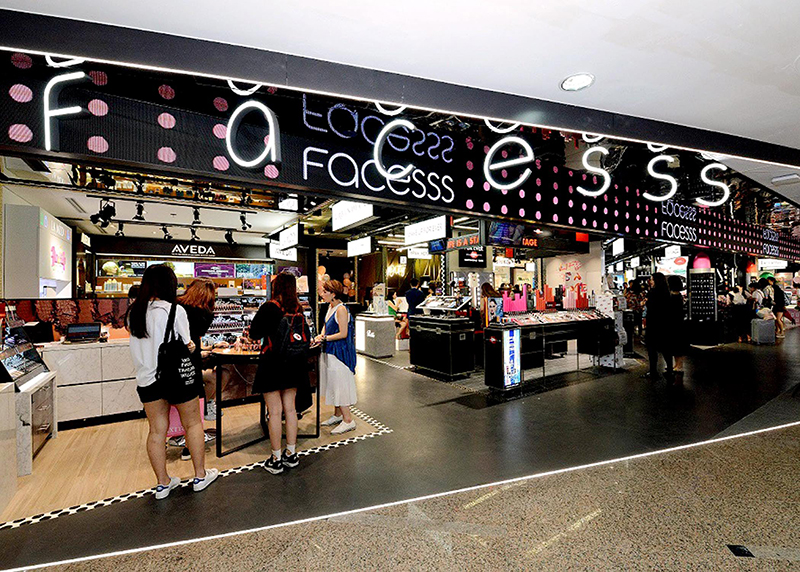 Facesss in Ocean Terminal and Times Square is home to over 100 international brands of makeup, skincare, haircare, bodycare and fragrance.
Facesss in Times Square mall, Causeway Bay, is more dynamic and digital, incorporating fashion items like clothes and earrings. Its CosmeGo shop is modeled after the popular Japanese pharmacy @Cosme, featuring trendy Japanese brands like ReFa (beauty rollers that tighten and firm skin via micro-currents); and Koh Gen Do (a favorite on movie sets for its high-definition Moisture and Aqua foundations).
K-pop lovers go to Facesss' Seoul Soul space for hallyu brands like Innisfree, Pony Effect, Sulwhasoo, and The History of Whoo.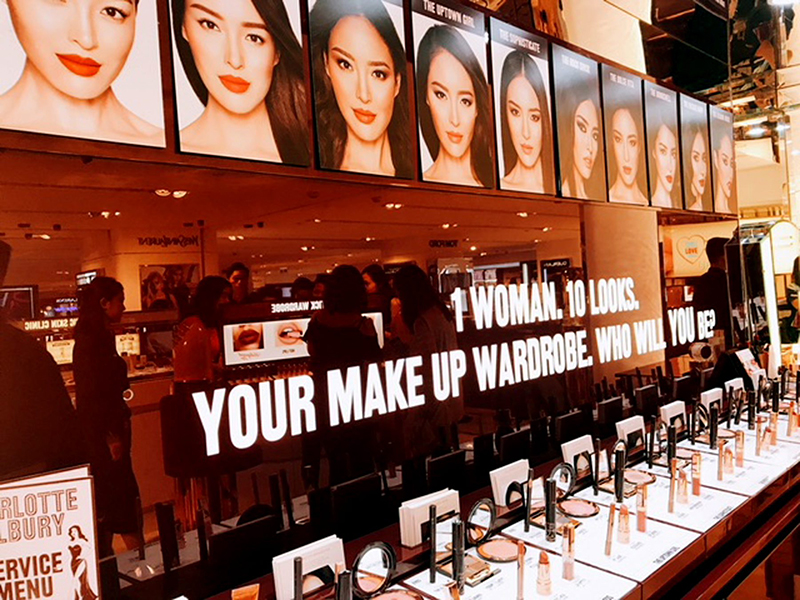 Celebrity makeup artist Charlotte Tilbury's first counter in Asia is at Lane Crawford in Harbour City.
Lane Crawford in Harbour City is another haven for beautistas, with its beauty counters for Christian Louboutin, Giorgio Armani, Clé de Peau and Charlotte Tilbury. The first outpost for the celebrity makeup artist in Southeast Asia carries Hot Lips, her lipstick line named after celebs like Kim Kardashian West, Nicole Kidman and Salma Hayek.
Tilbury's Magic Cream is another iconic product that she uses backstage at fashion shows to instantly transform tired and dull skin with anti-agers and collagen boosters.
Another product sure to catch fire with the selfie generation is Hollywood Flawless Filter, a complexion booster that can be used as a highlighter or mixed with foundation for an overall glow.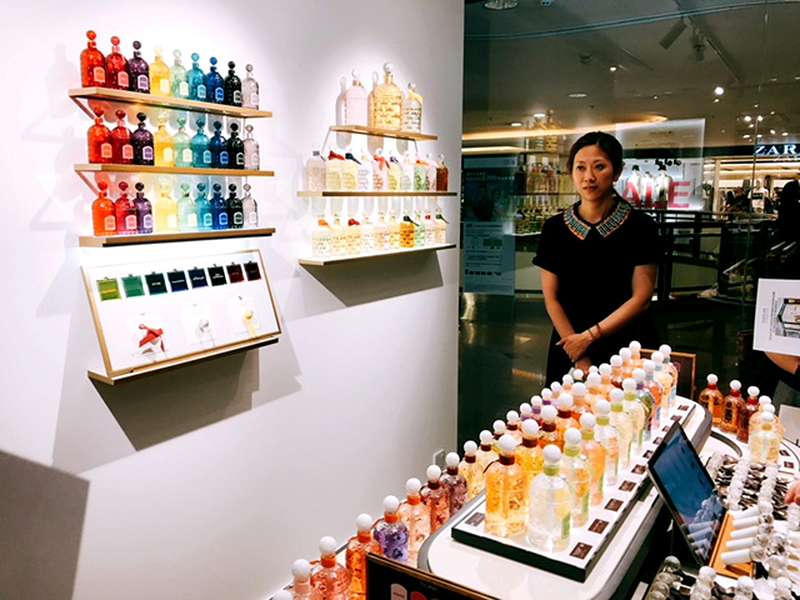 Find your signature scent at Guerlain Parfumeur via a digital consultation
Guerlain Parfumeur in Gateway Arcade is Asia's first concept store from the revered French perfumer. My very first signature scent was Shalimar, so seeing row upon row of Guerlain's exquisite Bee bottles was like glimpsing the Promised Land. Designed as a fragrance library of 110 creations, the quickest way to find your scent is by doing a digital consultation. The staff will give you a number of scents to sniff, which you rate from "don't like" to "love it." At the end they come up with your fragrance profile and the closest match, which you can then further personalize by choosing the bottle color, ribbon, and whether you want your name engraved on-site.
Joyce Beauty, also in Gateway Arcade, is home to more coveted niche brands like Kevyn Aucoin, By Terry, Chantecaille, and fragrances from Annick Goutal and Frederic Malle. NuFace, developed by an American aesthetician, is another brand of non-invasive handheld device to contour, lift and smooth skin using micro-currents. Rahua is an American hair brand that harnesses its natural, vegan beauty secrets from the Amazon rainforest. Aveda is another natural brand, offering products like Damage Remedy for split-end sufferers.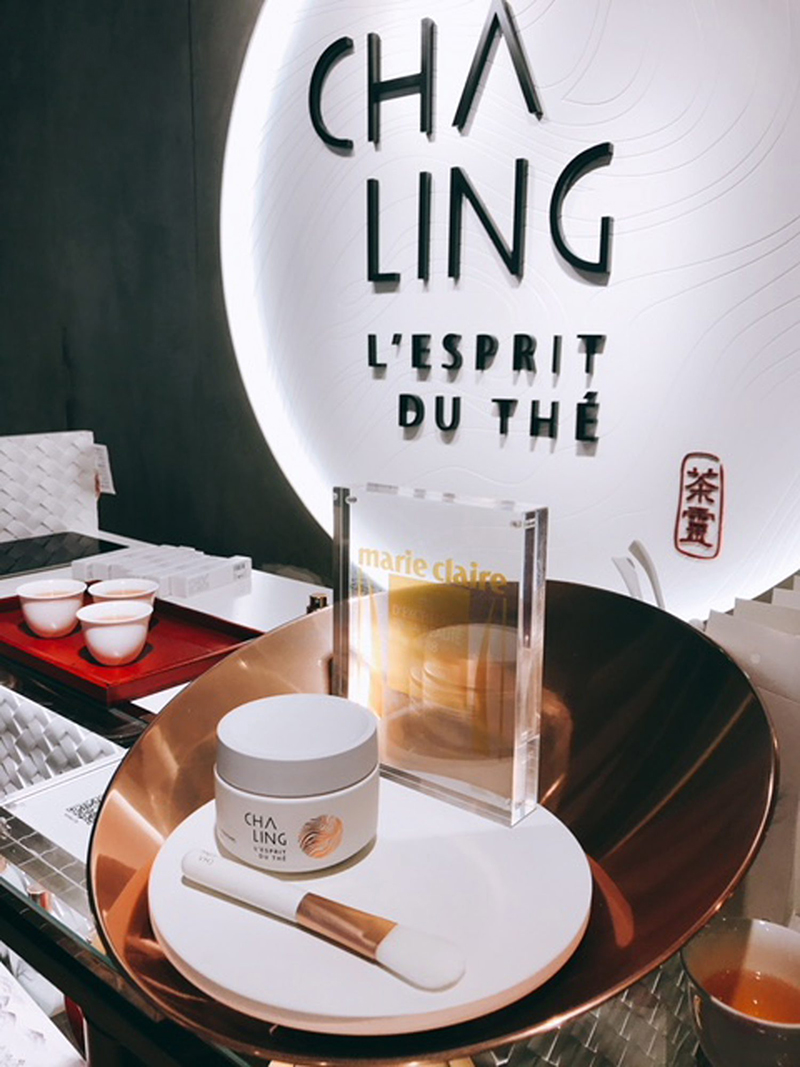 LVMH Research is behind Cha Ling's award-winning Spring Mask.
Cha Ling L'Esprit du Thé is worthy of mention because LVMH Research developed it, and all the beauty products are made in France. Pu'Er leaves are sustainably sourced from a 1,000-year-old forest in Yunnan and harvested for their anti-aging and detoxifying properties. The range of over 40 products includes lip care, fragrance, and the bestselling Spring Mask, which won Marie Claire's Beauty Excellence award in 2018.
Where to eat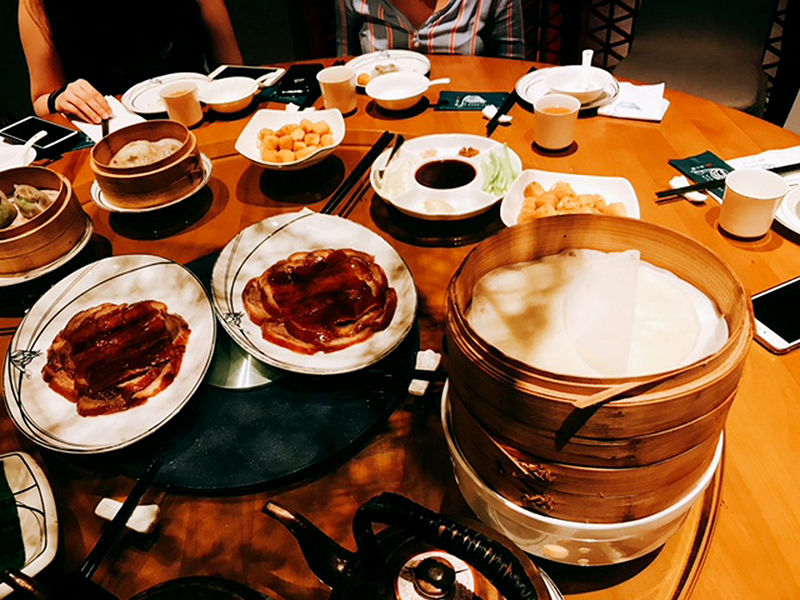 Ruling the roast: The Peking duck is served three ways at Forbidden Duck.
Forbidden Duck. Amazing Peking duck can be had at this modern temple to all things duck at Times Square. Credit goes to three-Michelin-star chef Alvin Leung, who dry-ages his duck before cooking, leaving the flesh soft and flavorful while the skin stays crisp. His third way of serving duck is as puffed rice stirred into duck soup, which tutong lovers should find sheer nirvana. Don't miss the salt-and-pepper tofu, lobster and vermicelli with black truffle Har Mi XO, and giant egg tarts, which contain grapefruit marmalade inside.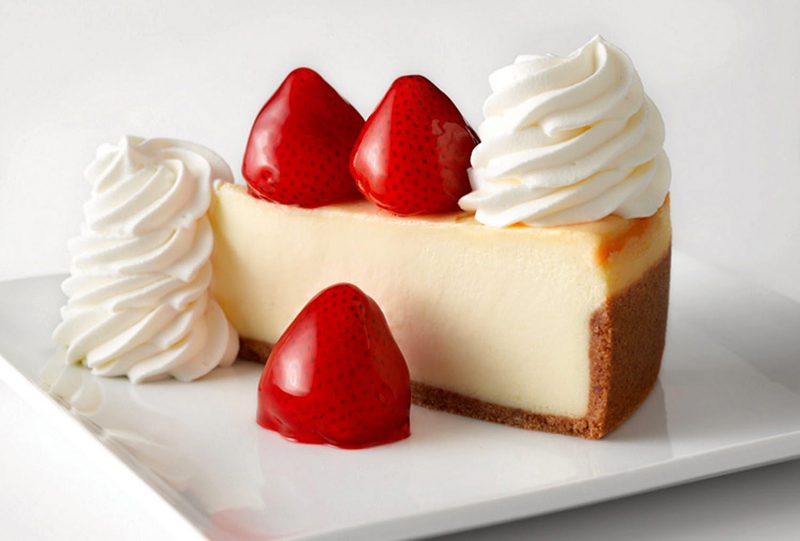 Most popular: The fresh strawberry cheesecake at Cheesecake Factory
The Cheesecake Factory. A year after it opened, the lines are still long at TCF's first Asian branch in Harbour City, thanks to the family-style portions of delicious American comfort food. Pasta lovers should order the Louisiana chicken pasta with juicy, parmesan-encrusted chicken. Healthier eaters shouldn't pass up the avocado eggrolls. But everyone comes for the cheesecake, in particular the fresh strawberry cheesecake — the most popular flavor for 35 years — and new flavors key lime and flourless Godiva chocolate.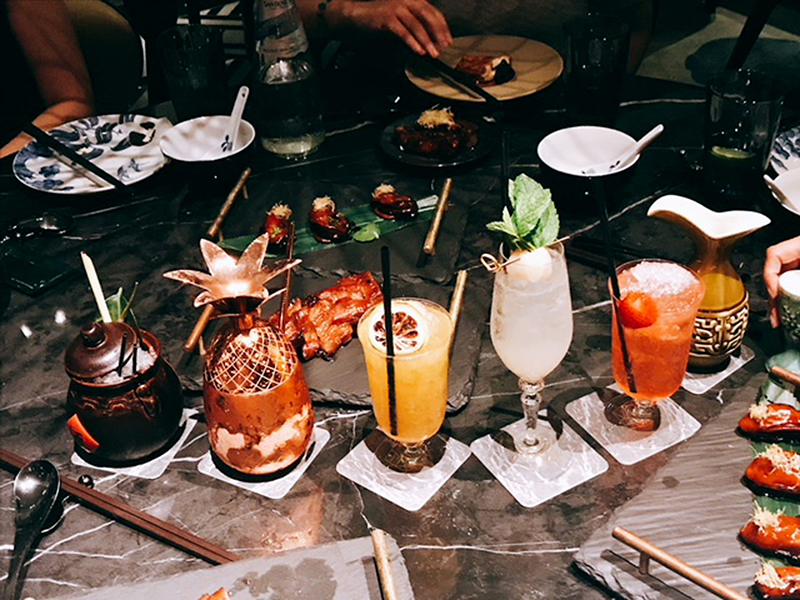 Drink me: The stylish cocktails at Hexa, a modern Cantonese restaurant in Harbour City
Hexa. Stylish Hexa in Harbour City is a visual and gustatory feast. Arrive before sunset and your "appetizers" will be the gorgeous selfies you take in front of the 270-degree Victoria Harbour view. Then you can tuck into black-and-gold dim sum accompanied by Hexa's Instagram-worthy cocktails. The food is Cantonese with a modern twist, like pan-seared dried golden oysters with longan honey, prawn balls tossed in salted egg yolk, Yangzhou fried "rice" that is actually Puntalette pasta, and incredible dessert of a whole double-boiled papaya filled with freshly ground almond milk.
Cucina and Paper Moon. If you're a fan of Italian food, both these eateries boast authentic cuisine and spectacular harbor views. Paper Moon in Ocean Terminal Extension is the more casual of the two, perfect for a shared pizza lunch with friends. Cucina in the Marco Polo Hongkong Hotel has fine-dining offerings like linguine with Sicilian red prawns (great down to the last noodle), baked whole Mediterranean sea bass, and a 42-oz. Australian Wagyu tomahawk steak good for sharing.
What to see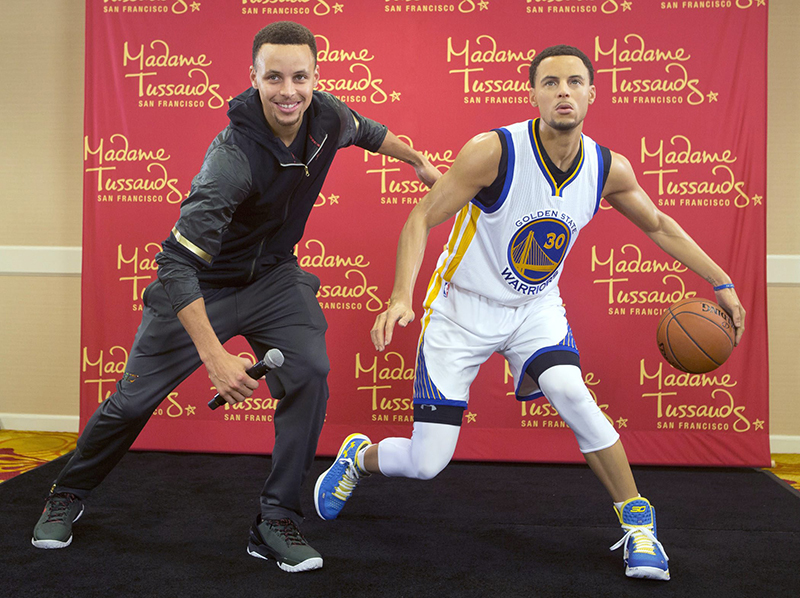 Seeing double: Steph Curry poses with his wax figure at Madame Tussauds in Victoria Peak.
Madame Tussauds. This iconic wax museum at Victoria Peak has reinvented itself for the selfie age, and is loads of fun for the whole family. Six themed zones feature global movie, music, sports and K-pop stars, as well as world leaders and Avengers superheroes. Tussauds technology is such that you can touch the wax figures, which are made to the subject's exact measurements (every time Angelina Jolie adds a tattoo Madame Tussauds has to add it to her likeness). Consequently you can snuggle up to your favorite heartthrobs (Benedict Cumberbatch for me), compare heights with Yao Ming, critique Kendall Jenner, and pose with artist Yayoi Kusama in her very own yellow polka-dot gallery.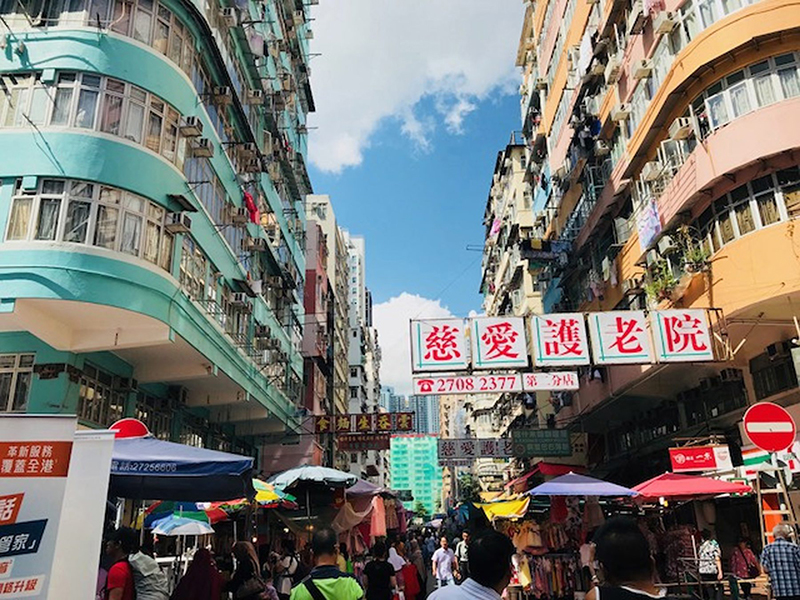 New destination: Sham Shui Po is transforming from HK's old garment district into a hip, artsy enclave.
Sham Shui Po. Hong Kong's old garment district is gentrifying into a hip enclave for young artists and entrepreneurs. Take a walking tour with Eco Travel Ltd. and you can start with Michelin-star tofu pudding at Kung Wo Beancurd Factory before shopping at Doughnut, a local brand of cute backpacks founded by university students Rex Yam and Steven Cheng. Have coffee at Common Room & Co., which a café-cum-gallery. Another hybrid is Foreforehead, a shop/gallery currently exhibiting North Korean poster art collected by Eric Wong. Proprietor Daisy mounts shows for the local community and sells art toys and home décor on the side.
Our final stop was at Brothers Leather, where we learned how to make and monogram our own leather key chains. This is a fun activity for a group and Brothers also has bag-making workshops.
The Lego Certified store. If you're shopping in Times Square with the kids, this 4,000 sq.-ft. Lego wonderland, with Darth Vader and a 70,000-brick mosaic wall of Hong Kong foods, will wow the fambam. Lead your tot to the digital play table, and once he's picked out a box set, he can hold it up to a scanner that shows him an animation of what his toy will look like once he's built it.
Where to stay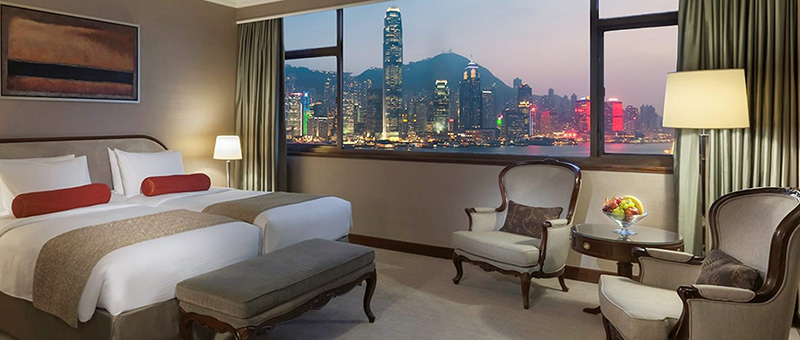 Room with a view: The rooms at Marco Polo Hongkong Hotel also come with a smartphone that keeps guests connected while exploring the city.
The Marco Polo Hongkong Hotel. With the most enviable location in the city — Canton Road in Tsim Sha Tsui overlooking Victoria Harbour — all the rooms have a view and you'll be in the thick of Hong Kong's shopping, dining and sightseeing destinations. It's connected to Harbour City via Lane Crawford, so you needn't even step outdoors to access 450 shops. Each of the rooms has a handy smartphone you can take with you while exploring, and staying on a Continental Club floor entitles you to all-day buffets at the Canton Lounge, as well as a raved-about happy hour.
How to get there
Cathay Pacific. With seven flights daily to Hong Kong starting at 6:05 a.m. up to 9:15 p.m., you can choose what time you want to arrive with total freedom. A Business Class seat entitles you access to Cathay's justly famous lounges, of which there are five at Hong Kong International Airport with varying attractions (see sidebar above).