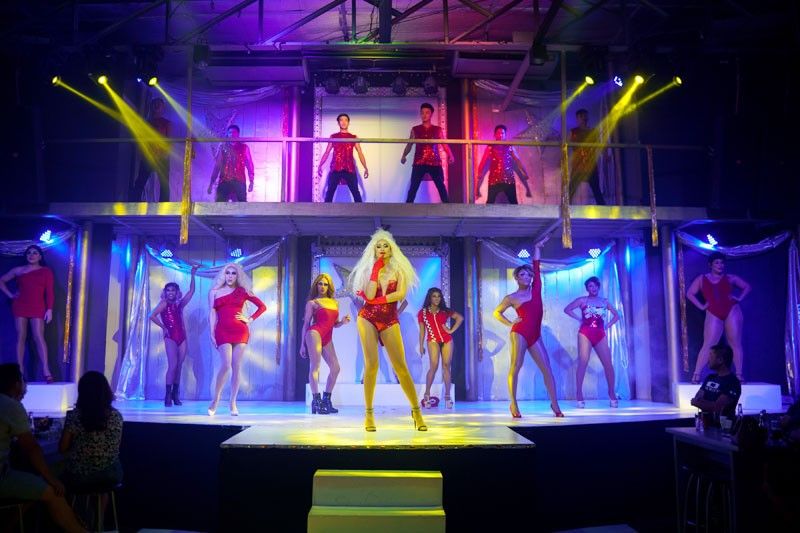 How you burlesque: The O Bar divas have been recognized for innovating and professionalizing drag in the Philippines.
Photos by JL JAVIER
Apa Agbayani
(The Philippine Star) - June 29, 2019 - 12:00am
Singular among queer spaces in Metro Manila, O Bar makes a home for distinctly Filipino drag.
MANILA, Philippines — For something that's had its roots as an underground phenomenon for decades, drag seems to have struck a mainstream chord in recent years. Earlier this month, New York magazine declared drag to be "America's new national pastime," pointing to the phenomenon of RuPaul's Drag Race that's propelled several drag queens to international stardom. Most interesting to me was the reference to drag as a "spectator sport" because it holds true especially for younger drag enthusiasts. We have our show favorites, we root for them in a lip-sync showdown the way someone else would root for a basketball player. Their victories, on- an off-screen, feel like our own.
The toxicity of the environment follows as well, with queens regularly needing to deal with measures of online hate from the fandom. Whether fans will admit it or not, one of the unintended consequences of the show is the divide it's formed between Drag Race alums and local queens — queens who perform in bars nightly, who are talented in their own right but don't garner the same attention.
In Manila, drag feels like a completely different beast altogether, home to fiercely talented queens practicing their craft, making their own costumes and performing their numbers in the city's biggest hometown drag hangout, O Bar. From Thursdays to Sundays, O Bar hosts nightly drag shows. The night we visit, it's early and we see co-owner and artistic director Rupert Acuña running through the girls' numbers ahead of the show that runs from 1 a.m. till around 4 a.m.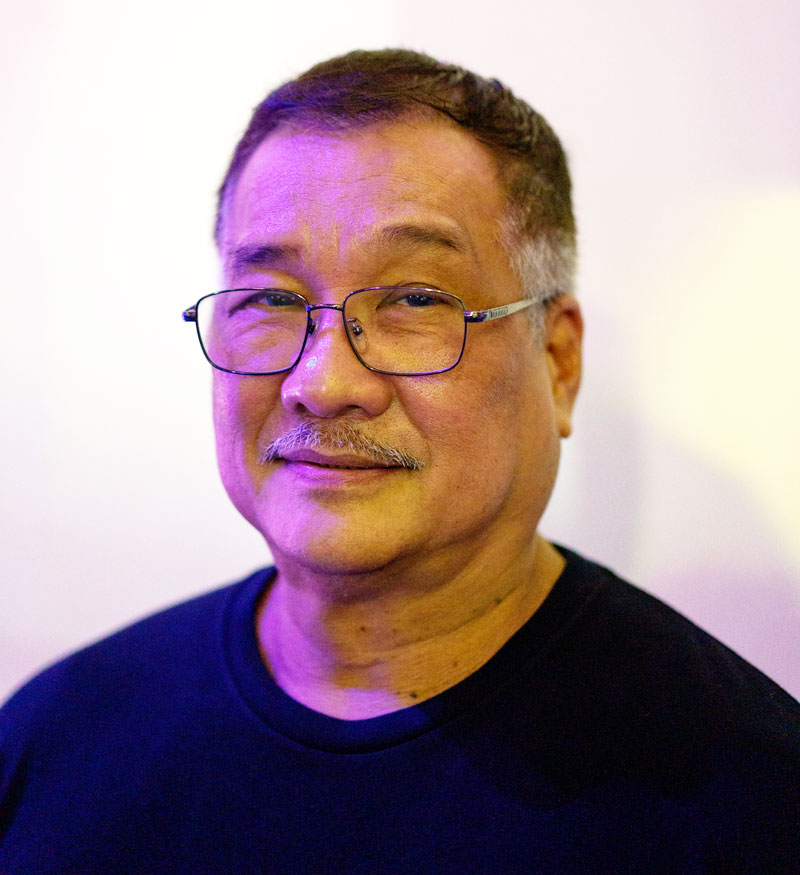 Queen bee: Co-owner and artistic director Ruper Acuña reviews the show each night before their 1 AM performance.
Acuña says O Bar was never intended to be known primarily for its drag, though it's something he welcomed. They opened in Malate in 2005 at the corner of Orosa and Nakpil streets. "We had difficulty thinking about a name because it was always rejected by the DTI. Sabi ko, 'Ba't di na lang O? Bilog — masuwerte sa Chinese. Madaling intindihan, 'di ba? O! Tapos it's the corner of Orosa. It can stand for 'orgasm' and 'orgy.' So, O."
They started with one drag queen, and as time progressed (and they eventually moved to Ortigas), Acuña began placing more focus on producing the shows, building a full stage for the queens to perform on. "We had just one, two performers and then slowly, slowly, we got more performers: drag queens, dancers. Dito sa second (location), sabi ko, 'It's about time that we did serious shows.' Since I used to dance ballet, sabi ko, 'Doon tayo pumunta sa lip-syncing and dancing.'"
After auditioning the divas and backup dancers, O Bar gives them regular classes in ballet, jazz and hip-hop. Six of the 15 queens and two of the seven backup dancers who regularly perform are salaried employees with benefits such as health insurance, which is an amazing step forward for these entertainers. "So we have to have a contract, also for them, for their protection. Sabi ko, 'Huwag na nating gawing ganun-ganon lang 'to… Let's give them a nice, decent salary and professionalize it.' Why not?"
Over time, the bar became known primarily for its drag performances, something Acuña never intended it for, but is proud of nonetheless. Over time the bar has also played host to a number of visiting drag performers, with Drag Race alums such as Manila Luzon, Jiggly Caliente, Alyssa Edwards, Adore Delano and Laganja Estranja performing alongside local queens.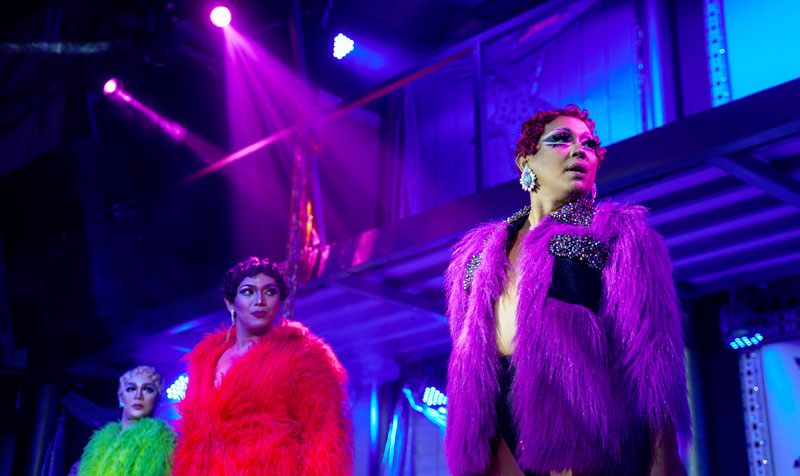 Powerpuff girls: O Bar hosts nightly drag shows from Thursday to Sunday.
More than anything, this environment of learning paired with a financial safety net has given the queens space to grow in their craft on their own terms. The queens develop their numbers themselves, ranging from passionate lip-sync performances to incredible feats of impersonation to aerial stunts. Acuña pairs this with an insistence on preparation. He runs through the entire show with the girls every night from 8:30 to 10:30, ironing out blocking and lights. Still, he emphasizes the importance of enjoying your work as an entertainer. "You start enjoying when you're very confident about what you're going to do. You're well-rehearsed. Doon mag-uumpisa 'yung enjoyment of performing," he says. All of this comes together in the queens' high-caliber performances. It's creative minds at work in an environment where they can thrive.
One of the bar's homegrown queens, Brigiding "Gigi" Aricheta, is currently booked for drag performances across the US. Her Instagram stories show her performing alongside Drag Race queens and local US queens from LA to Chicago to New York. Acuña is immensely happy for her success. "Parang it's your child who does well," he says. "Sabi ko, 'Spread your wings! Sige nga, magdoon ka na, go.' Ganoon naman, e. I'm very happy for them kung nag-improve sila in life."
As our interview progresses, Acuña can't hide the pride he has for his divas. Over and over, he'll say, "You'll see later." As if there's no way to explain what the queens do until you see it. "I get reactions of foreigners who have been all over the world. (They'll say) 'It's world class! There's nothing like it.' Sabi ko, 'Thank you. I know,'" he says with a laugh. "Sama mo diyan 'yung mga foreign drag (queens), natatakot silang tumabi sa kanila."
Later, long after our interview concludes, I do see it. The show begins promptly at 1 a.m. and there are, indeed, no words for the passionate, vibrant performances the queens offer onstage. "Each one of them has a different personality and I let them be. I don't require them to (fit) a certain mold," Acuña says. We go from famed Mariah Carey impersonator Precious Nicole's pitch-perfect rendition of Emotions to Turing Quinto's sassy turn with Cardi B's Money to a flawless mash-up duet between two queens lip-syncing Beyoncé's Best Thing I Never Had and Rihanna's California King Bed.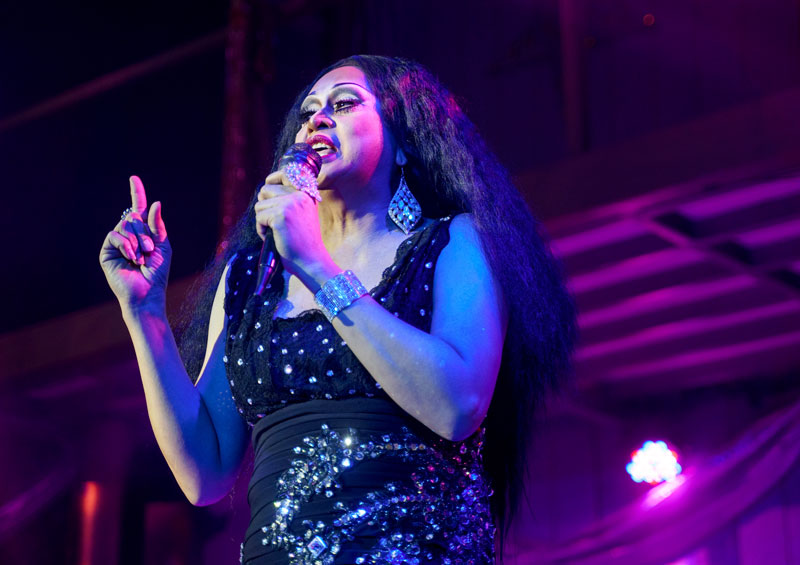 Lip sync for your life: The drag shows at O Bar feature contemporary pop songs and classic power ballads.
It's a show that makes you laugh, makes you scream, makes you dance along. It's a show that stays with you long after. It's a show born of so much tireless preparation and so much heart that it feels effortless in the moment.
The magic of drag is that it's what you make of it. Yes, it's fascinating as a spectator sport on television, but here's so much joy to be had in seeing performers will an act into existence with wigs, makeup, costumes and choreography before your eyes at your local drag show. There's a case to be made for making a pastime of it as well — watching and supporting local queens like the ones you can see at O Bar. As they literally lip-sync for their lives right in front of you, they're so worth rooting for, too.