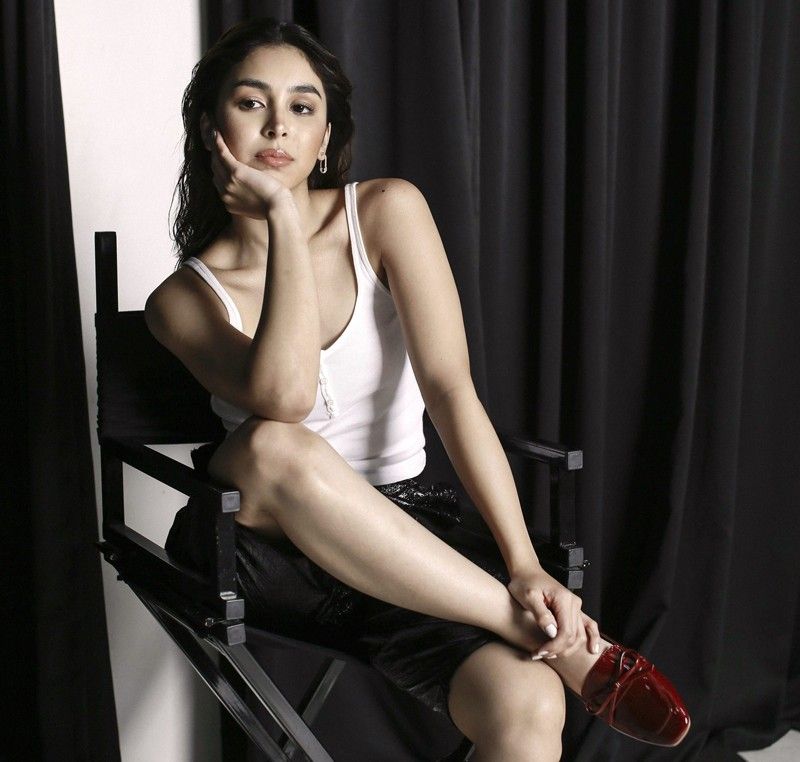 In her latest film Between Maybes, Julia Barretto plays a famous actress who escapes to Japan to regain control over her life.
Photo by Regine David Creative Direction by David Milan Makeup by Kaye Misajon Hair by RJ Dela Cruz Styled by Cath Sobrevega, Riri Verano and KT Landingin
Julia Barretto is ready to stand on her own as an actress.
Thirteen years an actor, Julia Barretto — now 22 — was born into celebrity and started following in the footsteps of her parents at age 10. That gives her some kinship with Hazel, the character she plays in her latest film, Between Maybes.
In the Black Sheep production, she plays a famous actress who escapes to Japan to regain control over her life, which is not an unlikely scenario in this day and age, especially for someone constantly in the spotlight. "I feel like everybody goes through the same thing at some point," shares Julia. "I definitely relate to my character in so many ways. Maybe just going through that phase in your life when you want to escape and try new things, find peace and clarity. No matter how far we go, though, we always end up going back home."
For quite some time now, "home" for the young actress, apart from her family, has been JoshLia, her award-winning partnership — or, as we call it in here on our shores, love team — with actor Joshua Garcia. While some might presume being paired up at such a young age would be counterproductive, the opposite is true for JoshLia, which has collectively gained projects, not to mention a legion of followers, as a tandem. As Julia ventures into a new phase of her career as a solo actress, she reflects on the relationship and the whole JoshLia phenomenon with gratitude.
"It's nice to get to share the journey and watch both of our dreams come true, be there for each other and help each other out. I'm grateful for that opportunity to just have somebody to run to because you're going through the exact same thing and same season in life… To have somebody's hand to hold."
Then she's quick to clarify: "But it's not like it's gone!"
For Between Maybes, Julia worked alongside Gerald Anderson, whose character she meets and eventually falls in love with in Japan. Julia shares, "It was something that had been decided on even before they went on with the love team. It was met about, it was talked about, and it was a mutual decision to be open to do solo films with other people. But the love team remains. You go out and do something, but you go home to the same person and do films again."
The actress shares that filming in Japan was one of the best experiences of her career. Working on a movie, in the winter, on a Japanese island? Why wouldn't it be? The film was shot in idyllic Saga, a city in Kyushu. If you're following Julia's Instagram, you'd know by her photos that it's a charming little city, seemingly unaffected by the trappings of modern life. It's the best place to escape to and relearn a few things — for Julia, it was a location free of distractions, which allowed her to focus on work and herself.
"It was quiet. It was easier to get things done. It was also winter; maybe that also made things lighter. It got really cold, though — but I'd rather be cold!" she says with a laugh. "There was just so much teamwork because we all had to help each other, given that we were only 20 people, compared to being in the Philippines and working with a hundred-plus people. I gained new friends and a new family. It's the best thing that happened to me this year, so far." She adds, "Honestly I would even consider going back to Saga, to see it again."
A new phase
Working on a movie outside of JoshLia was a learning experience for the actress. "There's a world out there that you should go and explore. Get out of your comfort zone. Take some risks. Have faith in yourself," she shares. "I think I'm in a stage of reinvention. I am constantly looking for change; at the same time, I'm glad I am being given these opportunities where I could improve and better myself, learn more about my craft. In trials, triumphs, success, you learn so much."
Part of this new outlook is a renewed focus on herself, on self-love. "Just recently, I learned to reprioritize my soul. I didn't feel like that was important up until a few months back. I think it's really important to surround yourself with good people because you feed off of their energy. People around you mold you also, so you have to be careful."
As she enters a new phase in her career, possibly opening new doors to more solo projects, the invigorated actress carries with her a maturity that even she is surprised by. "I started out so young," she says. "I had no choice but to mature so that I could understand situations and find solutions to them. At 22, you're not supposed to be worrying about so many things, but I feel like I have goals that I have achieved and then goals just get added and added. It just doesn't stop. Your life can change in a week, in a month, and it's crazy because I can't believe how much change can happen in such a short time. So my perspective on love, life and work constantly changes. That's what's scary — it keeps changing and then you keep having to adjust and you keep surprising yourself."
With her entire career ahead of her and as a self-confessed workaholic, the actress has no plans of escaping from work anytime soon. But if she did, where would she go? "Maybe the ocean with one friend," she shares. That should be enough for JoshLia fans to rest assured that, no matter how far her career takes her, there will always be home.