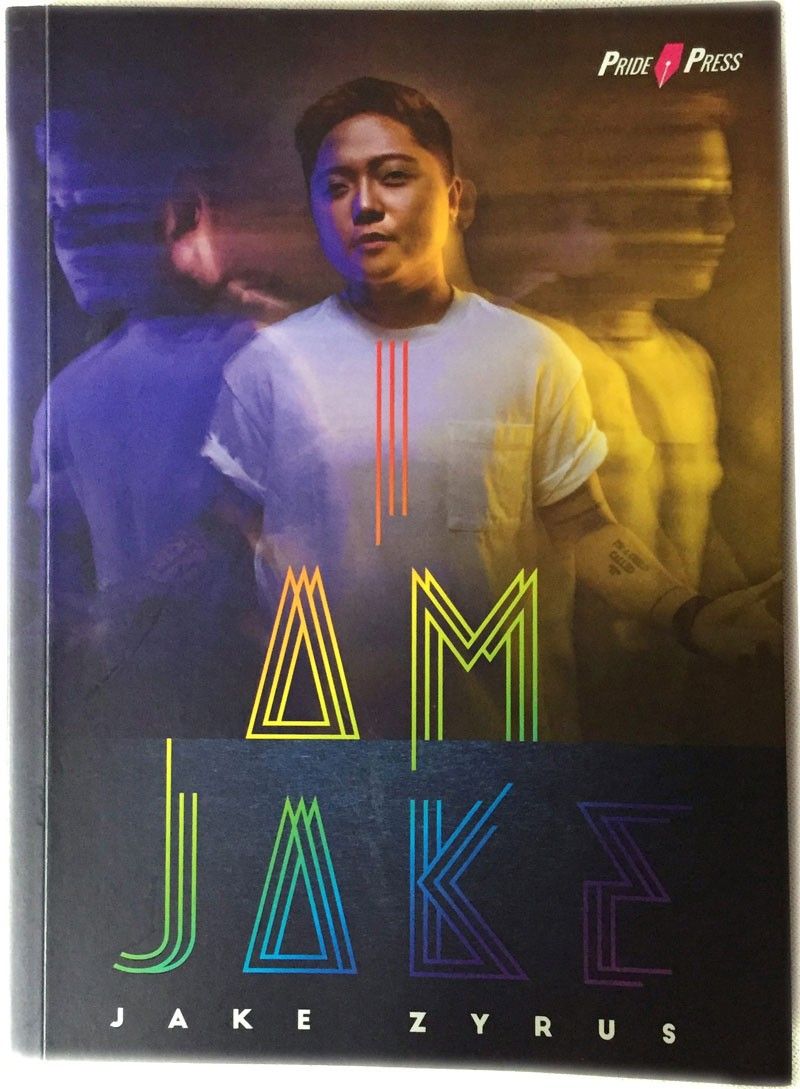 "Whoever you are, artista ka man o hindi, kung anuman trabaho mo, it's really important to know who you are and accept it. Kasi 'yung feeling na ina-accept nila ako, pero ikaw hindi mo ina-accept sarili mo… dun nag uumpisa 'yung struggle." I am Jake is published by Anvil Publishing and is available in National Bookstore for P295.
Photo by Joseph Pascual
I am Jake: A survivor's story
Jake Zyrus' autobiography reveals some tough truths about the state of gender, poverty, and fame in the Philippines. He opens with a detailed look into his successful top surgery, walks us through three suicide attempts, and then dinnersat David Foster's.
My boobs were gone. I couldn't believe it.
This is how the first chapter of I am Jake — the autobiography of Jake Zyrus — opens, and after this, it's impossible to put the book down. This was not the first time I woke up on a hospital bed. In the past, I had woken up from failed suicide attempts. I tried to kill myself thrice, gulping down fistfuls of sleeping pills I always had in abundance.
When we met with Jake for the first time to shoot him for the cover of Supreme last year, he was a little bit more reserved. He had just announced his transition to the public, including his choice of name, and everyone was abuzz about it.
Today, having just told his most unabridged story yet, he looks more aloof and confident, he is chatty and acts loosely, he just radiates a good energy. And when you leaf through the pages of his book, you will understand why.
The book is not so much a celebrity profile as it is a deeply personal survivor's story: painfully taking us through his journey from his childhood living with poverty and abuse, to running around Hollywood circles meeting people like Paris Hilton, Miley Cyrus and Aaron Carter, to the long struggle of acceptance within, to finally come out, and to transition.
"Of course I've always wanted to share my story with everybody," he tells us just last week as we were at his book launch in Quezon City. "Dati pa, sa US pa lang… but it was harder then, siyempre kelangan 'yung story mo sugarcoated. Ngayon mas open 'yung mind ko sa lahat, mas nagkaroon na ako ng lakas ng loob dahil din sa mga tao na nakikita ko, especially mga kabataan ngayon, 'pag nakikita ko ano 'yung reason 'bat nila tini-take lives nila, sabi ko, oh no… like almost the same reason why I tried to take mine. If only malaman nila 'yung story ko..."
His autobiography could possibly be the most important piece of contemporary non-fiction of this time, as it walks us through numerous issues that need to be addressed. Unintentionally, Jake's life is rife with them: LGBTQ acceptance, complex family situations, fame, living in poverty, and how all of these affect a child…Yet his story is not written with self-pity — begging for some kind of commiseration. In fact, he recalls the abuse of his mom when he was a kid with lighthearted humor, remembering the names he would assign to her blows towards him. "The Helicopter" is when she grabs your hair and furiously swings your head around. "The Remote Control" is when she forces your mouth open with a remote control. "The Boxing" is when she punches you hard in the stomach because you can't hit the high notes. He just puts it out there as fact, and we are left with our jaws dropped. But he tells his story not for the sake of it, but in the hopes that it will save someone else.
You don't need to be a fan to appreciate this book. Charice Pempengco made significant contributions to pop culture. I actually kind of forgot about this until the part where Jake recounts the dinners Charice would attend at David Foster's house, how she and her mom were pulled out of the plane to meet with Oprah without makeup, and how she played a part in the show Glee at the height of its success. In the book, Jake recalls that it was actually David Foster who outted him in one of his private dinners, to an audience composing Barbara Streisand, Josh Groban, and Kenny G. I watched as everyone in the room stood up and began clapping for us. Barbara even walked up to me and gave me a hug. Then, she held my chubby face in her hands and said, "Oh darling, I'm so happy for you!"
"They treated me like… they just celebrated," shares Jake. "That night they made me feel na kung sino man ako ay normal. They talked about it for a minute, and the next minute they moved on. That made me realize na parang — ang sarap sa feeling. The way they reacted, that made me realize na kelangan talaga, whoever you are, artista ka man o hindi, kung anuman trabaho mo, it's really important to know who you are and accept who you are. Kasi 'yung feeling na ina-accept nila ako, pero ikaw hindi mo ina-accept sarili mo… dun nag uumpisa 'yung struggle. So 'yun 'yung perfect moment na minahal ko sarili ko kasi minahal din nila ako."
Today, Jake considers it the perfect time to tell his story. That it couldn't have happened at another point in his life. "Lahat kasi perfect timing. Hindi lang sa events na nangyari sa life ko, (pero dahil) may peace of mind na ako, masaya na ako. Ganun pala talaga no 'pag iniisip mo — when you're really happy with who you are, mas magaan 'yung lahat. I made the book not for myself, kasi obviously pinagdaanan ko na siya, but for other people. Na ma-realize nila na survival book siya."
* * *
I am Jake is published by Pride Press, an imprint of Anvil Publishing, and is available nationwide in National Bookstore or online at anvilpublishing.com.