Beyond Borders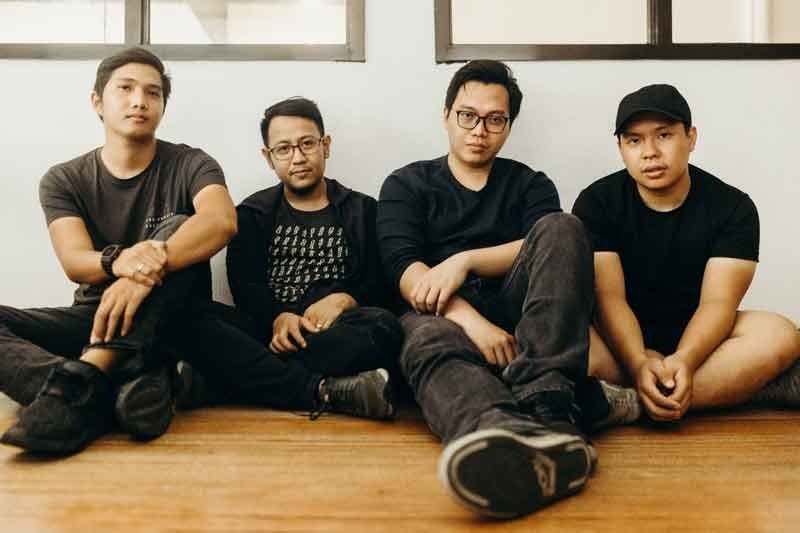 On the cusp of an international breakthrough, tide/edit is rewriting the rules with another game-changer of an album. 'All My Friends' is the music you need.
What does it take for a local music act to amass a following outside of their home turf? Both bedroom-pop prodigies No Rome and Mellow Fellow have found global recognition with lo-fi releases that offered sanctuary to the sad unknown. Without industry-backed machinery, they did things on their own way — from recording to marketing, creative decisions to mode of distribution. Their careers took off in the blink of an eye thanks to a supportive community that embraced their hazy, DIY-leaning sound and relatable content.
For tide/edit, it's a slightly different case. The band has been around for seven years, carving their own place in post-rock circles and beyond. With their knack for melodic instincts and infectiously dreamy tunes, the mathy four-piece has slowly but surely gained a foothold overseas, thanks to their previous albums, "Foreign Languages" and "Lightfoot." Both records were distributed in Japan via Friend of Mine Records — an independent label known for supporting breakthrough musicians from around the world. "We have always dreamed of getting our music released in Japan," lead guitarist Clarence Garcia told Supreme. "We have plans of sending demos to record labels that we like, most notably Friend of Mine Records. I was surprised to find out that they were actually interested in distributing our material. I woke up one day, receiving an email from them. It was such a great experience."
Luck might have played a pivotal role in tide/edit's ascent to indie ubiquity, but it's the band's characteristically loose arrangements and pop sensibilities that garnered them a following in Asia and elsewhere. And the music critics loved them to bits: my The Rest Is Noise colleague Mary Christine Galang ranked "Lightfoot" as one of the finest records in 2015, and is quick to praise the quartet's sonic consistency. "Although tight as a whole, the instrumentation is not bereft of genuinely good moments," Galang wrote in her review of the sophomore full-length release. "tide/edit's second outing explores their strengths by playing… with their dynamics." Prominent post-rock authority Arctic Drones included "Lightfoot" on its list of Outstanding Albums of 2015, lauding tide/edit's ability to "grab your attention within the first five seconds."
Tide/edit rose above the white noise of twinkly guitar-pop instrumentals with precision and unassuming simplicity. They write songs that are fun to jam to, and they make euphoric tunes that hit home.
This was also the same band that made it to Topshelf Records' highly anticipated 2014 digital sampler, which includes some of the most acclaimed guitar-rock acts of the last decade: from Tricot to Alvvays, from Pianos Become Teeth to The World Is a Beautiful Place & I Am No Longer Afraid to Die. Who knew that in the deeper pockets of Metro Manila, one could revel in the happy-melancholic jams of Clarence Garcia (guitars), Jawin Pagaduan (drums), Noe Rubio (bass), and Nelson Villamayor (guitars), and fall prey to their distinctly underrated cool? "We were actually surprised," Garcia shares. "Again, out of the blue, I received an email from Topshelf Records. They were keen on including our track Odd/Even in their annual compilation album. Most of our music heroes are signed under them. I'm not sure if we deserve to be part of something that special."
With not much fanfare, they've garnered a new audience longing for something immediate and pulsing. Their upcoming album, "All My Friends," is indicative of their growth as musicians who are okay with where they are now: adults who have finally come to terms with their life, hopeful of what the future may bring. "There's so much contentment in our lives now that it clearly affected the overall mood of the record," Jawin Pagaduan observes. "That's how things were when we recorded the tracks on 'All My Friends.' We somehow see things in a positive light; everything is devoid of complications. It shows even in our jamming sessions." Clarence, on the other hand, offered this take: "It's a balance of happy and nostalgic. We're less technical on this one, but the magic unfolds when we let loose and give in to the moment during the recording. This is probably the most emotionally driven set of songs that we've had in years."
There are a couple of exciting offerings that might convert new fans. Run Dorothy's Dee Cruz sings on White Flag with lighthearted restraint that adds to the record's wholly refreshing vibe. To the Zoo is the band's attempt to go beyond the four-minute mark and explore new sonic territories. Afterglow, another band favorite, is an exercise in tense dynamics and playful arrangements. The new record, all in all, points to a familiar direction, albeit rendered with newfound inspiration.
As of now, tide/edit is gearing up for an upcoming Southeast Asian tour from August to September, with stops in major cities such as Bangkok, Singapore and Kuala Lumpur. They're also set to launch their third full-length opus next month via A Spur of the Moment Project — the flagship label responsible for releasing and distributing their work locally. "We don't know what the future holds, but one thing is certain," Clarence reassures. "We will continue making music. Not as active as before because we have different priorities now, but we'll always find a way." It's refreshing to get to know a band that doesn't think too highly of themselves despite the international accolades, whose members openly prefer to talk about balancing adulthood while making the kind of music that they like. Here's hoping these guys make more music in the coming years.
Photo by Karen de la Fuente Shot on location at LITTLE OWL CAFE