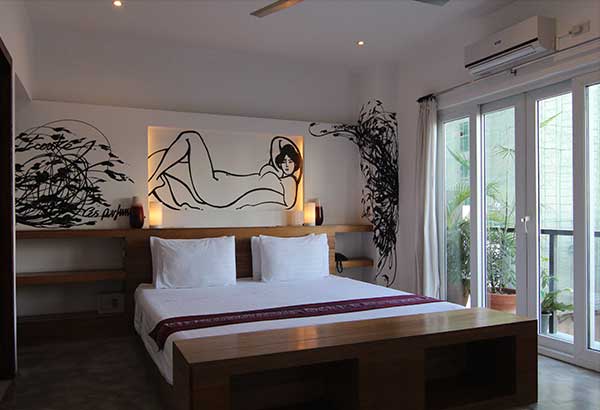 The bedroom of the Element penthouse suite with balcony comes with your own living room. Cost per nights is P11,400.
Element Boutique Hotel: An oasis in the city
Viridian ivy leaves crawl along bookshelves, couples are sipping rosé by 3 p.m., ambient French music is drifting from the speakers, and the smell of freshly baked bread wafts across the room from the back kitchen. The Element Boutique Hotel, smack in the middle of the bustling Poblacion area of Makati, transports you far away. Step through their doors and you feel like you're somewhere in Europe instead: during happy hour, they serve oysters sourced from Maclan, and it comes with a glass of white wine; their pasta is made fresh with organic eggs; cheese platters are available; and sometimes, they say, when the night gets busy, they push the tables aside to make space for samba dancing.
"Have you never had pastis in your life?" Mae Carl Perdon asks me, one of the owners and managers of the Franco Filipino-run establishment. She is a bit baffled, as she calls to her co-owner and manager Armand Lafare (who also helped put together the menu) to whip one up at once. Pastis, a common aperitif in Marseille in southern France, is available in their bistro/boulangerie. The anise-flavored spirit tastes like absinthe — which makes sense because its popularity rose 17 years after the absinthe ban. The bistro also serves a number of European dishes: tuna carpaccio, samosas, a French Roquefort sandwich, Catalan sausages, French tarts, roullie de seiche, and a provincial aioli prepared to the chef's grandmother's recipe. They use fresh, healthy ingredients, and make everything with organic or biodynamic vegetables. Truly, they didn't scrimp on the details.
Upstairs, there are 12 rooms and two penthouse suites. The rooms are industrial and filled with art, with sunshine pouring in through the windows and lush potted greens along the balconies. The walls of the rooms and the hallways are covered in black and white mural art. The space echoes a passion for comfort, uniqueness and love for food and travel. Each room has been custom designed to create an oasis, showing off the marriage of raw materials and the elegance of modern design.
It's the attention to detail that makes Element Boutique hotel feel more like a home than a commercial space. Mae Carl tells me that their beautiful hammered metal ashtrays are from Morocco, and that the premium sea salt found at each table in the restaurant is Fleur de Sel (they brought it in themselves from France). Every month, they plan to change the art on exhibit, but at the moment, on display are striking photographs by Patrice Boiteau.
There's every reason for you to keep this place a secret: you kind of want to have it all to yourself. Element is one of those spaces that keeps their charm in their discretion. There is so much comfort yet excitement in its presence; an unlikely paradise in the heart of the urban jungle. And you want to preserve it like that.
* * *
Visit elementboutiquehotelmakati.com for more details.