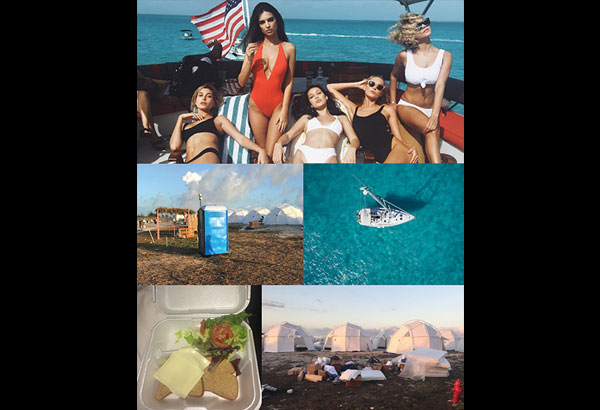 From #LaBoracay to #MayoUno and from #FyreFestival to #Kadamay, recent events show that vacations are never really escapes.
POST-SCRIPT: The truth about vacations
With the sweltering heat and the long weekend, we Filipinos are once again left to stew ourselves in our contradictions. This week, social media was a melting pot of people at the beach and people celebrating Labor Day by marching beside farmhands, laborers and their families. They were all there — vacationers and protesters — in one thread and the metaphor was hard to escape, what with hashtags like #LaBoracay, #LaborUnion, #MayoUno, and #EndENDO (or "End of Contract": being employed, contracted, for an abnormally short amount of time with measly pay and minimal or no benefits).
It could not be more ironic — except, it isn't, because it happens far too often. In this country, Facebook's streamlined, you-see-what-you-want-to-see algorithms can't hide the depressing gap between the Filipino rich and the Filipino poor. Trolls lie on their beds with their gadgets at eye level, or seated, unbathed and sweating in front of their laptops, typing a comment on the latest news on Kadamay, "Ang tatamad nyo. Magtrabaho nga kayo. 'Wag puro asa sa gubyerno." And with their pay from trolling, they go on trips to the beach and post online, "Work hard, party harder. Enjoying the fruits of my labor this Labor Day. #LaBoracay." The virtual punches us right in the face, and the conflict, the class warfare, is too difficult to deny.
The Internet age's success story reeks of arrogant, middle-class rhetoric — of being matapobre — the malevolent belief that the poor are poor because they chose to be poor.
We course through this life with varying degrees of myopia, of obliviousness to some facts — intentional or not — because there is just no joy in knowing every side of every story, no joy in uncovering every crime behind every great fortune, no joy in seeing reasons for senseless acts. We deny certain realities, especially those which do not work for us, for the sake of convenience: It's just not possible to operate when you consider all points of view. We need to weed out, develop some sort of selectiveness, in order to function, to organize, and to finally achieve an end.
'To be or not to be'
Here is where we realize that we are in no way unlimited. In literature, it was Shakespeare who put it best with his creation of Hamlet, Mr. "To Be or Not to Be." Hamlet is as round as a character can get. He mopes over his condition, considers all his options, chooses one path, but always ends up doing the exact opposite. In the end, he gets nowhere and dies.
Capitalism grants us this illusion of choice. Supposedly, if you "earn enough," it gives you the ability to scrap the things you don't need, and to buy the things you feel you do need — the freedom to make yourself. A vacation is one of those things we buy. And at the heart of every vacation is, of course, the idea of work: There can be no vacation if there is no work. Inversely, we find that work has no purpose if it grants us no vacations or any reprieve. That is why there is no such thing as a permanent vacation (likewise, permanent work).
Money gives us that choice to have a vacation, to temporarily exclude realities. We take vacations to forget. Basically, the more money we earn from working, the longer and kinder our breaks get, the more we find an escape from work. But when our money for our jaunts run out, we find ourselves diving straight into traffic, throwing ourselves into those torturous 8 a.m. meetings, and going into overtime, just to earn enough for another trip out of town. Vacations are, therefore, never really "escapes." On the contrary, they validate that the system is very much in place.
Fyre Burns
In news overseas, a music festival was held in the Bahamas with tickets costing US$12,000 per person. (This ballooned to over US$250,000 per person before the festival weekend itself.) Fyre Festival offered a weekend on a private island, staying in luxury villas, wining and dining while being entertained by "top names in music." Its promotional materials had models, the typical sensual images, enjoying "a cultural moment from a blend of music, art, and food." Plus, organizers said that they hid over one million dollars of real treasure on the island for festival-goers to find.
Come festival dates, however, attendees were accommodated in "disaster relief dome tents" and were fed cheese sandwiches. Many were left marooned at the airports, kept inside by the organizers because there was no more room for them at the festival grounds; one person passed out because of the heat. Most of the artists also backed out. It was the exact opposite of a vacation, an escape to misadventure, and was dubbed "The Hunger Games for Rich People."
But the irony is that, in the end, many of the attendees said that they enjoyed the hassle and that they would gladly do it all over again. It seems that it was no longer the experience of bathing in luxury that enticed these members of the elite, but rather, the sensation they found in throwing away absurd amounts of money, all for displeasure. It seems that, born with silver spoons in their mouths, their definition of a vacation is now an anti-vacation. This, all the more, shows our differing definitions of what a vacation is and, at the same time, asserts the undeniable role capitalism plays in it. Vacations are just like any other commodity, sold for a price, offering a chance to forget.
Elite Spectacle
In this spectacle of the elite à la Great Gatsby, it makes me wonder what did the below-minimum-wage earners from Kadamay ever do to deserve being called "vacationers" and freeloaders? If a vacation is supposed to allow a person to temporarily forget, is it still a vacation when your reality is that of homelessness, of unfair wages, and of job insecurity? Can one really forget those things, even just for a hiccup? Forgetting was never a choice for the people of Kadamay; they are not looking for a break.
It is empathy that we lack, that we have lost, as we run in this rat race. In our comfortable long weekends out of town, in the manner we reward ourselves, we forget that there are those who have no vacations. To begin with, they never really had anything — no house, no decent-paying job, no clear future — to get away from.
* * *
Tweet the author @sarhentosilly.