Somebody please stop ER Ejercito
February 28, 2015 | 12:00am
MANILA, Philippines - To ring in 2015, we as a nation have had to deal with an incredible amount of grief, beginning with the Mamasapano clash on Jan. 25. The incident, as we know, claimed the lives of 44 servicemen in the Special Action Force (SAF). It also left 14 members of the SAF wounded, as well as resulted in 18 deaths among the Moro Islamic Liberation Front (MILF) and five of the Bangsamoro Islamic Freedom Fighters (BIFF).
As soon as news of the clash broke, we heard stories about the individuals who served so selflessly. We heard about the one whose daughter asked him not to go because it was late, we heard about the one who viewed photos of his family on his cell phone right before he was slain. We heard about the cold-blooded killers picking up the calls on the phones of the slain, to spread the news that, indeed, their loved ones were no longer. We watched as our President, the commander-in-chief, completely failed to show up for the arrival of the soldiers' bodies. We watched as soldiers addressed DILG chief Mar Roxas, one of whom said, "There is no glory in this country, Sir. This country is not worth dying for… kung yung gobyerno hindi kami kayang protektahan as your warriors, Sir."
The call for justice has been great, and self-proclaimed "iyong lingkod" Jeorge "E.R." Estregan has taken it upon himself to do what any rational human being with means would do (genuine sarcasm, in case you're missing it): he's making a movie about it. It will be entitled, to no one's surprise, SAF 44, and will naturally feature Estregan in the lead role. Estregan released a statement on the creation of the film via Facebook, which reads:
"Just like my past four quality movies (Manila Kingpin, El Presidente, Boy Golden, Muslim Magnum 357), I would like to bring to life onscreen another epic action drama movie and make it as truly reflective of the actual events and circumstances surrounding the brave 44 heroes based on facts and official findings.
"We want to immortalize the remarkable sacrifice the brave 44 heroes of the elite PNP-SAF have made for God, the country and the people. We also want to inspire and motivate the next generation of soldiers/commandos/rangers to enroll and enter the Philippine Military Academy (PMA) and Philippine National Police Academy (PNPA) — to serve and protect.
"This epic war movie is my tribute to honor our new valiant heroes who will soon be legends. Proceeds of the film will go to the families of the brave 44 heroes.
— Gov. ER Ejercito aka Jeorge 'E.R.' Estregan"
False Humility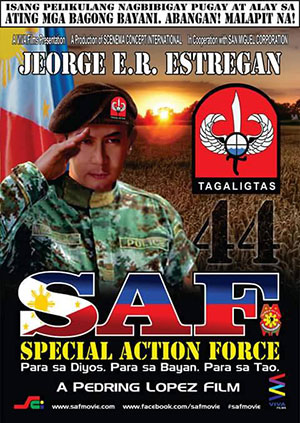 It's clear that this is simply a vehicle for Estregan more than it is a worthy tribute for those who died in service to their country.
All this false humility and magnanimity aside, let's just call this what it is: pure and utter B.S., also known as a thirsty jump at the chance to make an old school action movie.
Whatever "facts and official findings" Estregan hopes to glean are, at best, limited, as the events of that day are still unclear. The reports are still contradictory, and any semblance of justice for those who died is still very much absent. Because of the clear nature of the situation, and the speed in which the creation of this movie was announced, there is absolutely no way Estregan has managed to even do the least amount of due diligence to make this project in any way respectful or sensitive. What is clear is that this is simply a vehicle for Estregan more than it is a worthy tribute for those who died in service to their country.
Let us, just for a second, picture these 44 men. The families they belonged to, the communities they served, the individual characteristics they each had. Were they funny? Quiet? Serious? Playful? Philandering? Young? Experienced? Each individual among those 44 brave heroes belonged to someone, came from somewhere, had a story, and each deserves a minimum amount of respect that is greater than having their existence compressed into a 90-minute reel replaying one muddled incident. They deserve more than being the parts of a catapult through which the reminder of one man's ability to be a bankable action star is launched. They deserve our reverence, not this needless sensationalism.
What is equally irritating is that for someone with a supposed interest in serving our nation, Estregan displays a shockingly minute and narrow understanding of the situation. The Mamasapano clash is not simply about the deaths that it yielded, but about the lack of leadership from our commander-in-chief, the hunger for a peace prize, and the danger it poses to any hope of peace in Mindanao. The peace process is hanging on by a fragile thread, and it will not be helped if villainizing the acts of a few serves as the mask for the entire Moro-Islamic population. These people have known discord their entire lives, have had to live with the stigma of being Muslim equating to being extremists, and they deserve to have their fair shot at peace without having to deal with all this extra noise. Mamasapano is more than about the 44 lives lost and about whose guns fired where. It is about whether any of this was at all necessary, and what it means now that it's all happened. Any man who understands this would leave well enough alone, save for the outcry of justice so prevalent in our midst.
If all Estregan wants is a movie idea set in Maguindanao that led to many brave souls dying, let's take him back to the Nov. 23, 2009. Fifty-eight victims — 34 of them journalists, a few of them were pregnant women — were brutally slain en route to file a certificate of candidacy for one Esmael Mangudadatu. He was set to run against Andal Amanpatuan, Jr., whose family had close ties to then President Arroyo. The bodies of the slain were found in mass graves that were preemptively built in the boldest act of violence known in recent years. The massacre is known colloquially as "The Ampatuan Massacre," with the judgment of the people making clear who is viewed as the guilty party. The facts are far from blurry, and yet in six years, there has been zero justice served or accountability declared.
There are too many stories of injustice and loss that deserve attention and remembering for us to rush the process of telling the SAF 44's stories. There is no danger of any of them being forgotten, much less within the next two or three months. As much as the SAF 44 deserve our recognition and admiration, as much as their families deserve whatever compensation we can impart for such a great loss, what they truly ultimately deserve is to rest in peace. They have already died that we may lead mundane lives. Let them not battle for self-respect long after they've breathed their last, and let their service remain in its utter integrity.
* * *
Tweet the author @gabbietatad.