Koji Arsua
(The Philippine Star) - November 15, 2014 - 12:00am
Watch fine Filipino films at Cinema One Originals
MANILA, Philippines - It's the last stretch of this year's Cinema One Originals, and if you haven't seen anything, here are the films we recommend you to watch before the festival ends on Tuesday: Kanakan-Balintagos' (Auraeus Solito) Esprit de Corps, which follows two cadets as they question how far they would go for a promotion in a military school in the Marcos era; Sigfrid Andrea P. Bernardo's Lorna, whose titular character is an older woman trying to find love; Jay Abello's Red, a dramatic tale about a young man who takes the fall for a drug bust; Antoinette Jadaone's That Thing Called Tadhana, a bittersweet rom-com between two heartbroken souls; and Eduardo Dayao's Violator, a post-apocalyptic horror film about five men stranded in a police station with a mysterious prisoner, who may just be the devil. Catch the films this weekend at Glorietta 4, TriNoma, Fairview Terraces, and Greenhills.
Discover Luis Antonio Santos' blurred lines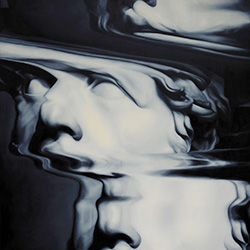 It takes a while to process Luis Antonio Santos' paintings. For the first few seconds, your brain accepts that you are looking at a series of photos. Then you get confused as you tell yourself that these are paintings. Luis has established himself for his hyperrealist paintings, so realistic that you're forced to think of a super-superlative to appropriately describe his work. For his solo exhibit "Momentary Lapses," which launches today at Blanc Gallery in Katipunan, Quezon City, Luis explores distorted imagery, memories, and its fickle nature, which translates itself so well through his skilled hands and his monochrome fetish. In his previous pieces, he liked working with textures, blurs and glitches, which only a budding master like Luis can make. When going to this exhibit, always remind yourself, "This is a painting, this is a painting…"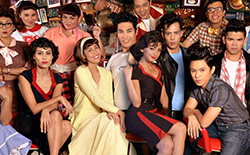 Catch 'Grease,' the musical
The Disney generation may not be familiar with Grease, but for men and women of a certain age, John Travolta and Olivia Newton-John were their Zac Efron and Vanessa Anne Hudgens. Like High School Musical, Grease is a love story between two kids from opposing cliques, set in the very vicious world of high school. But unlike High School Musical, Grease started out as a Broadway musical with music from 1950s rock and roll. Manila will get another taste of the Greased Lightning as 9Works Theatrical is bringing the musical back, starting today until Dec. 7, with Guji Lorenzana and Tippy Dos Santos as Danny and Sandy, with Steven Silva, Antoinette Taus, and Rafa Siguion-Reyna, and Robbie Guevara as the director. Last year's run was called "electrifying" and "captivating," and we wonder, can they make the HSM crowd hopelessly devoted like their parents were?
* * *
Tweet the author @kojibberish.
Have a geekgasm at Komikon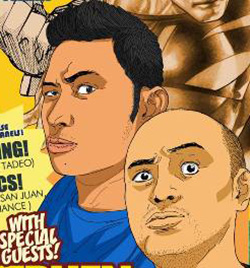 Whether you're a comic ingénue or a hardcore addict (and even if you're just curious), you should check out today's Komikon at the Bayanihan Center, Unilab Compound, Pasig, to see how healthy the local comic scene is. Held twice a year, today's Komikon celebrates its artists with the Independent Komiks Tiangge, where you can buy the latest and upcoming titles, and even meet its creators. You can also have personalized drawings from established artists at Komiks Kalye, and meet Stephen Segovia and Melvin Calingo, who have made names in the local and international comic scene. There will also be a screening of Keith Sicat's Komikero Chronicles, Pepper Marcelo's Illustrated By, and Erik Matti's Tiktik: The Aswang Chronicles (and a trailer of the sequel!). The event will be held the whole day, but since liking comic books is a thing now, better come early.