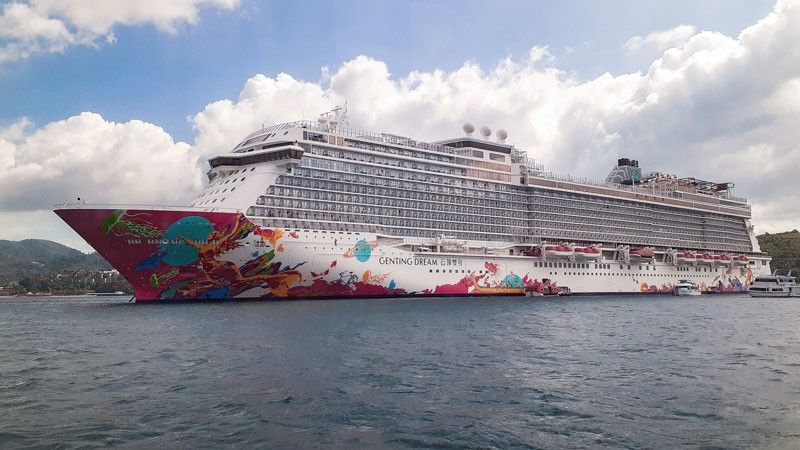 The Genting Dream cruise ship is a whimsical and life-changing experience.
Finding a Dream in the middle of the sea
A cruise with Genting Dream Cruise is a whimsical and spectacular experience. Dream Cruise Line's first ship, Genting Dream is a vessel for your dreams it features all the comforts of authentic Asian hospitality combined with the finest experiences from around the world.
On Genting Dream, you'll find everything from world-class entertainment and fine dining to spas, bars, boutiques and bespoke experiences delivered with their heartfelt Asian hospitality. You'll enjoy your favorite food from around Asia, plus the best of international cuisine. All handpicked to inspire the greatest travel experience of your life.
It was at the crack of dawn when my companions and I boarded the Cebu Pacific plane that took us to Singapore. From the Lion City, we boarded the five-day cruise from Singapore, Penang, Phuket, Langkawi and Port Clang back to Singapore. The cruise was competently arranged by Rakso Travel.
Our photographer Erin Cloi Asuncion captured the moments to treasure of the trip. We were joined by sultry DZMM newscaster Maresciel Yao, interior designer Danny Jota and fashion designer Kim Gan.
Dream Cruise Line has three cruise ships, including Genting Dream, World Dream and Explorer Dream. Purposely built for the Asian market, Genting Dream and sister ship World sails across Asia. Explorer Dream on the other hand boldly sails outside of the Asian waters, evolving Dream Cruises into "Asia's Global Cruise Line." They provide inspirational journeys at sea that are Asian at heart and international in spirit.
Experience the cruise of your dreams by selecting from an impressive array of spacious staterooms featuring private balconies. Each room is tastefully appointed and designed for pure pleasure. There are different options varying from a delightful haven of complete peace and quiet or a grand two-bedroom villa perfect for lavishly entertaining newfound friends.
Those who enjoy the finer things in life also have the option to book The Palace where they have larger rooms, penthouses, and villas. The Palace area has its own spa, dining venues, pools, and gyms separate from the rest of the ship. The luxurious essence of The Palace is embodied in the meticulous personalized services of its dedicated team of Dream Butlers, chosen for their gracious attitude, incomparable level of hospitality and unparalleled expertise. A personal butler will smoothly handle all requests, from serving in-suite afternoon tea to arranging stateroom dining for those who can't bear to leave their elegant shipboard home.
The Genting Dream Cruise became our home sweet home for more than a week. Comfort, variety and style characterized this cruising experience. Dream Cruises has three complimentary and nine specialty restaurants to choose from with a wide array of menus, bars and lounges, a live-production theater, a spa, 24-hour fitness centers, a waterslide park with big swimming pools and Jacuzzis. There are even supervised activities for children. The ship also offers exciting land tours and shore excursions, musical performances, discos, duty-free shopping, rock climbing, mini-golf tournaments, ropes course, spas for relaxation and much more.
There are three inclusive restaurant options where you can dine without incurring additional fees, completely free of charge, Dream Dining Room Lower, Dream Dining Upper, and The Lido. The Dream Dining Hall offers a Chinese set menu on the upper floor and Western set menu on the lower floor. Genting Dream also has nine specialty restaurants to satisfy any of your cravings.
One particular thing that stood out to me the most was the Japanese cuisine thoroughly enjoyed by the whole gang. Umi Uma is one of the many restaurants on the ship. Our chef put on quite a show before he finally started cooking, and when he did I just couldn't stop staring at the fresh lobsters, prawns and scallops sizzling away in front of me. The Silk Road Chinese Restaurant is also another restaurant to look out for.
There are plenty of choices on this cruise ship; you will definitely find what fits you. Be prepared for some amazing acrobatic and entertaining performances at the Zodiac Theater. Have a drink at Bar 360 and enjoy live performances on the round stage. You can head over to Zouk Beach Club for an unforgettable party. Zouk is Singapore's most sought-after nightclub. It's consistently chosen as one of the top 10 clubs in the world. Now it's time to unwind, it's time to sit back and recover with world-class massages at Crystal Life spa or at the Asian spa.
You can also attempt to hit a strike at the bowling alley. Belt out a couple of your favorite tunes at karaoke. Enjoy swimming at the Waterslide Park where there are six slides to choose from, gentle slopes for the family to steep inclines for the adventurous. Relax and sunbathe at the Sun Deck. For more exhilarating activities you can check out the Ropes Course, the perfect bonding for families. Complete the course and punctuate it with the 35-meter zipline, gliding along the side of the ship above the water. There's also a large outside court called the Sportsplex where you can host basketball, tennis, archery, bubble soccer, and others. Rock climbing and mini-golf are also among the amenities that the cruise ship has to offer.
Kids under the age of two years old can be dropped off for child minding services on a deck called Little Dreamers Club. Here your little ones will enjoy all sorts of fun activities. The best thing about it is that it's open until 12 midnight, but times do vary each day depending on the ship's activities. Teenagers can enjoy playing at the arcades. There's one on the lower level and one on the pool deck.
If you like shopping for some souvenirs, you can get duty-free items from The Dream Boutiques, and The Dream Store/Souvenir Mart where you can avail yourself of Dream Cruises merchandise. There's also an Art Gallery where you can purchase artworks you see inside the ship.
While many opted to stay aboard the ship, those that checked out the shore excursions were equally satisfied with the gorgeous places they explored. One of the best things I love about cruising is that you get to visit other countries while enjoying the cruise ship's amenities and features at the same time. There are four Shorex (shore excursion) options to choose from during our trip: Langkawi, Phuket, Port Klang, and Penang. You won't have to worry about getting from one place to another when booking the Shorex. The local tour operator partners will sort out everything for you including the meals and transportation. You can be assured that you will return to the ship on time.
The Genting Dream Cruise is an exhilarating experience that will certainly create memories one will cherish for a lifetime. Sail away!
* * *
For information, call Rakso Travel at 8651-9000, 0917-7200740 look for Jovie Jean Ramirez or Jane Manzo. Or you can log on to www.raksotravel.com.
E-mail the author at miladay.star@gmail.com.