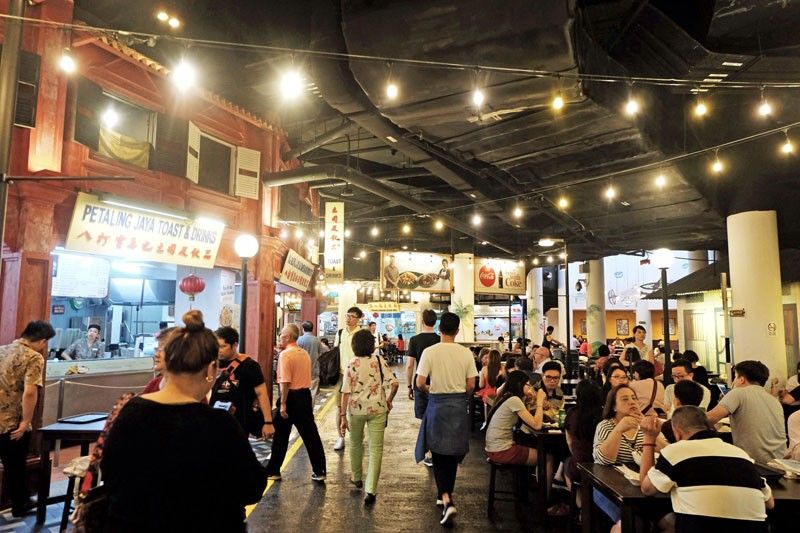 Malaysian Food Street right outside of Universal Studios Singapore serves up an old-town feel with good, authentic food.
36 hours of degustation at Resorts World Sentosa
Singapore's resort island keeps things fresh with new dining options that are worth the weekend getaway.
If you've been to Singapore, then you've probably been to Resorts World Sentosa. It's a prime tourist spot, containing theme parks, tons of restaurants, and hotels (six hotels, to be exact). With that said, you might spend a weekend here, feel like you've exhausted all its attractions, and never come back. But — and I'm sure you saw this sentence coming — there's always something new at Sentosa.
Don't worry: this isn't some list of gimmicky attractions that are all smoke and mirrors. It was my first time to Sentosa visiting these spots, and I'm already sure I would go back for these exact same things — and to see more, of course. ?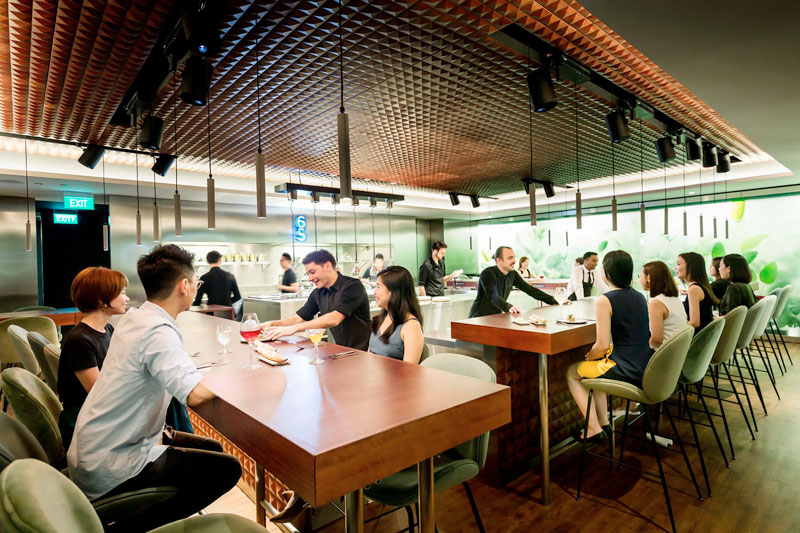 A no-pretense, fine-casual restaurant, the recently-opened Table65 features and open kitchen and innovative food.
First, let me tell you about the new kid on the Sentosa block, the restaurant Table65. Defined as a "no-pretense, fine-casual" restaurant, it is helmed by celebrated chefs Richard van Oostenbrugge and Thomas Groot. This is their first restaurant outside of the Netherlands, so I wasn't really sure what to expect. It has a vibe that's similar to Toyo Eatery in The Alley at Karrivin (which recently placed among Asia's 50 Best Restaurants, by the way), with an open kitchen and a bustling yet serene energy. Their tasting menu consists of 12 dishes, so come with your appetite ready to fight.?
When the food arrives, the chefs themselves serve it to you, along with an explanation as to what you're about to eat, making for an intimate experience. They tell me that the menu is dependent on the kind of ingredients they are able to source locally, so the menu changes every so often. Other special ingredients, like truffles, are flown in (and sometimes get stuck in customs). The food itself was inventive and fun to watch as they assembled it, using techniques such as creating a candy shell shaped like an apple for an "apple pie" dessert and liquid nitrogen to make a dessert right in front of you.?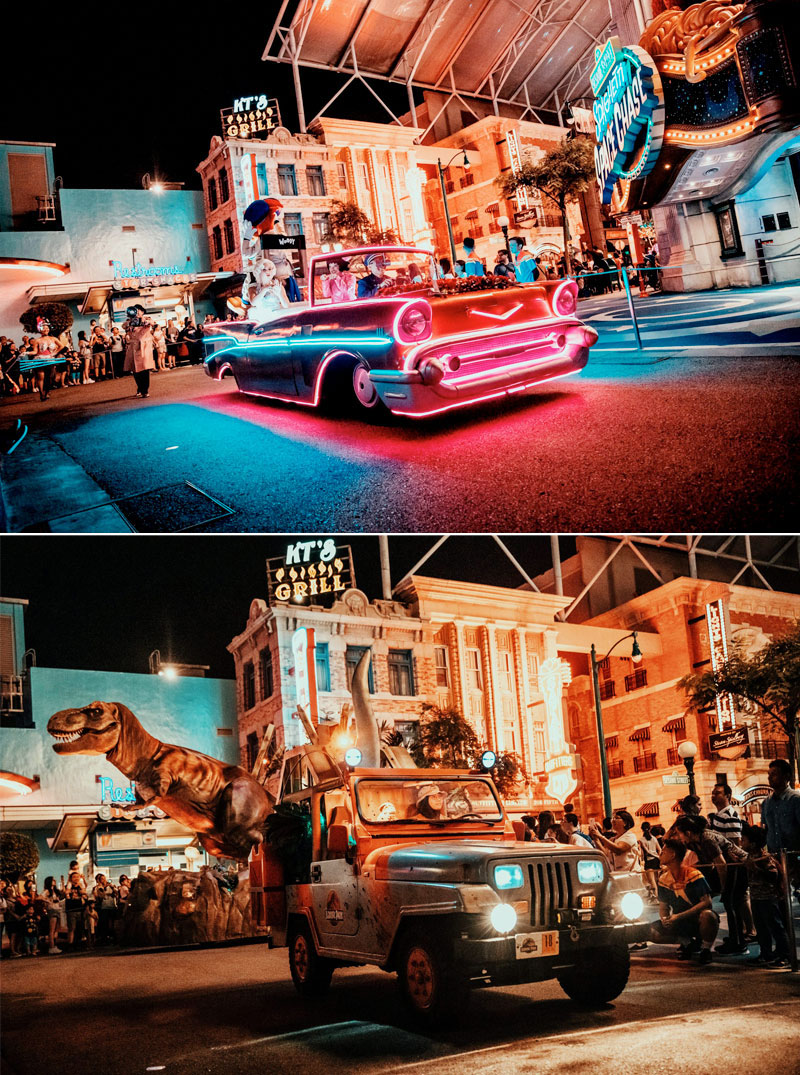 For Universal After Hours, the park's famous Hollywood Dreams Parade is lit up in neon.
The highlight of the evening, however, comes four courses into the meal. The Mozambique langoustine, poached in duck fat, coffee and lemon, served with Albufiera-style dashi, is a savory delight to behold. If 12 courses sounds intimidating, don't worry: the serving sizes are manageable but hearty and full of flavor. At the end of the meal, order a sweet cocktail to cap it all off, but only if you're not sweetened out from the three (yes, three) desserts. The dinner will run you about 218 SGD, and an additional 158 SGD if you want wine pairings with the meal.
After you've had a good night's sleep and maybe a nice walk around the resort, head to lunch at Teppan, a teppanyaki kitchen by chef Masayasu Yonemura, the chef-owner of Yonemura in Kyoto, Japan. It's been open at Resorts World Sentosa for a while now, but it's well worth the visit every time. An intimate kitchen seating 13 people at a time, the chefs cook and assemble the food in front of you, which is almost a show in itself. You can select from a three- (S$ 58+), four- (S$ 78+), or five-course (S$ 88+) meals, each containing a main course that's grilled on the teppan in front of you, complete with a flambé moment — if you're into that.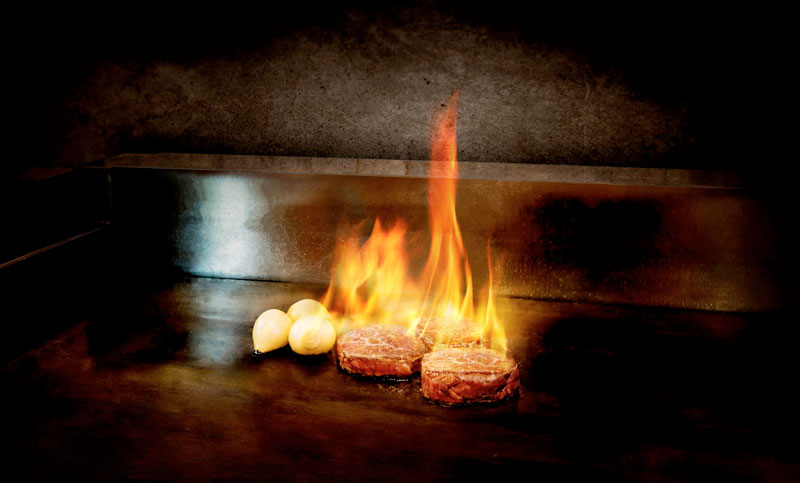 One of Teppan's main attractions is its teppanyaki grill, on which the chefs cook your meal in front of you.
The meal starts out with a welcome drink (read: a shot) that sets the tone for the courses ahead (it has just a smidge of alcohol, so no need to worry about getting tipsy in the middle of the day). The chef lights up the alcohol with a torch, and you're asked to diffuse it with a spray and drink it right after. The highlight, of course, is the main course of either a wagyu hamburg steak or an Iberico pork steak — however, the salad at the start of the meal, a Japanese flounder salad with "aroma of spring," is not to be outdone with its dewy finish and hint of wasabi.
After lunch, a round inside Universal Studios Singapore is a must. Even if you've been there before, the theme park manages to keep things fresh with new activities and events. For Sesame Street's 50th anniversary celebration, Universal mounted several attractions around the park, with musical numbers, exhibits and more. They've also extended park hours until 10 p.m. for Universal After Hours, which includes a nighttime version of their famous Hollywood Dreams Parade lit up with neon.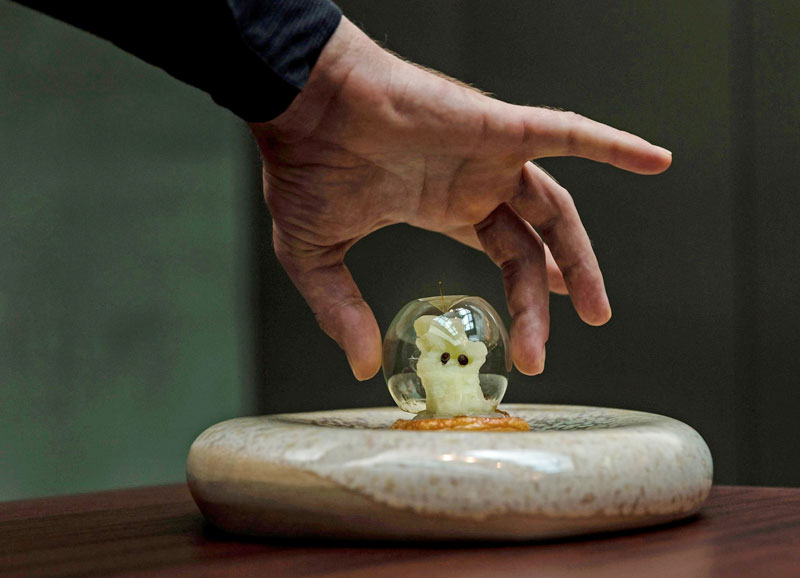 For its "apple pie" dessert, Table65 makes an appleshaped candy bulb to top a sherbet and a crust.
For dinner, head nearby to Malaysian Food Street for some authentic Malaysian and Singaporean food. It's a food court setup with various stalls serving different things, from the classic nasi lemak and chicken or beef satay to beef rendang and milk tea. Even though it's concessionaire food, it's not unsavory or overpriced: a full meal runs about 10 SGD (including a main, drink and dessert), which is not quite as cheap as actual street food, but the old-town setting of the hawkers just a stone's throw away from the park is well worth it. Did I mention the food's good, too?
Don't stop at the food, though. A souvenir or two from the shops near Universal Studios Singapore makes for good pasalubong — or, you know, just good ol' retail therapy. Lots of cute Sesame Street stuffed toys in different iterations with varying degrees of cuteness abound (also spotted: a tote with Hello Kitty dressed up as a Jurassic Park dinosaur).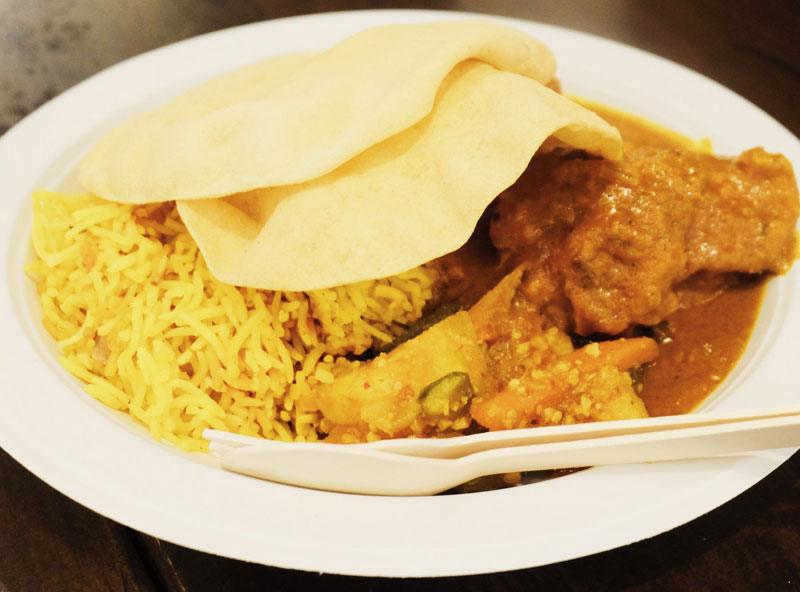 If you're looking for some hawker classics like curry, nasi lemak, beef rendang, or satay, Malaysian Food Street is the right place to chow down after a day at the theme park.
Once you've had your fill of degustation and shopping at the stalls, take a walk around the harbor and take in the cool breeze to work off all that food. If that's not enough, there's always the rides at the park for some exercise by way of thrills. Just make sure you've properly digested. Wink-wink.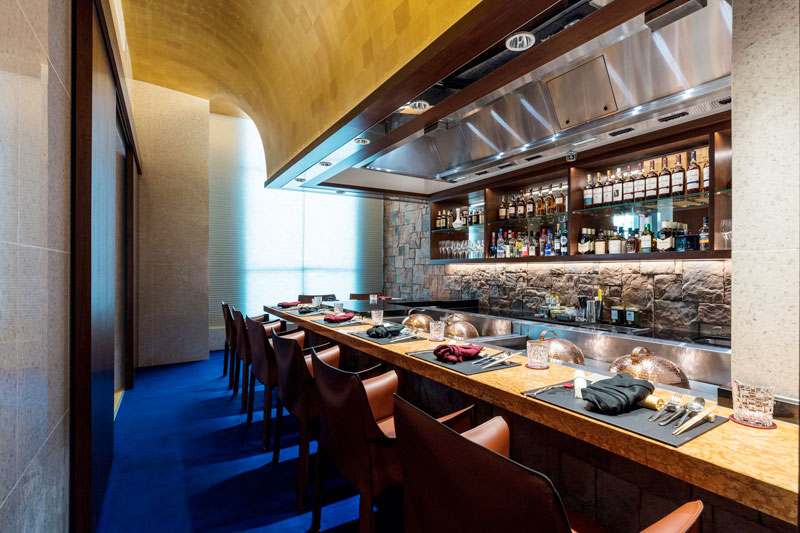 Teppan by Chef Yonemura has an intimate setting that seats around 13 people.
* * *
For more information about the restaurants and tickets to Resorts World Sentosa, visit rwsentosa.com.