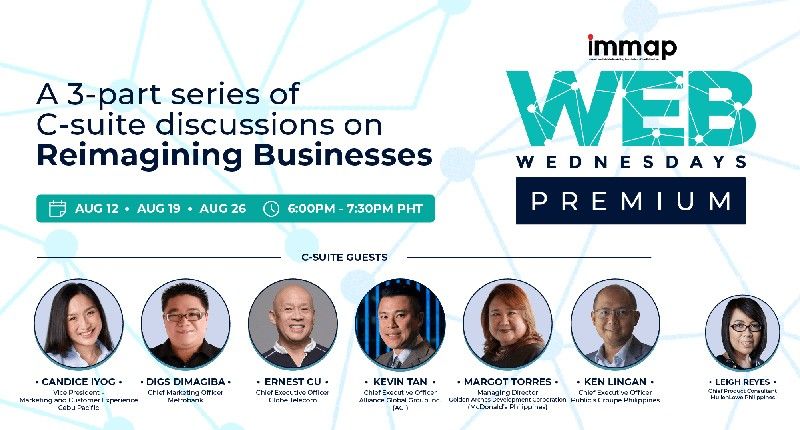 In this educational webinar, C-level speakers will be discussing and providing inspiration and perspective on business reinvention in the next normal.
Photo Release
CDM, IMMAP partner for educational webinars
(Philstar.com) - July 28, 2020 - 4:48pm
MANILA, Philippines — Certified Digital Marketer (CDM), through its partnership with Internet and Mobile Marketing Association of the Philippines (IMMAP) and industry leaders, aims to further upskill local talents through continuous e-learning amidst the COVID-19 disruption and business setback.
On July 1, they launched and opened registrations for a three-part C-Suite webinar series titled Web Wednesdays Premium: Reimagining Businesses as part of the highly successful IMMAP Web Wednesdays with an average total of 1,115 attendees.
In this educational webinar, C-level speakers will be discussing and providing inspiration and perspective on business reinvention in the next normal.
Beyond business recovery, a challenging question to ask: How might your organization look like if it had just been built now?
Let's reimagine business with these in-depth conversations with some of the top industry leaders of today.
"Certified Digital Marketer's main goal has always been to help educate and transform professionals and businesses through digital," says Hans Roxas-Chua, chief executive officer of e-Learning Edge, the company that launched CDM.
"As IMMAP's official education partner, we do our best in supporting continuous online learning and provide business leaders and solution-drivers the capability to improve their businesses during these uncertain times. One way is through our Web Wednesdays series."
Web Wednesdays Premium will be a three-part, two-hour-long webinar series wherein business leaders from McDonald's Philippines, Cebu Pacific, Metrobank, Globe Telecom, Alliance Global Group, MullenLowe Philippines and Publicis Groupe Philippines will be discussing how to re-imagine a whole business and survive a major disruption such as a pandemic.
It will be an intimate peek into the minds of business leaders and how they deal with challenges and problems when handling a business and a brand.
The first webinar on August 12 will be a deep-dive on the topic "CMOs: Reimagine Your Marketing" and will have Chief Marketing Officer (CMO) Digs Dimagiba of Metrobank and Cebu Pacific's Candice Iyog, VP for Marketing and Customer Experience, as guest speakers.
The conversations will revolve around the change in consumer behavior, the steps taken in response to the pandemic, and what's next for both the fin tech and travel industries.
Key questions like: "Where do you believe organizations should invest in, in the next 6-12 months?" will be discussed.
For the second session of the series on August 19, sales and the rise of e-commerce will be the main focus. Globe Telecom's Ernest Cu and Alliance Global's Kevin Tan will discuss how to "Reimagine Your Selling Process Offline to Online."
Consumer spending, e-commerce opportunities, and the ongoing shift to digital will be touched on in this 2-hour session to answer questions on: What new selling touchpoints have emerged? How do these compare to the traditional touchpoints? How were they able to maximize this opportunity for an e-commerce business?
Capping of the three-part webinar series on August 26 is an in-depth discussion on the topic "Reimagine Your Products and Services" with the Managing Director of McDonald's Philippines Margot Torres and Publicis Groupe Philippines CEO Ken Lingan.
We'll be getting two perspectives on shifting production strategies and innovating in this environment answering the toughest questions like: How should I reorganize my business to accommodate product and services innovation, on top of optimizing my core products?
The series starts on August 12, 19 and 26. Not only will you get exclusive knowledge and from industry leaders and top brands on how to re-invent and improve your business, but you will also get unlimited access to old sessions of #IMMAPWebWednesdays and industry-validated certification from CDM and the IMMAP.
Register here and avail of the Package Rate for only P1,995.
To further the goal of continuous learning to help business recovery, CDM has also designed new Online Masterclasses that deep-dive on Performance Marketing, Managing Facebook Ads, Data Analytics, and E-Commerce Content Marketing, among others. This is where students are brought together with the best industry experts to learn from about these new in-demand digital skills in the Philippines and globally.
Find out more about CDM's industry-ready online classes and digital marketing certification programs at https://www.cdm.ph.