5 reasons for a solid-to-the-max drive
October 9, 2021 | 12:00am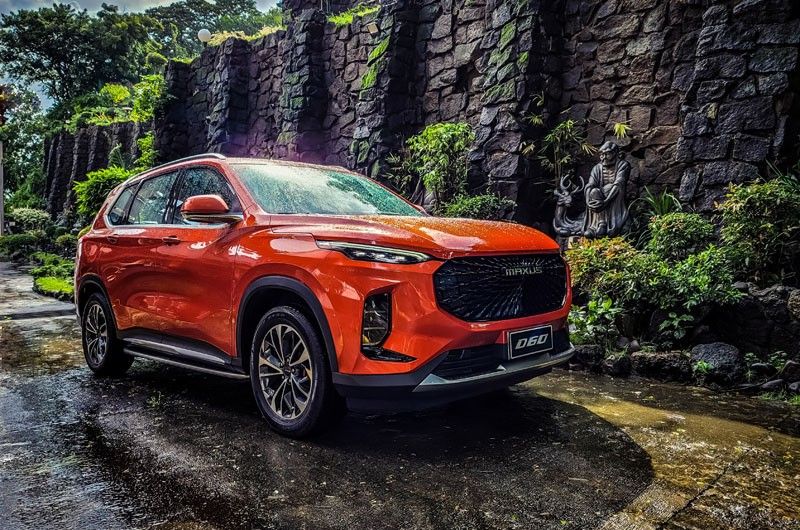 I got to drive the compact SUV Maxus D60 recently, and discovered just how it is the perfect size and drive for Metro Manila streets, potholes and all.
The Maxus D60 Elite in its signature Competitive Orange was a standout and sturdy on every drive I took with it. Here are five drive-happy reasons to consider a Maxus D60:
1. First off, an SUV is the vehicle that seems to be the perfect fit for most of our needs. Especially when the rains come a-falling, don't you think? With the D60's high ground clearance of 173mm - 188mm, it makes it conveniently manageable to drive especially around the lower parts of the Metro which are prone to flooding during this rainy season.
2. It is built for safe and solid drives. The Maxus D60 1.5T Elite is powered by a 4-cylinder inline 1.5-liter turbocharged gasoline engine coupled with a 7-speed dual-clutch automatic transmission configured for performance and fuel efficiency.
The D60 offers active and passive safety systems, namely ESP (electronic stabilization program), EPB (electronic parking brake) with auto hold, cruise control, front dual and side airbags, reverse camera, a tire pressure monitoring system, rear parking distance control (PDC), and an additional front PDC for the Elite variant.
It is made even safer with the D60's Double Layer Welding Technology. The overall strength and quality of its exterior structure is ensured in order to give its customers peace of mind behind the wheel — taking safe and solid drives to the max. There is nothing safer than driving and riding a solidly built SUV.
3. It's got the look. The D60's exterior takes after the stylish Maxus Tarantula Concept, which reflects the bold, active, and dynamic urban lifestyle. The design is complemented by the distinctively Maxus octagonal front grille, accentuated by the Elite variant's cobweb grille pattern and matrix-style full LED headlights and streamer tail lights. Of course, one must not forget the attractive 18-inch alloy wheels.
4. Its cabin is spacious and sophisticated. The D60 is a seven-seater for the 1.5T Elite, with both offering the perfect fit for a growing, active family's everyday transport needs. It has rear air-condition vents and eight-inch infotainment system with the additional comfort and convenience of keyless entry and push start, leather seats, and power-folding side mirrors.
5. The D60 offers maximum value for money. The suggested retail price of this compact SUV has been pegged at subcompact levels. For October, Maxus Philippines offers exclusive cash incentive and zero downpayment to its customers, which brings the net SRP of the five-seater D60 1.5T Pro to P1,118,000, while the D60 1.5T Elite to P1,258,000. Indeed, owning your first Maxus vehicle is made easier than ever.
Coupled with the Maxus brand assurance of low maintenance costs and topnotch aftersales service, the D60 offers "Max savings."
The Maxus D60 compact SUV joins Maxus Philippines' growing lineup that includes the G50 MPV, the T60 pickup, the G10 van, and the V80 van.
Maxus Philippines makes vehicle ownership five times more convenient and affordable with the five-year warranty or 100,000-km program, five-year free Emergency Roadside Assistance (ERA), Parts Management System that makes parts stocks available up to five months, Enhanced Service Quality for onsite and virtual product support and home service or pickup and delivery; and low cost of maintenance that makes every Maxus vehicle you buy 22 percent more affordable versus other brands over five years.
So far, the Maxus D60 Elite is the best full-featured, mid-size crossover in its class that I have driven recently. It is also the most spacious, with a truly sturdy build in the field of crossovers in our market.
For information, visit www.maxus.com.ph or book a test drive with Maxus dealerships located at Sheridan in Greenfield district in Mandaluyong at 8558-5823; Quezon Avenue along Quezon City at 8558-5818; Pedro Cayetano Boulevard in Taguig South at 7219-9240; Madrigal Business Park in Alabang at 8558-5828; North Reclamation Area in Cebu City at (032) 517-8226; Mandurriao in Iloilo City at (033) 331-2622; Araneta St. in Bacolod City at (034) 435-7575; and Pueblo in Cagayan de Oro City at (0995) 355-9400.