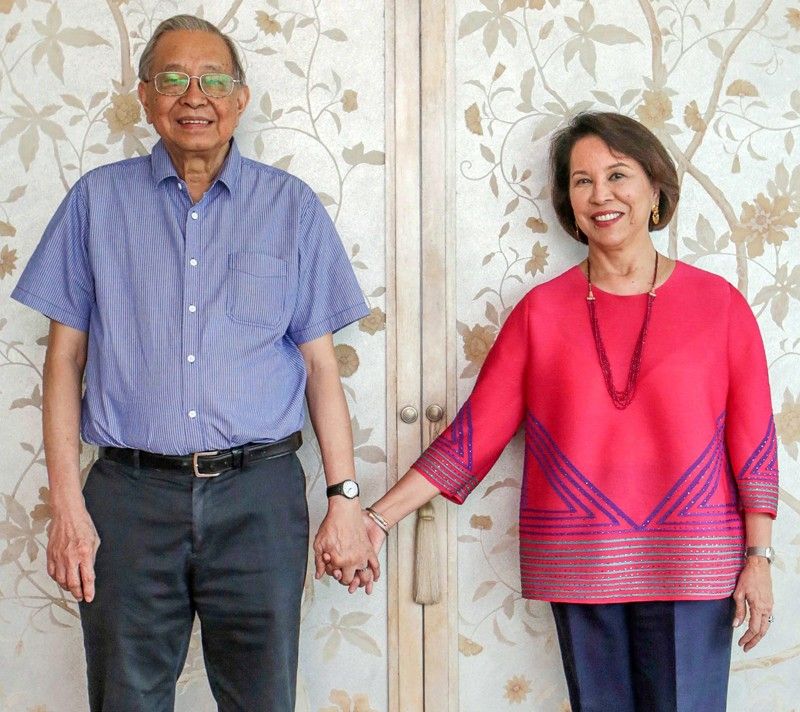 Ada Ledesma-Mabilangan and Felipe Mabilangan met when Ada was still a college student and Felipe was working at the Department of Foreign Affairs. Felipe was supposed to help Ada with her research work. "He was expecting the student to be a nerdy girl with thick glasses — and then I showed up (laughs)."
Igan D'Bayan
(The Philippine Star) - September 14, 2019 - 12:00am
MANILA, Philippines — I have always wanted to ask Ada Ledesma-Mabilangan about that famous portrait of Purita Kalaw-Ledesma by Fabian dela Rosa. It is such an iconic piece.
Ada explains, "Fabian de la Rosa was a friend of my grandfather, Teodoro M. Kalaw. Fabian asked Purita, who was 18 years old at that time, to sit for a portrait that he would enter in an art competition in Spain. The painting was awarded honorable mention. When it returned from Spain, Fabian gave it to Purita."
The painting, never been restored and still in its original frame, occupies a place of honor at the Mabilangan condo. Outside runs the Pasig River, inside runs a thread of history — from grandmother Pura (the first Queen of the Manila Carnival, the equivalent of today's Binibining Pilipinas) to Purita (an art patron, a tastemaker par excellence) to Ada herself.
"I only have a small role (in preserving Philippine culture and cultivating young artistic talent)," she says, humbly. "We all need to do our part. There are many ways to strengthen our cultural institutions. But I believe that integrity and transparency are the most important qualities needed."
What is the first thing you do upon waking up?
Ada Ledesma-Mabilangan: I pray. And then I open all the curtains because I like the room to be bright.
What is your favorite spot in your home and why?
My leather lounge chair in my bedroom, which I bought in New York. Super comfortable. That's where I do all my reading.
How do you describe your homemaking style?
I love to cook. Of course, being a diplomat's wife, I had to entertain guests a lot, all the time. My children grew up in Paris, finished high school, went to university and their separate ways. When they visited, I cooked for them, say, a tenderloin dish I learned in Manila or the fabada dish from my mother, they would say, "Oh my God, we're home."
Which pieces of furniture or home accents have a sentimental value to you and why?
My writing desk and those two black pen chairs.
What books are on your night table (current reads)?
Books on meditation. They make very good reading, especially before going to sleep.
In case of fire, what is the first thing you will save?
Years ago, it was my photo album. Because my entire life is there. But then I had them all digitized. So no need for that. My answer is, none of the material things,
What is the last thing you do before going to bed?
Pray. I begin and end my day in prayer. It's a very simple prayer. "Thank you, Lord. I have been truly blessed."
How did you and your husband meet?
He was already working in the Department of Foreign Affairs (DFA), and I was working on my college thesis. One of my friends, Conchitina, was close friends with Marilou Mabilangan (Felipe's sister). Marilou said, "Oh, you go to my brother. He can help you with your research." I called Felipe up to set an appointment. I was expecting this old man who works at the DFA, but when I saw him he was young and guwapo pala (laughs). Siya naman, he was expecting the student to be a nerdy girl with thick glasses — and then I showed up (laughs).
* * *
A lifetime later, empty nesters Felipe and Ada live in a high-rise condo with a nighttime view that reminds them of New York City — veined by the East River and lit by the eyes of skyscrapers. In the morning, the Amorsolo sun reminds them that they are in equally poignant Metro Manila.