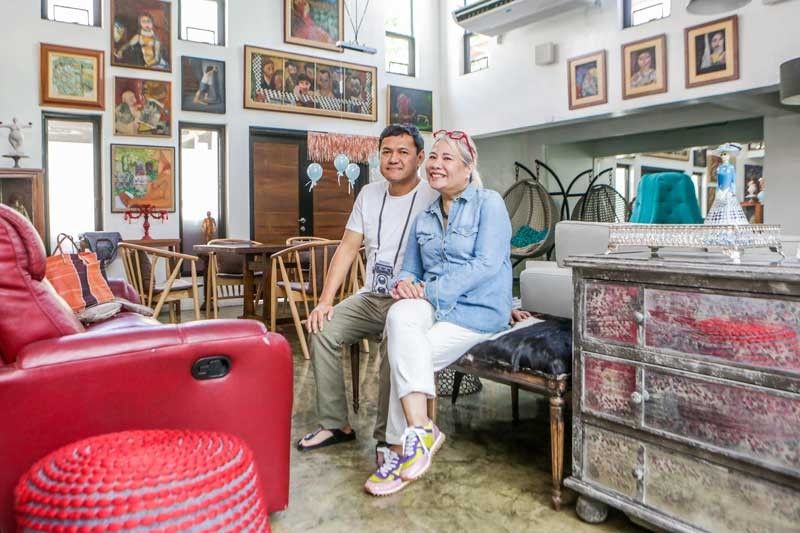 Artists Elmer Borlongan and Plet Bolipata in their rectangular play-box home in the city. Unlike the eclecticism of the house in Zambales, the one in Manila is curated in a more restrained way. Plet says, "It is a little bit more relaxed and stable, less frenetic."
Photos by GEREMY PINTOLO
At home with Elmer Borlongan & Plet Bolipata: House of faces, house of light
For their house in the city, Plet took a different approach in putting pieces together. Emong likes it simple but not too Zen.
Elmer Borlongan has an entire palette of stories.
Not just in terms of his paintings, which depict the saga of the bald and emboldened Everyman (everything from the social-realist bent of a boy using his shirt as a blanket ["Kumot"], to the cryptic panel featuring a driver cruising on a red Volkswagen with a statue of Jesus beside him ["Gabay"]), but also during audio sessions. Thus, you have a Clash LP spinning on a flame-red Technics SL-1200 unit; some beer in cans and Nagaraya prepped upon a long, imposing table made of balayong and molave.
Our recent chat took on a circuitous route (not unlike a jeepney with its "God Is My Co-Pilot" slogan) with various touch-points along the way: the early days of Salingpusa ("Tambay sa Hinulugang Taktak, salang ng Queen and slow rock sa jukebox."), graphic novels about mutants, records found in secondhand bins in London, National Artists, pyramid scams, books destroyed by termites, and a traumatic incident in their old house, which I promised Emong I wouldn't divulge in these here pages. Borlongan continues to draw the extraordinary out of the ordinary.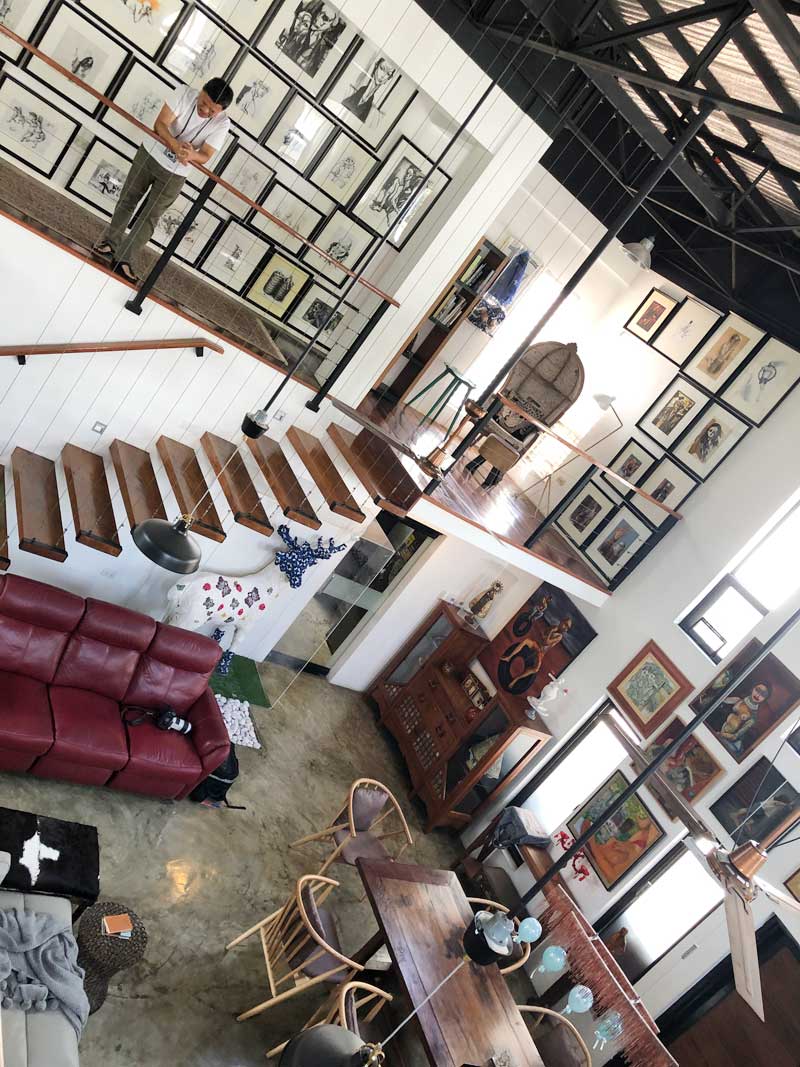 The house is airy and full of light.
Plet Bolipata weaves motley-colored tales and crazy collages of her own.
Plet tells me how at 28 she started painting like a madwoman consumed by Manet and the Impressionists; how she barged upon the room in the house of National Artist Federico Alcuaz (an in-law of hers) one day and proclaimed "Tito, I think I am an artist!"; and how she set her sights on a one-woman show by age 30 at Penguin Café in Malate where she grew up. Plet used a pseudonym, since it was the height of fame of her musical brothers, led by Coke. She chose the nickname of her maternal grandmother: "Sayong." Plet has made her own mark in the art scene because of her works that center on the philosophy of whimsy and wonder.
So, you could just imagine how Emong and Plet's house would look.
I, initially, thought it would be like a crazy diamond of a domicile inside one of the posh villages with a saint's name somewhere, considering the pair's flair for dramatic colors and distorted figures in their respective works. But things couldn't be more different. There is certain lightness and brightness about the Borlongan home with its clean lines, high windows, lap pool in the living room (caught me by surprise!), exposed ceiling, and stairs that give the illusion of suspension.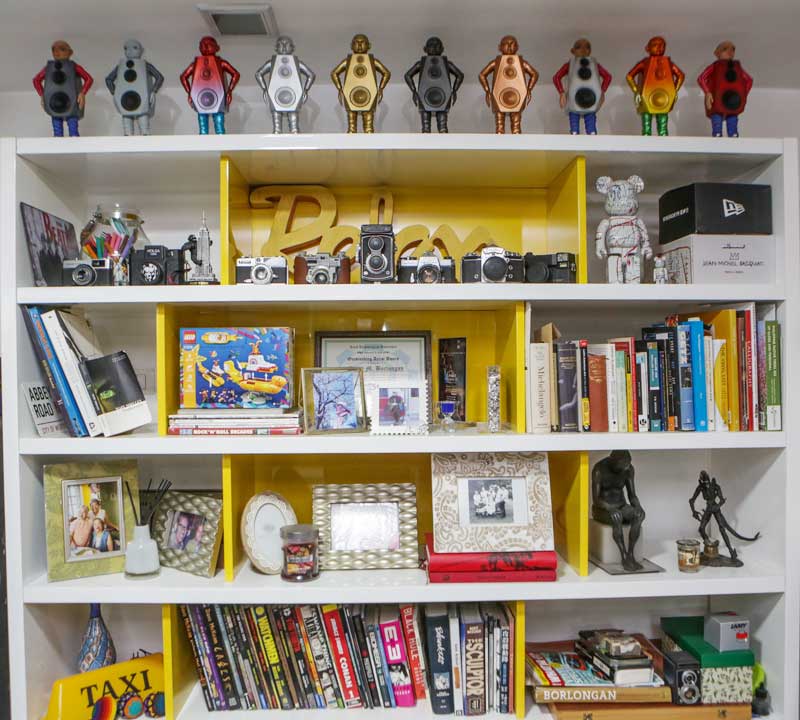 Borlongan's cabinet of pop curiosities.
The first time they walked into the house, recalls Plet, it was around 4 p.m. and light was streaming in.
"The high ceiling was quite appealing," she says. "It was designed by the owner himself for his own set of specifications."
The owner was a frustrated architect, adds Emong, and quite artistic himself.
Plet shares, "I whispered to (the owner) when the deal was done, 'Who would have thought you were actually building the perfect home for two artists?'"
Emong explains, "We moved in August of last year. We didn't alter anything in the house except for extending the kitchen counter and removing the carpet tiles in the two bedrooms. We changed them to wood used for bowling lanes, given to us by an art collector."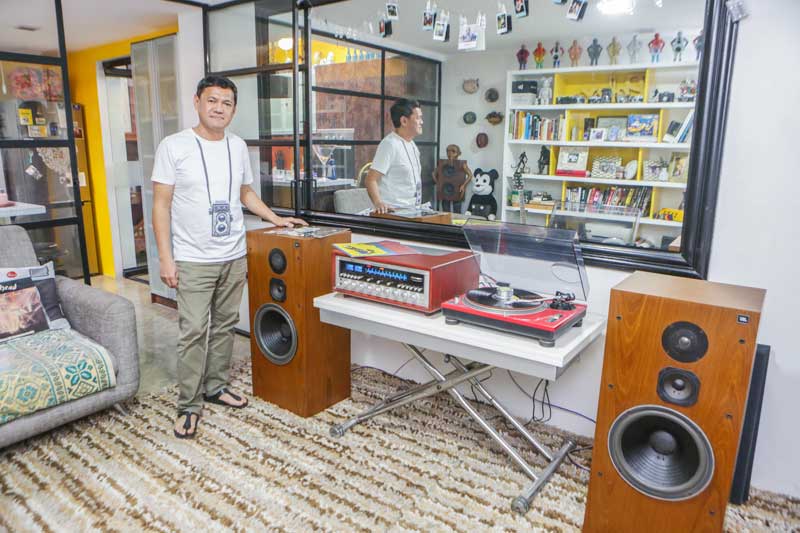 Emong with his vintage Marantz 4300 monster receiver and a pair of JBL 100T.
The couple have a studio in Zambales where Emong works on his large-scale scale. ("Doon, pukpukan ang trabaho.") The house in the city is where the artist does his works on paper, meets friends and art collectors or just chills with a couple of hot releases on wax.
"Si Plet nag-curate ng artworks dito sa bahay," he says. "Different siya dun sa mga bahay na tinirahan namin dati na — dahil sa style ni Plet — ay eclectic, puro bright colors, and walang space na di napupuno. Maximalist talaga. Horror vacui nga, eh (laughs)."
She agreed to do it with restraint this time, from furniture to fixtures.
Through The Past, Glitteringly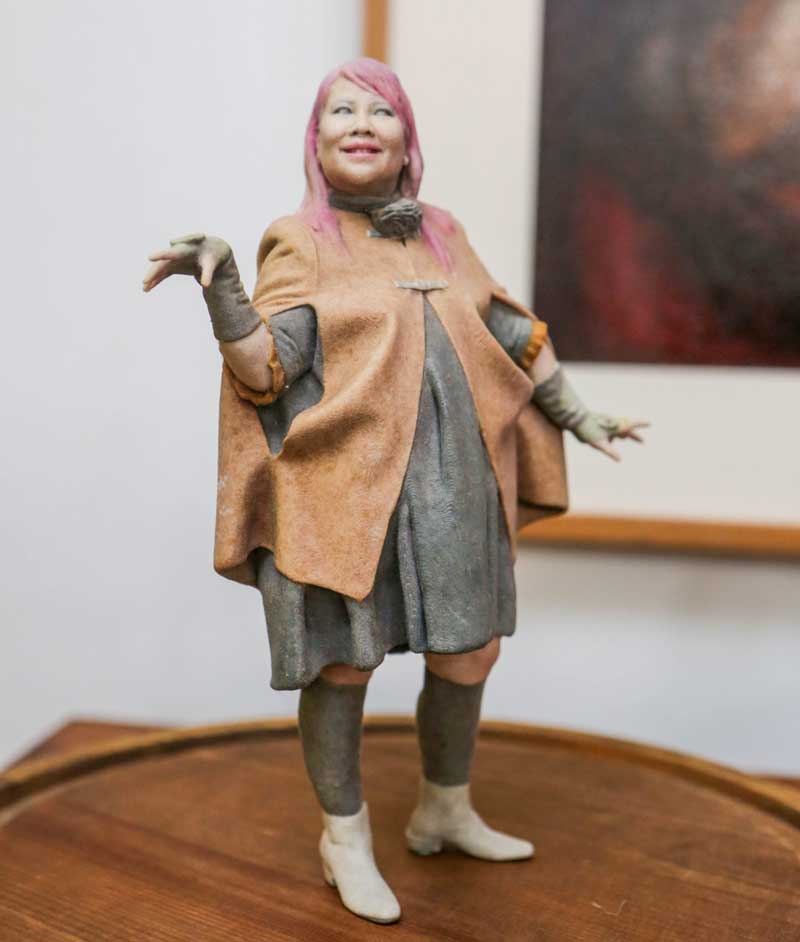 A photo-realistic, 3D-printed replica of Plet by German company Doob.
Emong says he grew up in Nueve de Pebrero in Mandaluyong and calls himself a "batang Mental."
"Kakaunti lang nakatira nun. 'Yung Palladium ngayon, bundok pa dati. Nag-o-over da bakod kami sa pader ng Mental Hospital para maglaro. Wala pang housing nun, kangkungan datin 'yun and taniman ng kamoteng kahoy." Emong's father, Pascual (nicknamed "Pasky" by friends after chess grandmaster Boris Spassky), worked as a chemist for San Miguel Corporation. The Borlongan family lived in a two-story house made of wood. "Pero wala masyadong kuwarto. Share-share kaming limang magkakapatid." The young Elmer had to go around the house with his folding bed. "Minsan nga natutulog ako sa kusina eh (laughs)." His cousins from Bulacan would stay at their home during vacations. "Sila 'yung mahilig mag-drawing. Sabi ko, 'Parang ang sarap nung ginagawa nyo, ah. Subukan ko nga rin.'"
And most people are aware how this moment would lead to an 11-year-old Emong studying under the benevolent art teacher, Fernando Sena ("Mr. Sena gave me old CMLI [Children's Museum and Library Inc.] posters, which I used as drawing paper — wala kasi akong sketchpad."); forming a group with likeminded UP fine arts students called Salingpusa (with the likes of Mark Justiniani, Tony Leaño, Manny Garibay, et al); meeting yet another benevolent art patron, Dr. Joven "Manong" Cuanang; mounting his first solo show titled "Aki" (meaning "bata" in Bicolano) in 1993 at Manong's Boston Gallery; and eventually becoming the great Filipino artist Elmer Borlongan we know and admire today.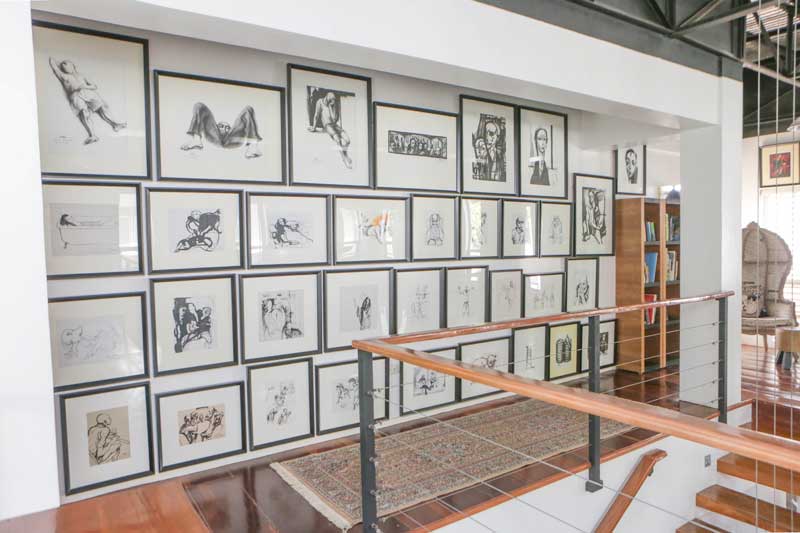 "Why are most of my figures bald? Because I want to get to the essence of the character. Hair kasi ay crown natin; nung inalis ko 'yun, nag focus na ko sa facial expression. 'Yung style ko nag-evolve ng matagal — hindi overnight."
Plet remembers growing up in house filled with music. She says, "There was piped-in music coming from different areas of our home — with one switch from my parents' room, music could be transported to the living room, the terrace, the hallway. Plus, my brothers were musical prodigies, so there was piano music from the end of the hallway, cello music from the living room, and violin music from the garden. There was no escaping music."
The Bolipatas were quite drawn to the arts. "My older brother, Kuya Jed, would direct us and we would mount musicals and plays, complete with tickets, even if our only audience would be our parents. We were always on creative mode."
All paths led to Emong and Plet meeting one another on a fateful day in 1995. Violinist Coke Bolipata needed an art instructor for his fledgling CASA (Creative Alternatives for Social Actions) San Miguel in Zambales, and Hiraya Gallery on UN Avenue recommended Emong.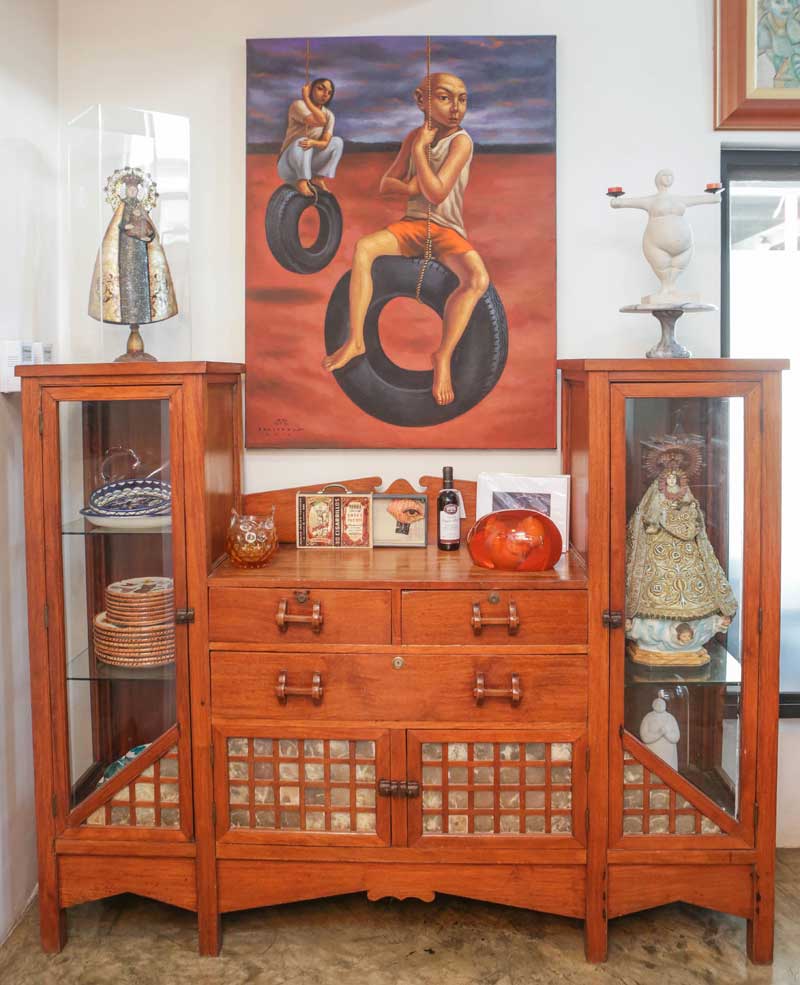 "Tire Swing" by Borlongan and an old display cabinet.
"Sinundo ako ni Plet sa Mandaluyong para mag-Victory Liner bus kami papuntang Zambales. Magkasama kami sa byahe. Dun nagsimula 'yung interest (laughs)."
Plet shares, "There was no car available so my brother, Coke, asked me if I could accompany him by bus. When we arrived in Zambales, he showed me his portfolio. I soon realized I had met his painting first — and had fallen in love with it. I whispered to my sister when I saw "Gabay" in West Gallery in Megamall, 'I really want to meet this artist.' Fate heard my whisper and made it happen."
Emong adds, "Kaya lang pagdating ng Zambales, babalik pa pala si Plet sa New York para sa work niya." The man had to sit tight for two years. When the woman returned, the romantic whirlwind began.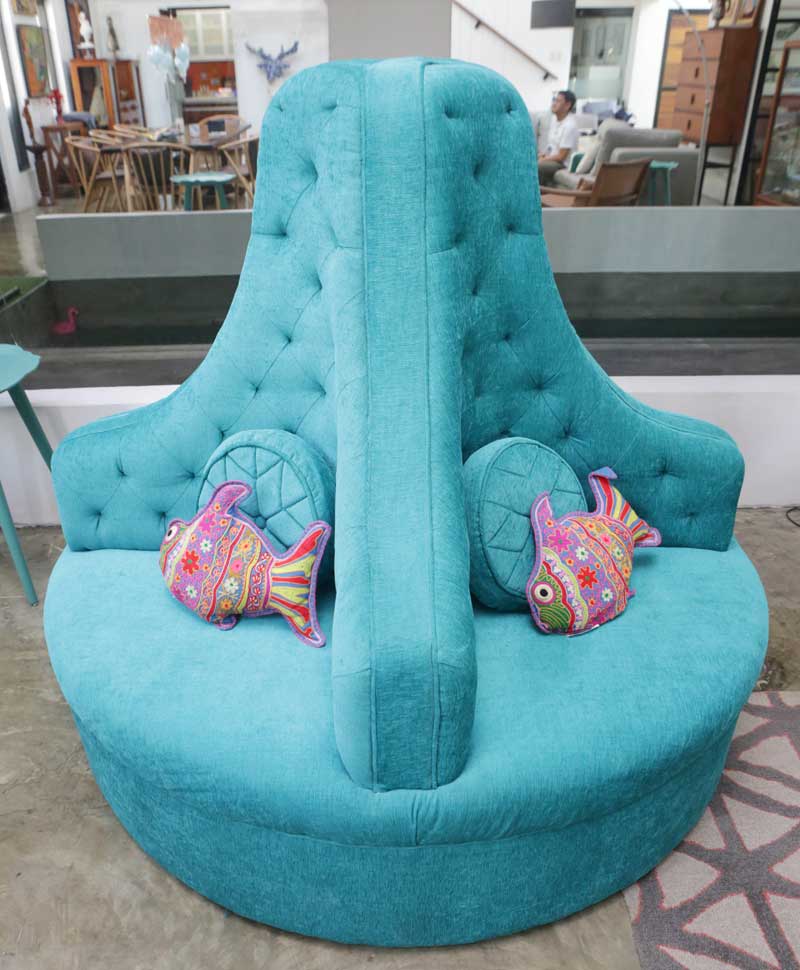 An ottoman bought online. It just so happens that it comes in very Plet-like colors.
"We were both at the crossroads when we met," explains Plet. "He was engaged — then dis-engaged. I was stranded. We spent a lot of time making separate murals in CASA. He didn't court me or anything, but he was genuinely nice, stable and sweet. And very funny. We would spend hours laughing at the silliest things. We watched a lot of Tagalog movies on VHS to while the evenings away. It happened very organically. One evening, before he left for Japan to do a mural, naging kami na — as simple as that. No fanfare, no nothing. Best thing ever."
Art brought them together. Love would take them elsewhere.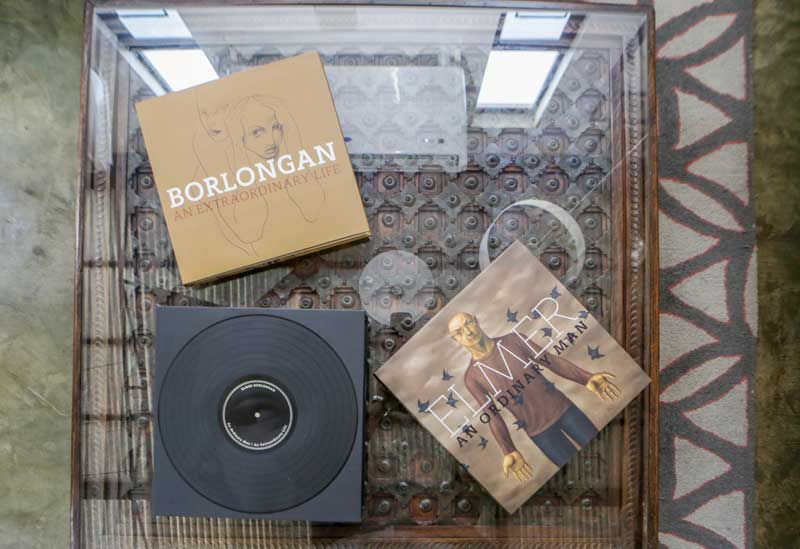 Coffee-table with Borlongan's handsome two-volume art book, An Ordinary Man, An Extraordinary Life.