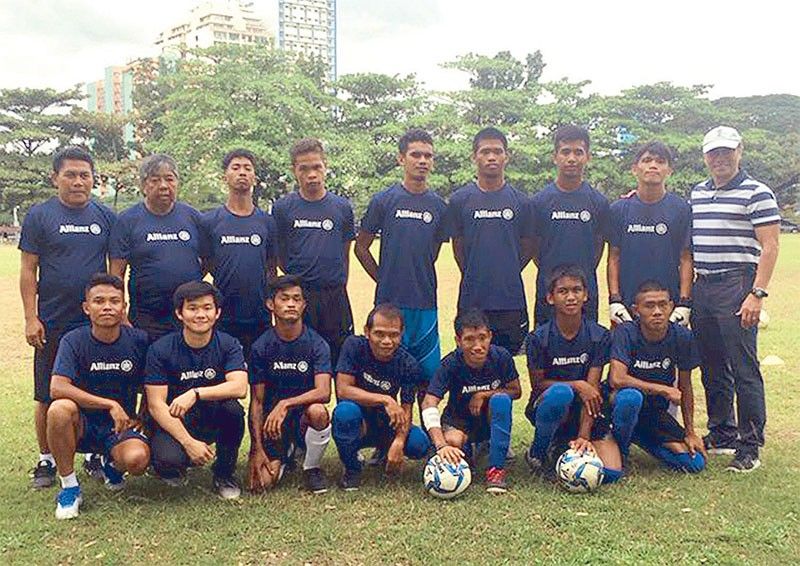 Danny Moran (right, standing) of the Henry V. Moran Foundation with the coaches and players of the CP Rascals, the Philippines' representative to this year's ASEAN Para Games. The football team is comprised of athletes with cerebral palsy.
Cerebral palsy kids join ASEAN Para football games
(The Philippine Star) - February 25, 2020 - 1:00am
MANILA, Philippines — The Philippines is about to field its first cerebral palsy football team in the ASEAN Para Games. Known as the CP Rascals, the team was formed last year by the Henry V. Moran Foundation (THVMF), a non-profit organization that has long focused on developing football programs for public school youth in the country.
"Our search for players started in March last year after we were appointed by the PHILSPADA (Philippine Sports Association for the Differently Abled) to form a team to represent the country in the 10th ASEAN Para Games," said Danny Moran, head of THVMF. "Our special football arm, CP Football Philippines, toured 12 cities, coordinating clinics and tryouts with the heads and officers of local government units. By July, we had discovered some players and training for the team began."
Allianz PNB Life provided the CP Rascals' life, medical, and travel insurance. Aside from the insurance coverage, Allianz gave cash support to CP Rascals' football camp and housing.
"It is our honor to support a team that embodies Allianz's ideal of overcoming life's challenges in fulfilling one's dreams," said Allianz PNB Life chief marketing officer Gae Martinez. "We are giving our para athletes the support to help them achieve their goals in their chosen sport, and we are looking forward to cheering them on in the 2020 ASEAN Para Games."
For the past three years, the Moran Foundation has staged the Allianz National Youth Futsal Invitational (ANYFI), a grassroots football program held nationwide. Some of the kids who have participated in the program have gone on to train at the Allianz Explorer Camp in Germany under FC Bayern.
The ASEAN Para Games, which are scheduled for March, have been postponed until May or September because of the n-Cov virus epidemic.