It's never too late for a career switch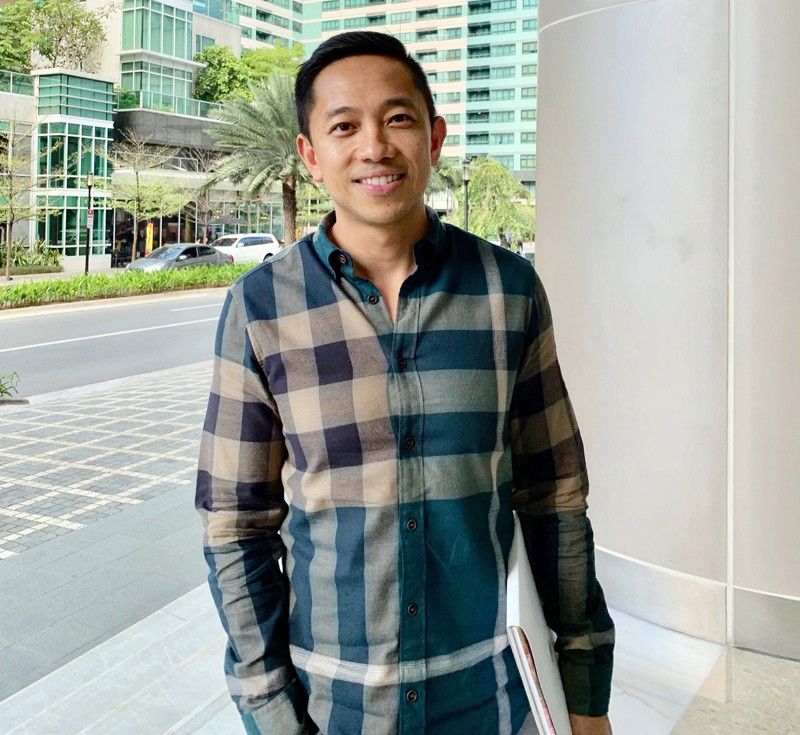 Chadwick Arcinue made a major career switch believing that you can change paths if the intensity of your spirit matches the fervor in your heart.
As newlyweds, my husband and I were sober in savings and prudent in spending and we kept our apartment austere and bare.
Chadwick Arcinue recalled being challenged by a similar quandary. With wife Leanne Laudico, he moved to a tiny walk-up apartment in Boston when they were both in pursuit of their master's degrees. Leanne opened an issue. "What do we do with this big, blank and bare wall?" Chad replied, "We obviously can't spend money on an artwork. What if I paint something?"
Chad's background was in business and finance. He never imagined picking up a brush, much less working with oil and acrylic. But surprise Leanne he did, (and himself). Hunched on the floor and contouring his neck and anatomy, he filled up a square canvas with clusters of cherry trees that were blooming outside their dreary apartment. He painted in rich shades of pink with a blush of deep purple and fuchsia.
"Not bad, not bad at all," appraised Leanne. It was a one-off thing.
Chad belonged to the corporate world with his lucrative position in Ernst & Young New York as its senior manager. He specialized in securities, valuation and business modeling.
However, the secret was hard to suppress. Colleagues, friends, neighbors and relatives were totally amazed at what Chad had created on canvas. "Chad, you can't abandon the right side of your brain; you've got talent, man."
One colleague, Srimoyee from India, persisted until Chad finally agreed. "I want an art piece for our children's room." Chad delved into the history, culture, likes and dislikes of Srimoyee's family until, guess what? An image crystallized in Chad's head right when he was face down and receiving treatment on an acupuncturist table. He rushed home before the idea escaped him and mulled over the children's names. In Hindi, Bangali and Tamil, Riyaan meant "little king" while Raaya, "beloved friend."
Kite flying was a favorite pastime in India, thought Chad so he envisioned two kites soaring and jostling up in the sky. Choosing purple — the color of nobility — for the boy's kite, he added three chess pieces, representing the king. The girl's kite had lotus flowers, vibrant in orange and yellow. He painted the kites on two wooden panels that can be closed like a book or a diptych. Whimsical and playful, the kites could be hanged in any direction and still preserve the idea of flying free and easy.
Word on Chad's paintings spread like crazy, resulting in more art commissions. Chad was given free rein. "Bahala ka na, Chad, basta maganda. (Paint something unimaginably beautiful.)"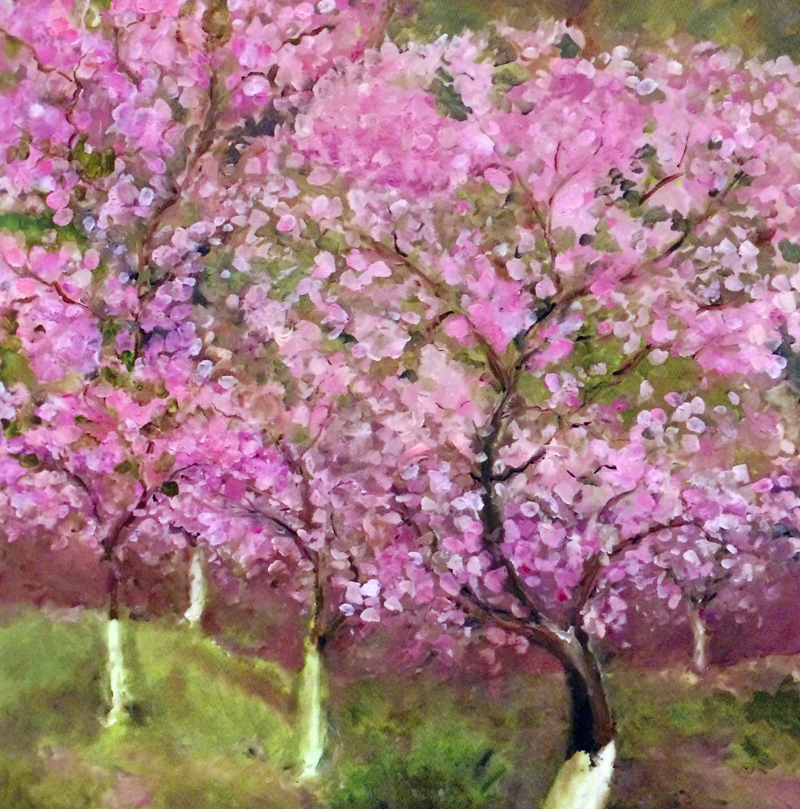 Chadwick's first attempt to paint and he looked out their window to see Cherry trees
The demand became so vigorous that the senior partners in Ernst & Young expressed alarm whether Chad would stay put in his job (and move up to a full fledged partnership) or lose him to a different kind of rival. Chad's studied response was quick, "Ask me next year." "If it's any consolation," E&Y remarked, "So long as Chadwick doesn't cross to the other side of the street."
Chad didn't, but he eventually resigned to concentrate on art and design. This is it. He reached a point of no return.
Bent and serious about this transition, Chad immediately registered his own design company under The Chadwick Concepts, signing a lease on a studio loft in Hoboken, New Jersey (Sinatra's hometown) and opening an online store known as chadwickconcepts.com. He also joined statewide art exhibitions to expand his network, mix with fellow artists (some Filipinos) but primarily meet his target audience.
It was in one of these exhibitions that a couple approached him and declared, "Now, we can end our search." They had been scouring for the right artist totransform their massive blank wall into a piece of art. Chad was totally floored. "Their wall was six times the width and height of our apartment wall."
Chad even tapped into the world of fashion through Leanne's handbag. He painted a revitalizing vision of nature: Exotic, alluring and unspoiled. Leanne's bag became a conversation piece, building up enthusiasm among womenfolk to wear a one-of-a-kind, bespoke piece by Chad. For an art festival, Chad restyled a plain silk gown to a master design by hand-painting 190 red roses shimmering with gray tones. It became the evening's joyau (showpiece), celebrated and admired.
"Chadwick," I asked. "Given that you had no formal background or previous experience in this field, are you guided by any rule or yardstick to make your paintings stand out?"
"To be honest, my personal artistic style is still evolving. It has only been a year since I started painting professionally. My goal is to be able to experiment with and elevate the triple themes of Idea-Exploration-Discovery, in various ways.
"I see my body of work constantly shifting but still growing. Recently, honing in on certain recurring themes, like the bold, brisk and brusque brushstrokes (whether in the clouds or the waves of Seascapes or in the backgrounds of my Dreamscapes). There is also the flowing geometric forms, but at the same time my effort to break free of that. Finally, the color red, in various shades, shape, form and texture. At some point, I can see myself combining all of these movements."
In his recent works called "Dreamscapes," unveiled at ArtEXPO 2019 New York, the collectors, the art cognoscenti and those simply attracted to color and design were of one opinion: "Chadwick is a virtuoso. He has the ability to display range, and yet we see traits that are distinctly very Chadwick!"
"More than the artwork itself, I think what defines me as an artist is how I am able to share, and hopefully inspire others with my joy and passion for art and design."
Chadwick Arcinue made a major career switch believing that you can change paths if the intensity of your spirit matches the fervor in your heart. He's an artist and he's a Filipino.
* * *
Chadwick is participating in the following art fairs and exhibitions: Jersey City, New Jersey this May; Saratoga New York and Sta. Fe, New Mexico in July; Miami, Florida in December; and in New York, Hong Kong, Singapore and Manila in 2020.