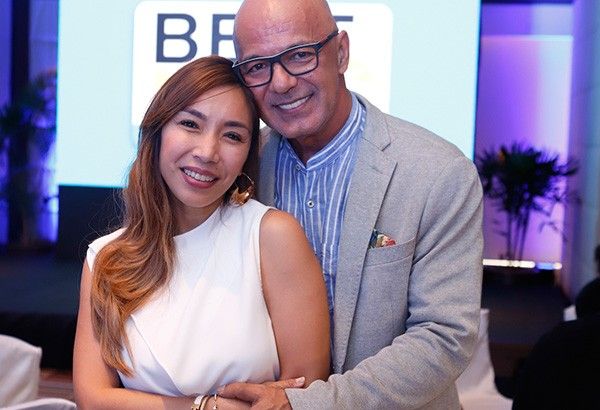 Michael De Mesa and wife Julie Reyes Eigenmann
Photo release
Women's Month: Michael de Mesa's wife saves him from Hepa C
(Philstar.com) - March 13, 2019 - 7:43pm
MANILA, Philippines — Michael de Mesa and wife Julie are counting their blessings even more this year.
After years of suffering from Hepatitis C, the actor finally beat the infectious disease that destroys the liver.
Two Christmases ago, Michael's mom, former actress Rosemarie Gil, cried after her eldest son and Julie announced that yes, the actor was battling Hepatitis C.
Julie herself broke into tears that day, when she shared hers and Michael's daily struggles with the disease. The dutiful wife was moving heaven and earth to save her husband from the illness. She told the family of her quest for a cheaper alternative to the expensive drug Michael was taking.
Michael's father, former actor Eddie Mesa, showed Julie how grateful he was by hugging and thanking her for her persistence.
At home, Julie inspired Michael to exercise by doing workouts herself. It was not easy at first. Michael always looked forward to taking a rest after long hours of taping a teleserye.
"But I gently suggested that he exercise in the morning instead (tapings usually start in the afternoon)," Julie revealed after the Beat Hep C presscon organized by pharmaceutical company Mylan.
Anyway, Julie explained, the exercises take only an hour to two hours.
She is a vegetarian who has renounced pork and beef in her diet, so Michael developed a taste for healthier food himself. She prepares warm soup, which Michael dutifully takes regularly.
"Good thing he eats whatever I serve on the table," Julie, a former Hotlegs dancer, said with a smile.
She and Michael are pescatarians.
Julie makes sure her husband stays away from oily, gooey meals served during taping breaks by preparing brown rice and grilled (not fried dishes) for him to bring to the set.
These, a treatment Julie found online after reading the story of a former patient who became Hep C-free, a healthy lifestyle (Michael doesn't drink) and a happy life did the trick.
"I'm so blessed, because my wife takes care of me," Michael said, looking lovingly at Julie.
Today, he and Julie go to the gym regularly (they have different exercise programs), and Michael has rippling muscles to show for all his efforts.
The grandfather of six wants to stay healthy so he can see the next-generation Eigenmanns (Michael's real surname is Eigenmann) fall in love and get married.
"Plus, I have to keep up with a very young wife," he winked.
The 45-year-old Julie smiles and says she is not expecting to get pregnant anymore. But she admits Michael's victory over hepatitis C has given him -- and their marriage -- a new lease in life.
"Michael's illness brought us even closer," she explained.
Julie says a lot of wives worrried about their husbands' Hepa C seek her out for advice.
She tells them, "Whatever he takes in passes through the liver. Watch his food intake. Red meat and alcohol tire the liver."
Michael, for his part, stresses the importance of blood tests. Liver cancer, he explained, can strike even without warning signs. And prevention is better than cure.
It is also important to keep your hands off alcohol and avoid stress, he added.
Michael, Julie and the rest of the Eigenmanns have every reason to rejoice. They have beaten a powerful enemy. Caring for each other and self-discipline won the day again.