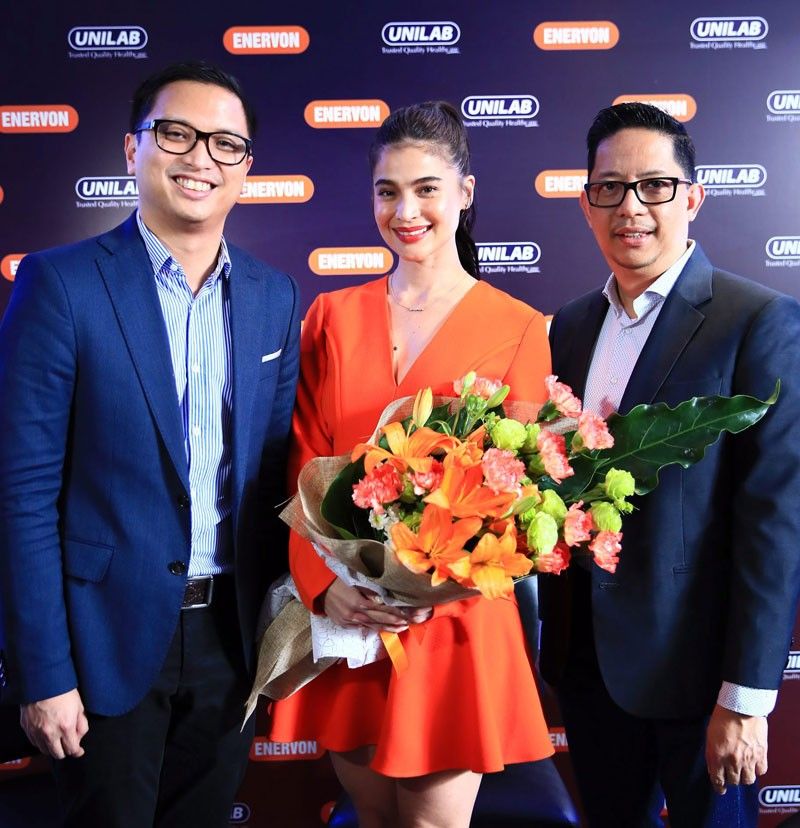 Anne Curtis with Michael Austria, Enervon brand manager (left) and Dr. Rudy Pagcatipunan, medical director of Unilab Consumer Health
What makes Anne Curtis happy?
MANILA, Philippines — Last year was a very busy year for Anne Curtis.
"2018 was one of the busiest years of my life," she says. "I did three movies. I finished the London marathon. I had my Dream Machine Foundation happening. I did my 21st anniversary concert. And I was doing It's Showtime every day. And oh, yes, I also had my honeymoon."
It should not come as a surprise that a much-sought-after actress like Anne should have a full calendar such as what she had last year. What would be interesting to know is where she gets all the energy that she needs to cope with such a brutal schedule.
"In fact, the whole of last year, I didn't get sick even once," she says. Her secret?
It's no secret. For the past six years, Anne has been a product endorser of Enervon multivitamins for Unilab, "maker of the biggest prescription, consumer healthcare and personal care brands in the Philippines."
Anne practices what she preaches. "I take my vitamins every day," she says. "It's always good to make the right choice, to take care of yourself. Take your vitamins and make it a daily habit."
It was not always that way. "A long time ago, I wasn't the type who would actually believe in taking vitamins," Anne relates. "My mom would make me do it. My mistake then was I would load up on vitamins only when I felt like I was about to get sick. But you should avoid reaching that point. I've made it part of my routine in the morning, so I don't get sick."
"The reason you need to take vitamins is because they are important for the development of your immune cells," says Dr. Rodolfo Pagcatipunan Jr., medical director of Unilab Consumer Health. "If you have deficiency of these vitamins, the development of your immune cells and their ability to fight infection will be less than usual. Vitamin C is for the development of your immunity, while the B vitamins are for the processes that require energy."
"Vitamin B-complex is mainly responsible for converting food into usable energy so your body can function properly," Dr. Pagcatipunan explains. "It's like a car. The food you take is the gasoline. The B vitamins are your spark plugs. It's the trigger for the food that you eat to be used properly."
"When you are under stress, you use up more energy than usual, so you need to replace it. The first signs of vitamin depletion is you lack energy. You feel sluggish," adds Dr. Pagcatipunan. This is the message in the Enervon tagline: "More energy, more immunity, mas happy!"
Anne Curtis will certainly need all the energy she can get to accomplish all her plans for 2019. It starts with a healthy lifestyle. She works out every morning before her noontime TV show It's Showtime. "So I get up extra early to work out. That's my fitness routine. If I don't have a schedule in the afternoon after It's Showtime, I'll do Pilates. I also have plans to take up dance lessons," she shares. "My husband and I practice clean eating, so we avoid junk food, no more chips and dips, no more late-night pica-pica."
Her calendar for the first quarter alone is already quite full. "I will have an upcoming film that will start shooting next month. Then I am going to tour my concert in Canada," she shares.
She has big plans for her foundation, Dream Machine. "We have a dream wedding coming up in March. The lucky couple is from Bicol. I met with them and I am making their dream wedding happen."
"I am also an advocate for children under UNICEF. I've done much work with them," Anne says. "You know, I realize that there is no age limit for the people that I reach out to. It's all about spreading love and light. I believe that if you are blessed, you should also be a blessing to others."