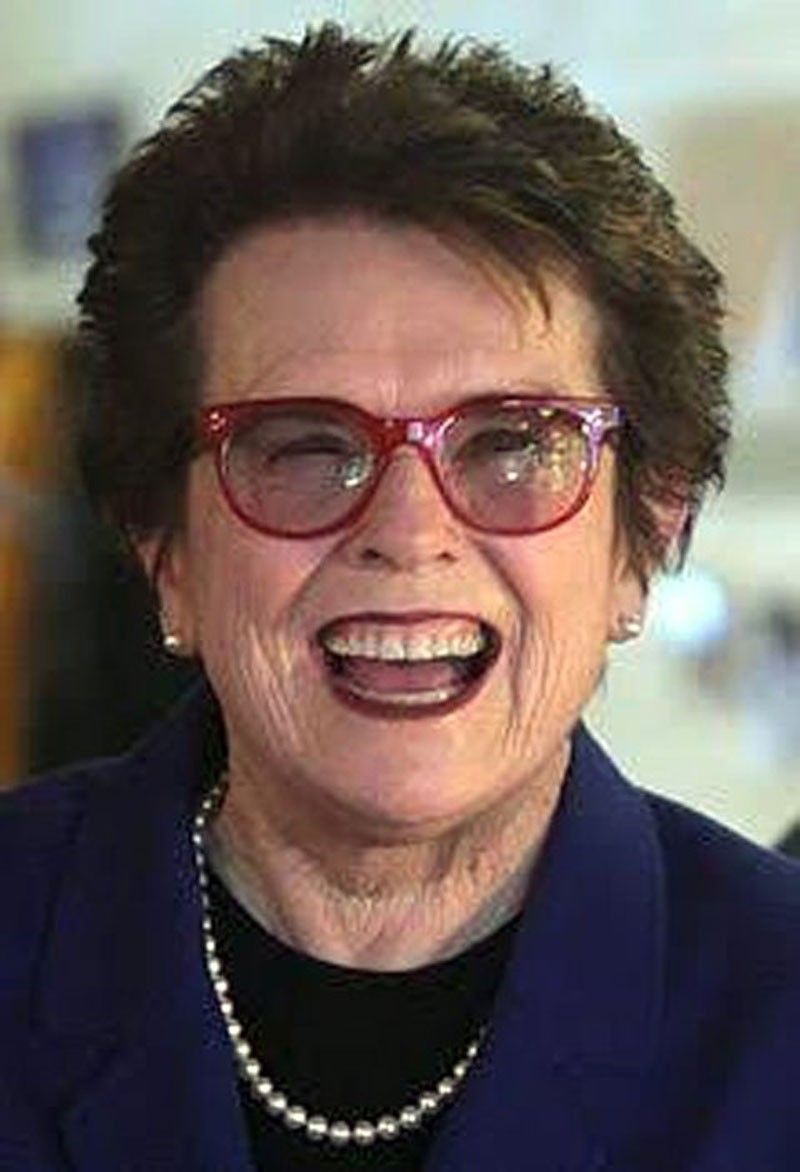 Tennis champ Billie Jean King
Billie Jean King: Being in sports makes women stronger, empowered and healthier
A legend.
There isn't any other way to look at Billie Jean King for all the achievements in her career, not to mention what she has done for women's tennis and women's rights.
She is a sports and social pioneer, a former world No. 1 in singles and doubles, winning 39 Grand Slam titles (12 singles, 16 doubles, and 11 mixed doubles crowns, and a career Grand Slam). The Women's Tennis Association (WTA) Finals singles perpetual trophy is named in her honor — after winning it twice in the past. She is the founder of the WTA and her defeat of Bobby Riggs in the Battle of the Sexes in 1973 is still remembered for its effect on society and contribution to the women's movement.
Among countless achievements and accolades, in 2009 she was awarded the Presidential Medal of Freedom, the highest civilian honor in the United States.
Philippine STAR caught up with her in Singapore during this year's WTA Finals.
Philippine STAR: Having already changed so much in the game, what's the next phase for female players?
Billie Jean King: They (men tennis players) still don't want us, but someday, I don't know if it's before I die or not, but if they were smart we would have been together from day one, because we should have owned the Grand Slams, too. We just should have. I think we should be together a lot more. I think men and women should think about each other being together a lot more than they do in every phase of life and to always support each other and get the best out of each human being, because every human being is an influencer. Men are particularly important for daughters. My father believed in me as much as my brother who played professional baseball, he was a 12-year pro. It's a huge sport. It's much bigger in the US than tennis. My brother, by being a major league baseball player, was a much bigger deal than I was as a tennis player. But my dad was so great because he believed in me as much as my brother. He was exceptional. Monica Seles talked about that, and her father also believed in her as much as her brother. So if you believe in your children and you tell a girl she can do anything, as well as your boy, it really makes a difference. It gives you that empowerment and that confidence.
You have always been an advocate for sports.
I just hope that they want to play sports and tennis. I hope it encourages them, because it helps you in education to be good in sports. It helps you get better jobs. Ninety-six percent of the top women in companies identify with being an athlete. They know that athletes, when they graduate, do better in jobs, so they make more money. That's why I would encourage girls to be in sports. It's about their health, emotionally and mentally and physically, and it provides more opportunities in the workplace. Even if you're going to be a mother, it helps you be stronger and empowered and helps you be healthier. As goes the health of the mother usually goes the health of a family. They've got data on all this now. It just behooves us that men and women, that all genders just be the best they can be in whatever they want to do.
But I never discourage a girl not to go into sports. A lot of families get so hooked up just on education, so they have to think this is about education. It's part of. Not separate from.
How do you see the diversity in women's tennis?
I'm always for inclusion, which means more people of different cultures. Every time somebody wins from a different culture it really helps. (Naomi) Osaka is amazing. I don't know if you all remember (Kimiko) Date from Japan. She was a huge plus. Chrissie Evert really influenced the Japanese women the way they played. That's what happens. They see somebody when they are No. 1, it inspires them, and then they play like that. If you can see it, you can be it. The children growing up are seeing it, the boys and the girls. And particularly girls can see themselves. It's really important. It's inspiring, and it's really important to have inclusion of everyone.
The Americans have fallen behind in the sport.
I think tennis is a microcosm of society, and I think that American kids in general, I hate to generalize, but I don't think they're as tough as we used to be in some ways. The way we were raised, I was raised with much more strict parents. I would like to see more structure and boundaries the way they're taught growing up, because you have to, it really reflects on the court. I think we are too soft sometimes. I think you're seeing other countries surpass us like you are in business and everything else. It's a microcosm of society. It just tells you what's going on in the world. But we have to suck it up and get back in it. If you can't cut it, you can't cut it. If you want to be a professional athlete, that's the deal.
Do you think that the top players at the moment in the women's game are speaking out enough?
I don't know what they feel, but I knew at 12 years old that I had amazing opportunity as a tennis player. So you know what the opportunities are now. At 12, I knew that I had a chance to do something special if I got good enough in tennis, because tennis is global. Even back then, compared to other sports. But that's an unbelievable opportunity to help the world to be a better place. Very few human beings get this opportunity that I have. I made a promise to myself at 12 that I would fight for equality for the rest of my life. I knew if I were good enough that tennis would be my platform. Players today worry too much about selling their brands too much, to always be well liked. But I would like them to speak out if they truly have feelings about something, which I think they do, and they can't do it, and that's too bad.
What is the difference between your era and today?
Everything is exaggerated, like the spins ­— it's more topspin, more slice. It's very different. Plus the technique they learn now is better.
My generation, we couldn't even afford to have coaches. We actually helped each other. I helped Chris Evert or she helped me or I helped Martina (Navratilova), we tried to help each other and then go out and beat each other's brains out in the match. So we may have a coach at home but they couldn't afford to go with you. Before, I had to fight with the women to get an athletic trainer. Now we have physiotherapists, massage therapists, we have doctors, we have everything. And why? Because of money. It's all a function of money. That's why you have all these coaching teams, support teams. We didn't have that. We had to support each other because we didn't have any money. I won $100,000 in 1971 and I think I played in 30 tournaments.
I wanted to make that because money talks. People understand money, right? No matter if you're a factory worker, a writer, doesn't matter. Everybody understands money. It's a measurement that people understand.
I knew if I could make $100,000 it would bring so much attention to women's tennis and to women's sports and to help people respect us, because money does talk. That's why I wanted to win it so badly. It wasn't even actual money. It was what it represented. It's the message. We didn't have that. So the players today are better.
They're better coached. They are taught better technique. We were very static. They are very dynamic. I would really concentrate on making sure their serve is good. I don't think, as a little girl, when they are young, they throw the ball enough like they do with the boys. That really helps. They have proven it. They have done research with non-dominant arms. If you're right-handed, they make you throw left, and the same with the boys. Very similar when you get the non-dominant arm involved. That's why boys in the US spend a lot more time playing catch. When they spend just as much time with their daughters playing catch, their serve is 10 times better.
* * *
Follow me on Twitter and Instagram @anthonysuntay, and like my Facebook page: Anthony Suntay.