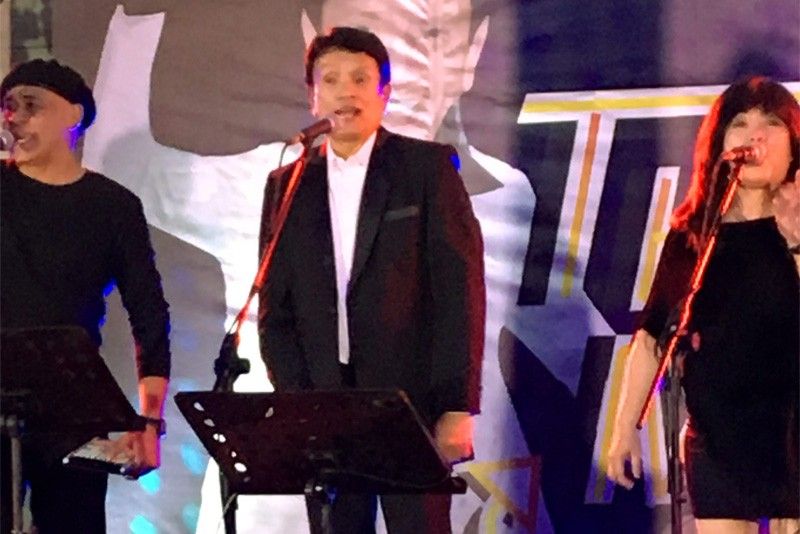 The singing lawyer: Atty. Alex Padilla celebrates his birthday with a mini concert.
The invitation came months early. Reserve this date, he said, and as it neared, there were many reminders via text and Viber not to miss his birthday celebration. Finally, it became clear that it would not just be another one of his birthday parties, it would be a concert. His concert. The man I have known to be a hot-shot lawyer, a passionate peace advocate and a no- nonsense high government official, was going to hold a concert.
Initially, I thought it would be your usual videoke party where the mic would be passed and everyone who felt like it could belt out her favorite song. But when I joked that I would also want to sing, it was an awkward moment. "Maybe later, after my concert," he said.
And what a show it was. Backed up by his vocal coaches, Atty. Alexander Padilla, martial law era student activist and human rights lawyer who has since served government in various capacities as CEO of PhilHealth, chair of the Philippine Government Peace Panel for talks with the CPP-NPA-NDF, Undersecretary for External Affairs and Regulations at the Department of Health, senior state prosecutor at the Department of Justice, special prosecutor at the Office of the Ombudsman, Assistant Secretary at the Department of Interior and Local Government, a commissioner at the Housing and Land Use Regulatory Board and a commissioner at the Bureau of Customs, entertained some 300 of his friends from various sectors at a dinner-concert with 10 well-chosen solo numbers, including the iconic and very difficult MacArthur's Park, which he sang with passion, gusto and conviction.
It was a delightful performance on a stage with a larger-than-life-sized photo of Alex and the caption: "This is My Moment." The performer was poised and cool, and the astonished crowd was lavish with its applause. With full confidence, and his vocal cords amply exercised, he hit his notes accurately, emphatically. I have never seen Alex in a courtroom but I can imagine the drama he could evoke before a judge with the passion he exhibited on stage.
I missed Alex's 60th birthday two years ago but I heard that he surprised his guests by singing My Way. After which he acquired the services of vocal coaches to develop his then-secret ambition to become a singer. His 62th birthday this month was his debut as a serious vocalist.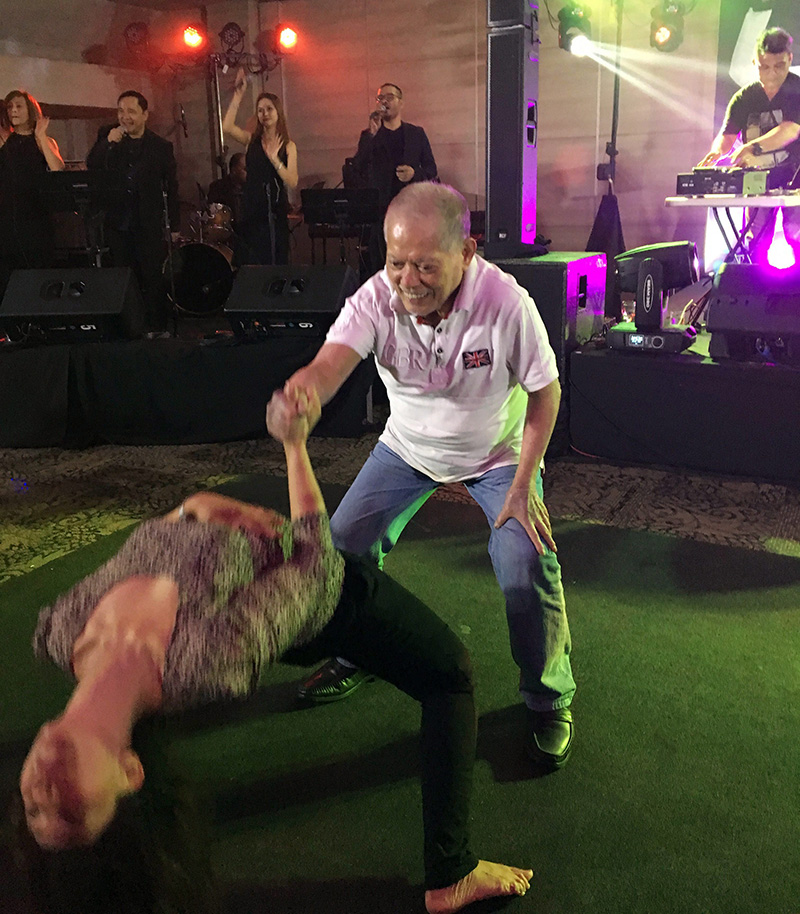 Human rights lawyer Atty. Rene Saguisag heats up the dance floor.
If he had his life to live all over again, his coach quoted Alex saying, "He would like to be re-incarnated as a singer." How great is it that one can re-invent himself in his senior years? While most people retire in clover, enjoying the fruits of their labor by slowing down and doing ordinary things like playing golf, traveling to visit the grandchildren, doing volunteer work, etc., Alex challenges himself by pursuing an entirely new direction.
All Filipinos are entertainers at heart. We are the videoke kings and queens of the world. We sing at the sight of a mic. But how many of us would work as hard as Alex has to pursue his passion and request his friends for the pleasure of their company to attend his own solo concert? I once wrote about my secret ambition to sing torch songs under a single spotlight, accompanied by a pianist or guitarist. But I need to develop the guts and the vocal chops to do it well.
Years ago, I helped the late Elvira Manahan mount a show where with her throaty voice, she gamely sang an aria with Lilia Reyes, a visiting Filipina soprano based in Italy. She and Lilia also sang local ballads with Rico J. Puno in a hodgepodge of opera and pop. The show was a hoot; it was vintage Elvira. It was a lot of fun but hardly a serious attempt at real singing, at least on her part.
We've also heard of the Three Tenors – Joey Lina, Bayani Fernando and the late Angie Reyes — avid karaoke singers, who mounted concerts to appreciative audiences.
Alex Padilla's recent incarnation as a singer is different. He is dead serious. Will he pursue singing as a new career? I didn't have the opportunity to ask him as he was mobbed by his friends, colleagues and classmates (from La Salle and UP Law) after the show, many of whom must have thought of how wonderful it would be to leave the stuffy world of the bureaucracy, the demanding world of the NGOs, or the ever increasingly difficult practice of law in these times, and just pursue their passion, whatever it may be.
I see more singing in Alex's future. It is something he truly enjoys, and he is good at it. I just hope we don't lose this human rights lawyer totally to the entertainment stage.
And speaking of pursuing one's passion, spotted on the dance-floor after the concert was the very senior and very passionate human rights lawyer, Atty. Rene Saguisag, looking hale and hearty, masterfully spinning two women dance instructors simultaneously in a boogie number.
Here's to singing and dancing human rights defenders! May you continue to make life better for all Filipinos, wherever your passion takes you. Never say die!