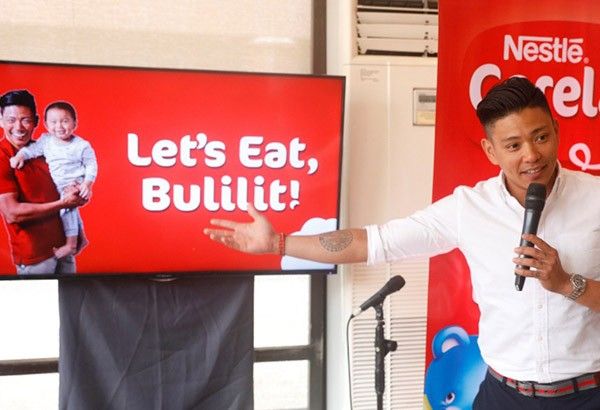 TV host Drew Arellano sharing how he bonds with son Primo through food.
Cerelac/Released
Drew Arellano to dads: Never tell your wife she's fat
MANILA, Philippines — Kapuso hosts and celebrity couple Drew Arellano and Iya Villania advised couples planning to have children to always be fit.
Still fit and sexy even she is due to give birth on August, Iya said her pregnancy with her first son, Primo, is so easy maybe because she was still working out until her 38th week.
"I came from triathlon training, and that was the peak of my fitness so my body was very used to it, so malakas ang loob ko to keep at it even I reached 37, 38 weeks of pregnancy," the Kapuso host said during a recent Babyflo event, where she and her husband Drew and son Primo are the ambassadors.
She thinks the reason why she is confident in working out during her pregnancy is because she has been doing it before pregnancy.
"Kaya sanay na yung katawan ko. Of course as much as I want other moms to be active, I mean that's not easy, kaya ang advice ko lang is to get fit for pregnancy hindi kung kailan ka mabubuntis dun ka mag-exercise," the "24 Oras" host said.
"Kasi when you get pregnant, then you have hormones you know, going wild, tapos iisipin mo 'ay tataba ako.' 'Yung iba dun na lang nila naiisip na nag-exercise, that's when some of them face problems kasi di naman sanay 'yung katawan nila. That's why I would advice to get fit for pregnancy because then that would give you the courage to stay fit during you pregnancy," she added.
Meanwhile, Drew also has an advice for husbands.
"Sa mga daddy naman, 'pag tumataba na 'yung mommy, 'wag niyong sabihing tumataba na 'yung mommy. Dedma lang muna or say it in a very nice way. Like, 'You're huggable'," Drew espoused.
San Miguel Purefoods Home Foodie ushers in a new season of its cooking show, "Home Foodie," featuring Drew and Iya's leveled up cooking skills, more consumer engagement, new chefs and more delectable dishes.
In this season, we will see Drew and Iya's confidence in the kitchen. They are ever playful and perky while helping the chefs prepare the featured dishes. They provide tips and offer meal solutions to both TV viewers and to the online community.
This season, two new chefs will join chef Llena Tan-Arcenas in guiding Drew and Iya create quick-cook meals. They are chefs Martin Narisma and John Valley.
The couple will also feature new meals inspired by trending dishes from restaurants and new hacks and twists to classic favorites.
"Home Foodie" is a cooking show hosted by real life couple Iya Villania and Drew Arellano together with the San Miguel Pure Foods Culinary Center Chefs Llena Tan Arcenas, Martin Narisma and John Valley. It features a wide array products. The season 4 airs on GMA 7 from Monday to Friday after "Unang Hirit."