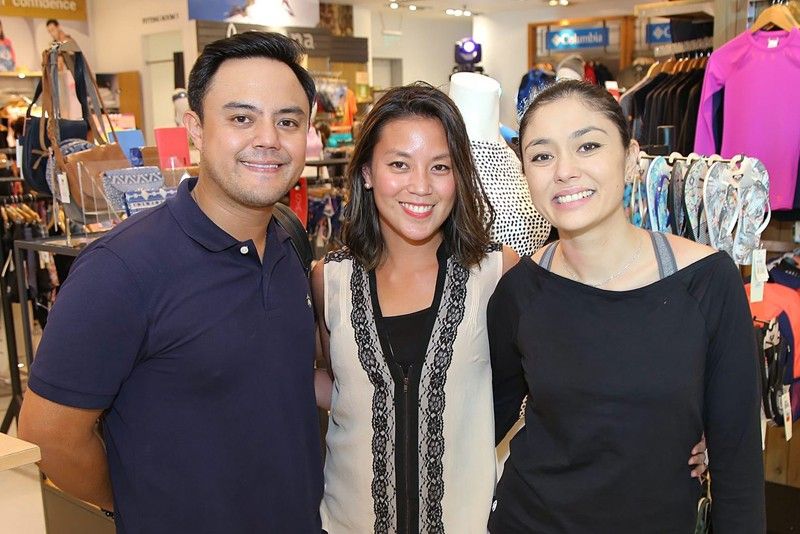 Paolo and Bea Tantoco with Rustan's marketing and communications manager Dina Tantoco
What you wear matters when you exercise
MANILA, Philippines — Wearing appropriate workout wear is not about vanity or luxury. It's like armor — you gear your body for battle, whether it's on the yoga mat, up on the mountains, or on a wave. With the right yoga pants, you can rest assured that you can twist your body anywhich way, and it would slide down or ride up or bunch up. The proper shoes will protect not just your feet, but also your knees, back, even your toes. The right accessories — from headphones for music motivation, to water bottles for hydration — complete the workout experience and help you go the distance.

From left: Roxy, Maaji, Under Armour and Champion
Recently, Rustan's launched its new Active Wear section at the ground floor of Rustan's Makati, carrying all their exercise, workout, fitness and adventure brands in one department. Whether it's strength training with CrossFit or connecting the mind and the body with yoga, Rustan's has carries all types of activewear in the new curated space.
Have you ever tried running or lifting weights in a regular T-shirt? It not only gets clingy, it also absorbs everything. Get more from every rep with workout shoes designed for power, mobility, and stability from Mizuno, Asics and New Balance, while looking every bit of fit in apparel and accessories by Adidas and Under Armour. Proper attire is also more practical, post-workout — by the time you leave the gym or the tracks, your sweaty shirts will already be dry and your bag will remain as light as it was when you walked in.

From left: Columbia, Asics, New Balance and The North Face
For yoga and Pilates, it's important to have the proper fit. Here's the one time it's okay to wear pants that are like second skin. You need it to be that way so you can move around without any hindrances. But don't wear regular leggings — one wrong move and they could split open right at the crotch, or slide down your rear end during downward dog. Have the freedom to move with ease and comfort with Prana, Maaji and Atsui's activewear silhouettes. Certified Calm offer lines of back packs, yoga accessories, and exercise mats that are not only travel-friendly but sustainable, too.
For accessories, take your pick from Oakley's sports sunglasses, stay hydrated with S'well or Aladdin water bottles, track your best time with Garmin, and in-ear headphones from Audio Technica, Skullcandy, and Philips.
For the adventurers, Champion, Quicksilver, Roxy, Columbia and The North Face are just some of the options to cover your tracks. They have products that at once protect the skin and body from all types of weather, like a sudden chill or rain in the mountains or extreme heat during a marathon.
Clockwise from upper left: Skull Candy, Certified Calm, S'well and Prana
* * *
Rustan's Active Wear is located at the ground floor of Rustan's Makati. For information, visit Rustans.com.ph.