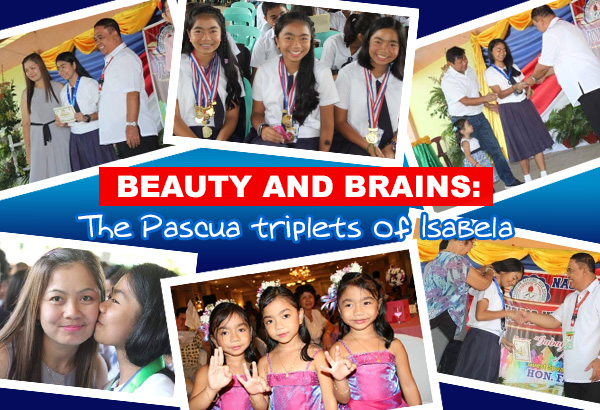 Growing up, Therese, Florence and Joyce Pascua faced comparison around them but nevertheless, always topped their class.
Growing up in the province made Filipino triplets dream big
(Philstar.com) - June 20, 2017 - 1:55pm
MANILA, Philippines — Hailing from Naguilian, Isabela, Therese, Florence and Joyce Pascua wish to prove that regional students can excel in life as much as those from the capital region. They are, in fact, set to take up law just like the country's new crop of lawyers—the top 10 of whom come from the regions.
But first, the 16-year-old triplets need to finish their secondary schooling.
As classmates at Naguilian National High School, they face comparison from everyone around them. There is the question of who among them is smarter or nicer—most especially since Therese, Florence and Joyce topped as first, second and third honors, respectively, in junior high.
Asked if they intentionally compete with one another, they say they do but are quick to classify it as a healthy one.
"We have different strategies in studying. Di po kami magkakasama nagre-review (We don't review together," reveals Therese. "But if one of us needs help, we will still come to the rescue."
The three beauties with brains also share that they never let comparison and competition affect them. They instead manage to show their unique personalities and individual strengths.
Therese is the outspoken one, and she uses this characteristic to her advantage. She is the president of the Supreme Student Government—the student council.
Florence, meanwhile, is the introverted and independent one who plays games to improve her strategic and thinking skills.
Joyce is the artsy one. The cartoons she watched as a young girl inspired her to draw at a young age. She then learned to sketch, and now paints oil on canvas.
A prominent inspiration
Therese, Florence and Joyce already showcase maturity and determination in their teenage years. They credit their father Rodrigo Pascua Jr. as their inspiration.
Rodrigo Pascua Jr. grew up in the small town of Naguilian in Isabela but he dreamed big. He wanted to become a successful lawyer despite his humble background and despite criticisms of him being ambitious.
Determined, he studied well until he was able to enter law school at the age of 20. He soon realized that the chase for his dream was not a walk in the park. Still he endured until he graduated and eventually, passed the bar exams at 24.
He also became the youngest lawyer at Isabela's Register of Deeds at 28, further showing that anything is possible for anyone who is determined.
Today, Pascua is a judge at the Municipal Trial Court in Ramon-San Isidro, also in Isabela. More importantly, he is able to provide a comfortable life for his family of six.
Yet the triplets say that they are never sheltered at home.
"Our father doesn't spoil us. Although he is already a white collar worker, he taught us that in life—kailangan dumaan sa hirap bago ginhawa (To face trials first before prosperity)," says Therese.
Florence continues: "Di po naming agad nakukuha 'yong wants naming tatlo instead 'yong needs ang binibigay. Lagi po niyang sinasabi, 'Kung gusto niyo, paghirapan niyo' (We don't immediately get our wants instead we are given our needs. He always tells us, 'If you want it, work had for it)."
Raised by good family
If their father rules in court, their mother Mary Joy Pascua was once a queen. She won the Ms. Quirino title in 1993.
"She's a beauty queen with brains," Therese proudly shares.
"She used to work as a stenographer in a regional trial court but she resigned to take care of us full time," Florence adds.
With their family setup where the father works and the mother takes care of the home, the Pascua triplets were raised in an understanding environment that encourages them to open up.
"Every time we get home from school, they always ask us how we've been. So we will share to them everything," Therese says.
Their parents also trust them in whatever they do. As a result, the sisters are aware of limitations and are rarely reprimanded.
Asked how they express gratitude for the goodness of their parents, all three answer that they study well.
Therese says, "Hindi po naming pinapabayaan studies namin para hindi masayang ang hirap nila (We don't disregard our studies so their hardships won't be put to waste)."
Indeed, the future looks bright for Therese, Florence and Joyce.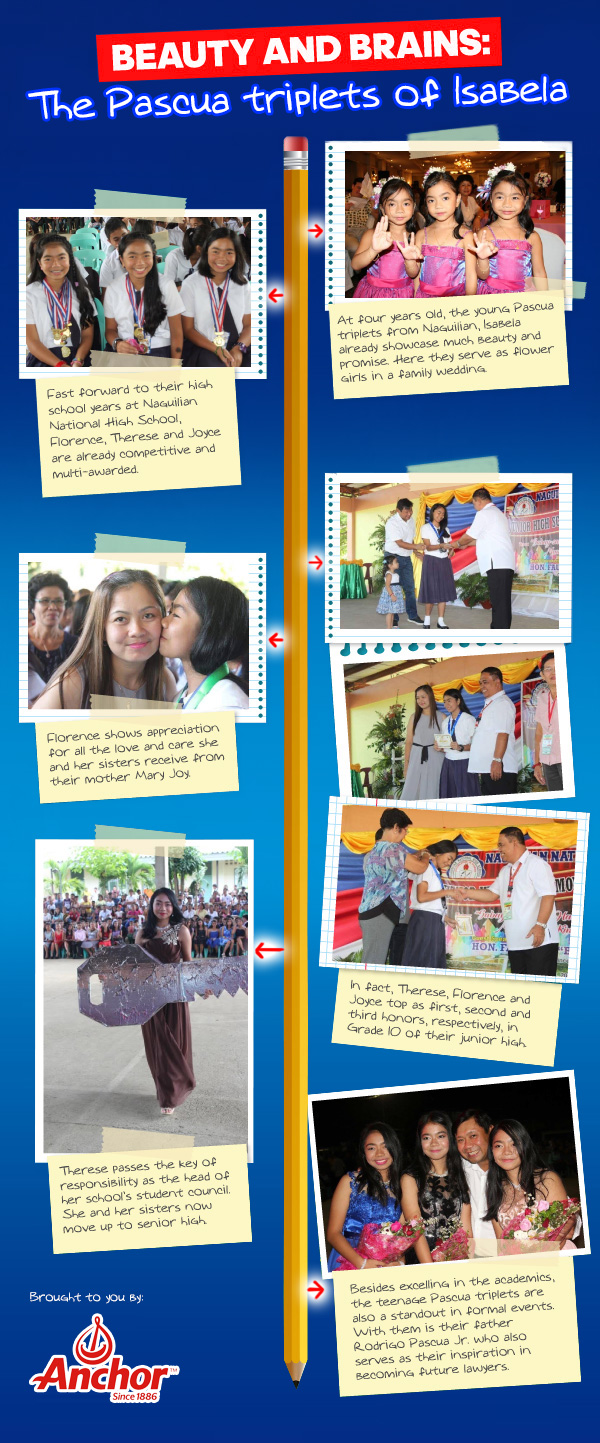 'Goodness Feeds Greatness'
The inspiring story of Therese, Florence and Joyce Pascua embody the message of Anchor's 2017 global campaign called Goodness Feeds Greatness. It aims to prove that goodness, like a family that supports, guides and loves, is key to greatness.
Goodness is also sourced from proper nutrition that strengthens both mind and body in times of challenges and setbacks.
That's why it's important to be armed with the best dairy nutrition with the natural goodness of Whole Milk to help bounce back stronger from setbacks. Anchor is made with whole milk which provides a high source of protein and calcium in every drop without hydrogrenated vegetable oil. It uses natural milk fat for that rich and creamy taste. It also comes from New Zealand where cows are grass fed making the milk rich in antioxidants. That's pure and natural dairy nourishment to feed the greatness in your family.
For more information, visit http://anchorphilippines.com.