Jake Jarman: The next sports super star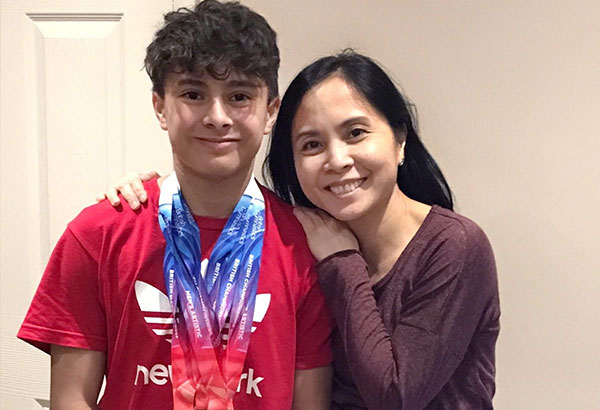 Looking for the next big star in Philippine sports? Meet Jake Jarman!
This 15-year-old phenom, with a British dad and a Filipino mom from Cebu, started recreational gymnastics at the age of six and then moved on to the club level at nine. Now, he has captured the hearts and minds of the British public with his exploits and is currently the Under-16 Welsh Open, English and Great Britain Champion.
Gymnastics isn't a huge sport here in the country, but I do believe that having an international star in the sport will greatly help propel it into the mainstream.
It would be great to have Jarman represent the country in future competitions like the Sea Games and the Asian Games, but that would all depend on the qualifying protocols of the sports world governing body.
PHILIPPINE STAR: How did you first get introduced to the sport?
JAKE JARMAN: My nan started my journey on gymnastics. I used to be very energetic when I was young, bouncing from wall to wall and my mom and nan were desperate to find something that would keep me occupied.
That's the time I found gymnastics and I loved it from the very start. I now compete for Huntingdon Olympics Gymnastics Club, one of the best clubs in the UK.
In my early years, I enjoyed playing football (soccer) and ice hockey, but my heart was always with gymnastics. So when my mom gave me an ultimatum to choose a single sport to follow then, gymnastics won the day.
Gradually, I worked my way through the grades. My first competition was a friendly for the club, which was more for fun than serious but gave me a thirst for more events. My first serious competition was a regional competition where I came 6th overall. From this point, I just kept working hard on improving my skills and raising my scores.
At the age of 12, my hard work paid dividends and I got selected to the Great Britain Elite squad.
Talk about the British Championships.
The British Championships were held at the Echo Arena in Liverpool this past March. I went into the competition in good form and high expectancy. To be honest, I was probably the favorite and full of confidence.
Consistency, along with flair, is among the important elements in winning competitions and across the six pieces of apparatus, I was successful in demonstrating both taking the gold medal with a score of 76.4.
Although I have competed for GB in several international competitions, winning the British U16 Championships has been my biggest accomplishment to date. I feel very proud of winning this title and it brings great joy to remember the gold medal being placed around my neck.
What's your next target?
I now have a set of short to medium targets that I am looking to achieve.
This year, the European Youth Olympics in Hungary, the British Schools Championships and, at the end of the year, an international to be held in Japan. I will need to be at the top of my abilities to qualify, but I hope this is something I can achieve. Next year is the Junior European Championships, Youth Olympic Games, and the British Championships again. My long-term goal is the Olympic Games in Japan 2020.
The road ahead will be difficult and I will continue to work hard improving my skills, learning new moves, and pushing the boundaries. I train six days a week. During school term, it's 27 hours a week and during vacation, 38 hours a week. Once a month, I travel to the National Sports Centre for a five-day training with the British team and coaches.
Any plans to visit the country soon? And to also possibly help the progress of the sport in the Philippines?
I lived in Cebu for two years, from age three until five. I am proud to have both Philippine and British heritage. I still get to talk to my family in Cebu, using Skype and they are always following my progress. I love Cebu and its great beaches, and I have very good memories of my time at school and with my cousins, Lola, and Lolo.
I would love to visit the Philippines again but with such a serious focus on my gymnastics that consumes my time training and competing, it's proving difficult to schedule. Maybe long term, I would love to be an ambassador for Philippine gymnastics and help its athletes realize that with hard work, anything is possible.
* * *
Follow me on Twitter and Instagram @anthonysuntay, and like my Facebook page: Anthony Suntay.