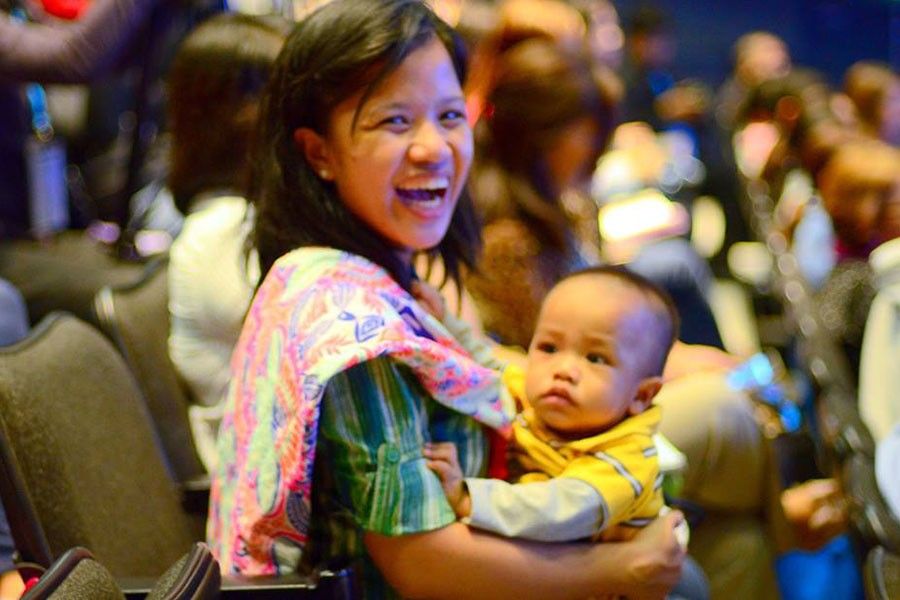 Here's why even non-homeschoolers should attend the Philippine Homeschool Conference 2016
My husband and I are homeschooling parents of four kids. We often get questions like, "Why do you homeschool?" "How do you do it?" "What if I'm not a patient parent – can I do it?" and other questions (usually about "socialization"). We always do our best to answer people's questions and encourage them to do their research too.

We also emphasize the fact that homeschooling is not for everyone, because every family is unique, every parent is unique and every child is unique.

Having said that though, I personally believe that parents should at least explore the concept of homeschooling. And what better place to explore it than at this year's Philippine Homeschool Conference?

The Philippine Homeschool Conference (PHC) 2016 is an annual event mounted by the Homeschool Association of the Philippine Islands or HAPI. HAPI is a non-stock, non-profit organization that aims to equip homeschooling groups and organizations in growing the national homeschooling movement.

This year, HAPI in cooperation with Philam Life, is mounting what is said to be the "biggest" homeschool conference ever, with an estimated 700 attendees. The conference will be on Oct. 22, 2016, from 7 a.m. to 6 p.m. at SMX Convention Center, SM Aura Premier, Taguig City.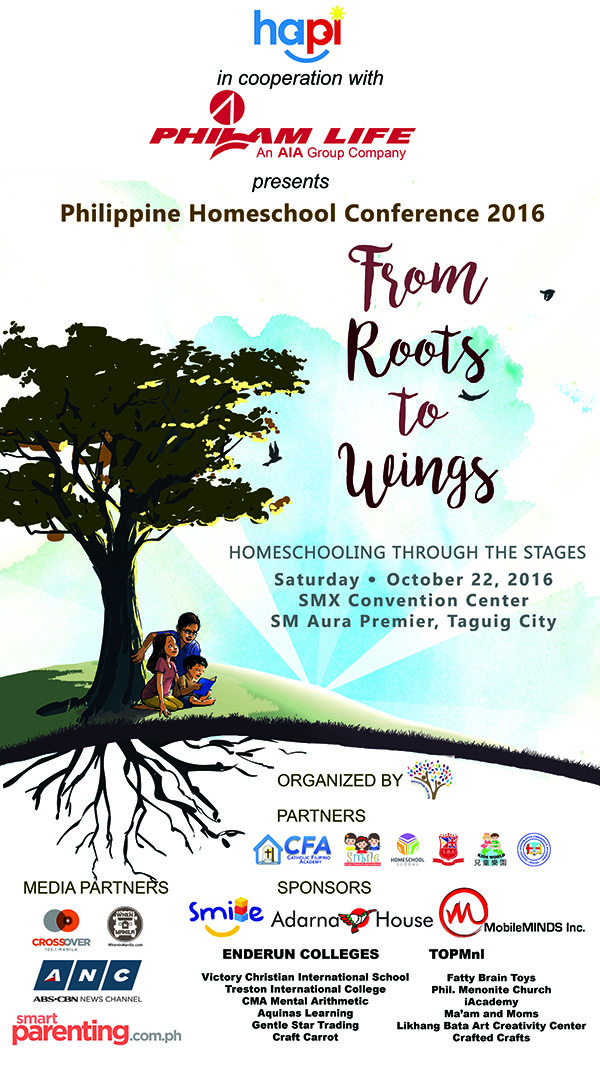 As a member of the HAPI Core Group, and a member of the conference's event organizing team as well (Educating for Life), I would like to extend our invitation to all the parents and "stand-in parents" out there – please come to the PHC 2016!

Now, you might be saying, "I'm not a homeschooler. So your event most probably doesn't apply to me!"
Well, that may or may not be the truth. You see, I personally believe that even non-homeschoolers can benefit from the PHC 2016. Here's why I believe so:
1. You'll get to listen to inspiring keynote speakers who will talk not just about homeschooling, but parenting too.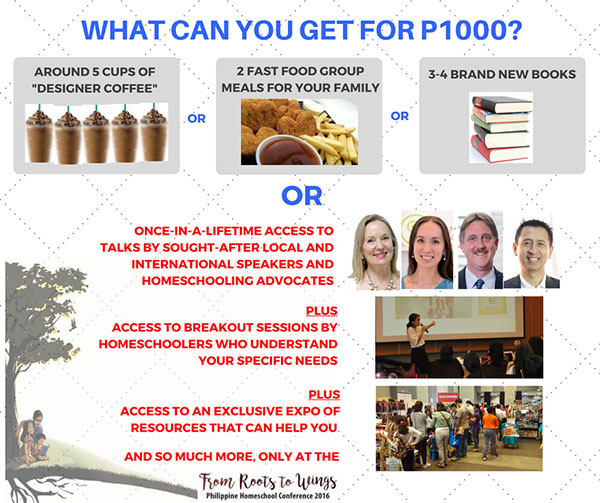 Parenting advocates Deonna Tan-Chi and Joy Tan-Chi Mendoza will be talking about "Building a Firm Foundation," which is a good topic for homeschoolers and non-homeschoolers alike as they will be emphasizing the importance of values-based parenting and family life.
Then, international speaker Andrew Pudewa, who is flying in all the way from the US, will cover "Motivation: The Art and Science of Helping Children Learn Well." I'd like to believe this is something ALL parents want for their kids, whether they homeschool or not – i.e. to help our kids "learn well." Andrew Pudewa is the founder and director of the Institute for Excellence in Writing and has been teaching parents, children and even teachers for many years now. He and his wife also homeschooled their children.
Lastly, bestselling author and inspirational speaker Bo Sanchez – a homeschooling dad himself – will be talking about "Wings to Soar: Leaving a Legacy for Our Children." His keynote talk will surely inspire and encourage all the attendees.
2. If you're considering homeschooling, you'll learn how to get started through the Breakout Sessions.
The PHC 2016 theme is "From Roots to Wings: Homeschooling through the Stages" for a reason: it aims to help parents who are in different stages of their homeschooling journey.
If you're curious about homeschooling and how it's done in the Philippines, you should attend HAPI President and motivational speaker Edric Mendoza's session on "The Ins and Outs of Homeschooling in the Philippines." Gary Cox, a speaker from the US will be joining Edric as well.
If you're thinking of homeschooling your kids but they are already enrolled in brick and mortar schools, you might want to attend homeschooling mom Jenn Punzalan's session. She has experience helping her kids transition from brick and mortar schools to homeschooling and vice versa.
If you've decided on homeschooling but need tips on how to get started, you will benefit from veteran homeschooler Donna Pangilinan-Simpao's session, which is all about "Starting Your Homeschool Journey."
If your child is still an infant or toddler but you're already thinking about homeschooling in the future, educator and homeschooling mom Milona Barraca's session on "Laying the Foundation in Preschool" is worth attending.
3. You can find materials and resources to enrich your child's learning at the PHC 2016 Expo.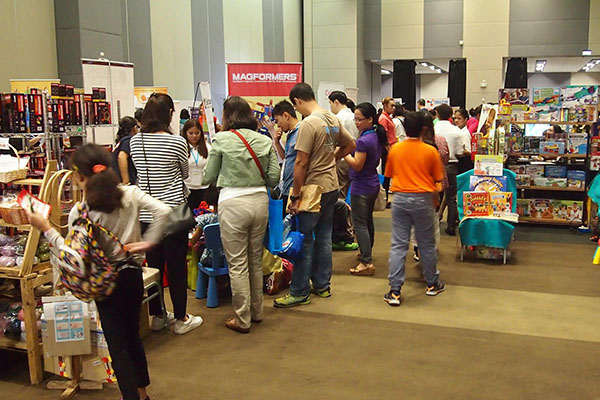 Most parents will probably agree that having access to companies that provide products and services that help enrich children's learning experiences – all conveniently located in one place – is a great thing. This is exactly what you will get at the PHC 2016's Expo.
Parents who will be attending the keynote talks and breakout sessions can also let their kids join the different kids' activities at the Expo area (details and fees per activity can be found here).
In addition to the aforementioned, the conference will feature a talk on "Strengthening the Foundation through Financial Planning" by guest speaker and registered financial consultant Eric Nicdao, musical performances from the Catholic Filipino Academy (CFA) Homeschool Orchestra and other homeschoolers, and raffle draws of great prizes which include homeschool scholarships from Catholic Filipino Academy, Gopala's Simple Moments in Learning Experience (S.M.I.L.E.) Play Center, Homeschool Global, International British Academy, Kids World Integrated School, and Peniel Integrated Christian Academy of Rizal.
So, is the Philippine Homeschool Conference 2016 worth attending? I would definitely think so! If you're convinced too, please come and join us. Just visit www.educatingforlife.co for more details or contact me here if you like. Hope to see you, fellow parents!
If you are a parent to a child with special needs and are wondering if homeschooling him or her is possible, educator Jen Bellosillo's session is perfect for you. Jen is a homeschooling mom of 4, and her eldest has special needs. She is also an advocate of homeschooling kids with special needs.