Shopwise Alabang has a new look, new products, and good old budget-friendly prices
Headed south (or maybe you live there)? There are just so many things happening or coming up down south of Metro Manila there could be yet another new restaurant opening smack in the middle of the neighborhood or a new mall rising it's a mall world after all! And now, there's the new Shopwise Alabang actually, the refreshed, refurbished, reinvigorated first Shopwise branch in the Philippines.
We were there when Shopwise Alabang first opened in Festival Supermall 16 years ago. And having been part of that great journey— this southern (comfort) shopping destination sure has come a long, long way we revisit the store this fine Friday morning. The first thing that greets me is a big four-letter word: SALE, my all-time top favorite word but of course! There are humongous savings on tons of assorted items Shopwise Sinandomeng rice at P46/kg.; buy-one-take-one SureBuy vegetable oil 1L at P95; fresh jumbo bangus from Sual, Pangasinan at P155/kg.; fresh tilapia from Agoncillo, Batangas at P120/kg.; buy-one-take-one salmon head (P149/kg.); buy-one-take-one cream dory regular at P179/kg.; fresh suahe primera medium at P369/kg. (save P120); Harvey beef from Australia at P299/kg.; buy-one-take-one frozen imported shortribs (P479/kg.); buy-one-take-500 g. chicken inasal flavored cut-ups at P224/kg.; Taiwan garlic at P99/kg. (save P16); kiwi fruits at P76 (save P23), etc.
Consumers take home huge savings on a variety of home items and appliances, too assorted towels at P199/kg.; assorted table cloths at P299; Camper Matt at P299 (save P100); buy-one-take-one Hardtex mattress (P699); Hanabishi rice cooker 1L at P389 (save P211); Nil whistling kettle 3L at P149 (save P200); square multi-purpose bucket at P229 (save P170); mountain bike steel at P2,599 (save P400); buy-one-take-one laundry hamper and 4 gal. pail at P99; Union single tub washing machine, 6.5 kg., at P2,499 (save P696); Dowell industrial stand fan, 45.7 cm., at P849 (save 650); Giant banquet table, 4 ft., at P1,299 (save P900); buy-one-take-one Shopwise walis tambo at P99, etc.
4 Million Ensaymadas: Sweet success
Shoppers are likewise treated to sweet savings on the chocolate moist cake, tasty loaf, and masarap at malaman pandesal at only P2/piece. And of course, there's the not-to-be-beat Shopwise ensaymada (P67/6 pcs.), of which Shopwise sold over four million pieces last year! That's what you call sweet success!
Shopwise is big, too, on items for the little ones — the imported Top to Toe kids' basic clothes that come in quality cotton designed for the tropical climate and are available in assorted delightful colors, as well as kiddie shoes, baby food, Lock & Lock Hello Kitty items, toys, books, baby care products/grooming sets, feeding sets, Child Care baby strollers, baby walkers, and carriers, etc.
This makes you want to ask: Just how low can you go at Shopwise?
"We have our SureBuy products — cooking oil, sugar, noodles, toilet paper, all the essentials — that are 20 to 30-percent cheaper than the highest brands, but the quality is the same," says Rustan Supercenters, Inc. (RSCI) CEO Pierre Deplanck, a dashing Frenchman. "When it comes to quality, we don't compromise. We encourage our brands to compete, to show their unique selling points vis-a-vis what we can do on the same quality but at a lower price. Not everybody is brand-conscious. We give consumers a choice."
SureBuy surely promises to be everybody's BHFF (best household friend forever) as it offers quality and savings on its range of canned goods, vegetables, local deli, basic condiments, and a lot more.
On top of the low, low prices, the store will continue to put on sale new promo products.
Still the No. 1 selling item, according to Pierre, is the Maggi Magic Sarap, the magical all-in-one seasoning, followed by Libby's sausages, vegetable oil, and bathroom tissue.
Brighter, Smarter shopwise
Entering the store, you will probably miss the walkalator, which simply had to walk away to make way for a brighter, cleaner, smarter Shopwise. "Our space is now more compact — from 8,000 sq.m. before, we're now down to 5,000 sq.m., to make it easier, more convenient for consumers to go around because now, you have everything on one floor. You save time in shopping," Pierre describes Shopwise Alabang's vibrant new look.
The other big news is that Shopwise is bringing in the Giant brand, which belongs to the Dairy Farm International Group which boasts 6,000 stores all over the region. Giant has household items, cooking utensils, storage boxes, cleaning products, etc., which are much cheaper, like a wooden ironing board is a steal at P299 (P900 in other stores).
Shopwise is managed by Rustan Supercenters, Inc., a member of the Dairy Farm International Group. Through this partnership made in retail heaven, Dairy Farm makes available a wide variety of products sourced from different parts of the region at the lowest possible prices. "We now have the purchasing power of Dairy Farm, a $12-billion US company, which helps us source our supplies," Pierre shares.
Get fresh; you can feel it
A source of great pride for RCSI stores like Shopwise is their fresh produce. "We get direct from our farmers, our fishermen, so we can control the quality; we avoid all the middlemen and put back those savings into the price so we can pay the farmers a higher price and yet give consumers a lower price," Pierre gives us the lowdown on the prices.
Pierre adds, "We give our customers a wet market feel amid a very hygienic environment. We took out all the plastics that are not so environment-friendly. You can touch the products and see the quality for yourself."
Truly a value shopping destination, Shopwise offers a new "eat-inerary" for the whole family: the new Mongolian Stir Fry Station, where you can make your own bowl of assorted veggies, meats, and sauces for only P159, and the Chicken Station, which offers the popular roasted chicken in various flavors and a fried chicken line that can be enjoyed by the piece or by the bucket. For sure, supermarket shopping has never been this delicious!
Of course, not to be forgotten are the other members of the family — our precious pets. Shopwise now carries VitaPet, a line of pet food that offers complete and balanced nutrition for pets (cats and dogs) as well as grooming products.
A store is reborn
This marks the rebirth of a retail dream of a store that came to life 16 years ago. To sum it up, Pierre tells consumers, "Today, we return to the heart of value shopping. The relaunch of our flagship store signals exciting times for our customers as we commit to give them 'quality for all.' The Shopwise mission is to defend the Filipino's purchasing power by guaranteeing the best products and best values in town, to make the good life accessible to everyone."
For instance, Shopwise can help the housewife realize her dream of building her own house through the savings she makes from shopping at Shopwise. "I think that's where we get close to her heart, if we really try to answer her aspirations and being there when she needs us," says Pierre. "Like when the price of rice was going up four times within the year, we decided to freeze the price of rice even if we lose money."
The only trouble is, with all the attractive good buys on Shopwise's shelves and the huge savings you're bound to make, it won't be easy to exercise shelf control.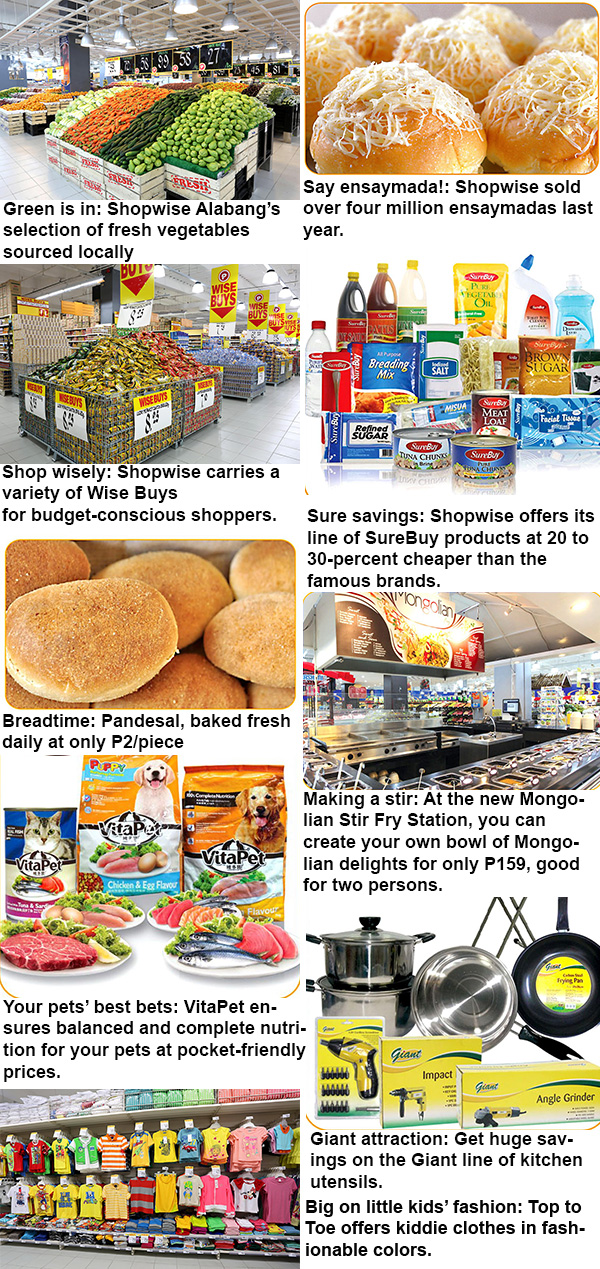 * * *
Shopwise Alabang is located at the ground floor, left wing, Festival Supermall in Filinvest, Alabang. It is open daily from 9 a.m. to 11 p.m. Visit www.shopwise.com.ph; www.facebook.com/shopwisesupercenters; www.twitter.com/shopwisedeals.