4 things that make the new ASUS Zenbook S 13 OLED 'thincredible'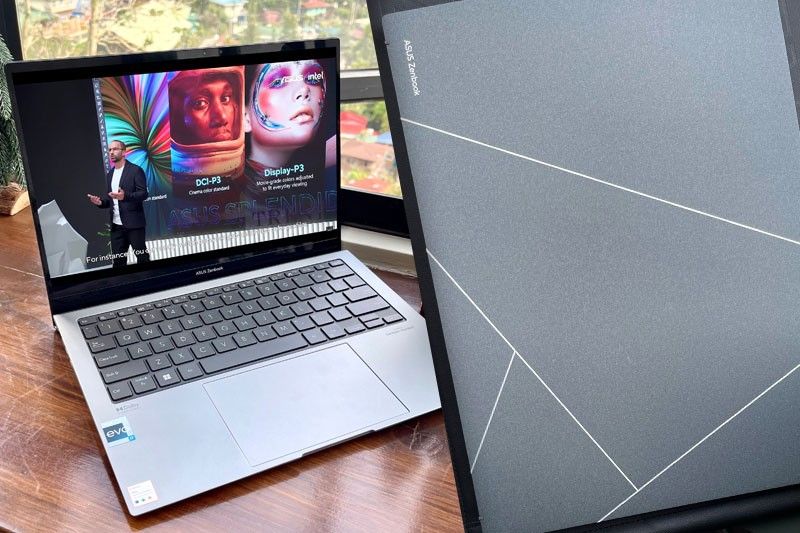 MANILA, Philippines — Thin is in. For devices at least.
In today's digital age, thin laptops symbolize peoples' ever-increasing desire for portability and convenience. And as consumers look for slim and lightweight devices that offer exceptional performance, laptop manufacturers like ASUS are faced with the challenge of constantly pushing the boundaries of design and technology.
In 2022, Philstar.com was able to experience firsthand the incredible power of the super thin and stylish ASUS Zenbook S 13 OLED (2022), the brand's serious challenger to the MacBook Air.
This year, ASUS launched its latest iteration of Zenbook S 13 OLED. Dubbed the "world's slimmest OLED ultraportable," it is considered the brand's newest, lightest, most durable, most powerful and most sustainable Zenbook ever. But does it live up to its claim of being "thincredible?"
Here are four reasons why we think it does.
1. Style made sustainable
First impressions often last, and the same is true in the ASUS Zenbook S 13 OLED (2023), which immediately catches your attention with its appealing look and unique feel that's similar to a natural stone.
Despite its ultrathin size and lightweight, the device boasts a solid body and a beautiful lid, thanks to what ASUS calls its first-ever application of "plasma ceramic aluminum"— something truly different from other laptops we have experienced.
According to the brand, this is a material made through a special process that uses "99% pure water" and does not incorporate organic compounds, VOCs, strong acids or heavy metals. Additionally, the ceramic aluminum component is 100% recyclable, meaning it's more resistant to everyday wear and tear and assures a longer lifespan.
Apart from the laptop lid, there are even more numerous touches of sustainability in the device. The keyboard cover uses recycled magnesium-aluminum alloy, just like the chassis cover and bottom case which also uses recycled aluminum. Keycaps are said to be made of 50% recycled plastic and the speakers are made with 5% ocean-bound and 45% post-consumer recycled, plus it's completely glue-free.
Moreover, the packaging uses zero plastics, paint and coating, and the FSC-certified paper packaging is 100% recycled, reusable and compostable.
Truly, ASUS has pushed sustainability above and beyond in every aspect of the Zenbook S13 OLED (2023). Assessing the device's environmental impact in aspects of material selection, product longevity, packaging, end-of-life management and environmental stewardship, among many other factors, the device was given the EPEAT Gold certification.
There's more. As part of ASUS' commitment to do more through the Zenbook series, the company partnered with Communities Organizares for Resource Allocation (CORA), a non-profit organization, to promote the importance of creating sustainable programs to conserve the environment and solve issues centered on climate change that affects underprivileged Filipinos.
2. Lighter, slimmer than ever
In our review of last year's model, we were pretty amazed at just how light and thin the device was. But just when we thought that was impressive enough, the Zenbook S 13 OLED (2023) is made even slimmer.
Now only as thin as 0.43 inches (1.09 cm) and weighs only 1 kg, the Zenbook S 13 OLED is an almost-weightless and ultra-thin 13.3-inch laptop that you can bring with you, wherever you go.
The device, according to ASUS, also has a 30% slimmer silhouette, all while still managing to integrate a full HD IR Camera that doesn't add any additional bump.
Surprisingly, despite the laptop's downsizing, ASUS Zenbook S 13 OLED has a comprehensive set of ports. On the left sits the HDMI port along with two USB-C Thunderbolt 4 ports. On the right, meanwhile, is a USB Type-A port and a headphone jack.
This just gets to show that Zenbook S 13 OLED is designed—from its lightness and slimness down to its number of ports — to match today's demand for on-the-go productivity.
3. OLED display is a stunner
The Zenbook S 13 OLED keeps the feature that was well-loved in its recent version: its true-to-life OLED screen.
Now dubbed the ASUS Lumina OLED, the display of the 2880 x 1800 OLED screen is a sight to behold. The device kept the 16:10 aspect ratio and 85% screen-to-body ratio, providing users with a bigger workspace and more immersive viewing experience.
The ASUS Lumina OLED display is Dolby Vision certified and features Pantone® Validated color rendering and VESA DisplayHDR™ True Black 500 certification which ensures incredible detail from the most vivid colors to the deepest black.
ASUS takes pride in the improvements in this year's version display. It's now more accurate, more intelligent and more reliable.
The display guarantees a high degree of professionalism. Pantone is a trusted factor of color fidelity and ensures that this laptop supports all visual tasks in the most accurate and professional way to meet Pantone's rigorous testing and calibration standards.
Additionally, the Lumina OLED display was made more intelligent by allowing users to switch between pre-calibrated color profiles for specific usage scenarios or even set up customized profiles.
ASUS also brought in exclusive software to protect your display and prevent potential burn-in issues. It also removed flickering and lowered harmful blue light emissions by 70%.
4. More power, less limits
Lastly, the laptop makes no compromise on performance or functionality. It is packed with features and high-end components that can handle any multi-tasking scenario.
Harnessing the power of the latest 13th Gen Intel Core Processors, the device delivers premium performance — from quicker booting to efficient multitasking and high battery efficiency.
The device is an Intel® Evo™ laptop with instant wake-up (less than 1 second from sleep), a faster WiFi connection, and high battery efficiency to keep you productive throughout the day.
The ASUS Zenbook S 13 OLED comes equipped with a long-lasting, yet fast-charging 63Wh battery — something we particularly loved in this device as I was able to maximize it for around eight hours of continuous use. In terms of juicing up, the device can give you around a four-hour charge in under 30 minutes.
Not only can it keep up with my daily workload, but the tough battery is also something you can rely on, especially if you're considering taking the device out for long trips and remote work.
Thincredible on performance, display and sustainability
Keeping the best things ASUS has always been known for, while at the same time bringing refreshed and revamped features, ASUS did not fail to push the boundaries of design and technology in the new ASUS Zenbook S 13 OLED.
The new ASUS Zenbook S 13 OLED is a tool for those who demand excellence, portability and performance. Combining high-end power and design sustainability with a beautiful OLED display, the new ASUS Zenbook S 13 OLED is an ideal companion for achieving new levels of "thincredible."
The ASUS Zenbook S 13 was officially launched in the Philippines today and is now available for purchase.
Coming in brand-new Basalt Gray, the ASUS Zenbook S 13 OLED retails for only P79,995 and can be checked out at ASUS Concept Stores and authorized resellers. It comes with Two Years International Warranty and Platinum Protection Warranty and is available on Home Credit at 0% installment of up to 18 months.
On May 19-31, you can get your hands on the ASUS Zenbook S 13 OLED and experience all its wonders at the ASUS exhibit which will be held on the 2nd floor, SM Cyberzone Makati.