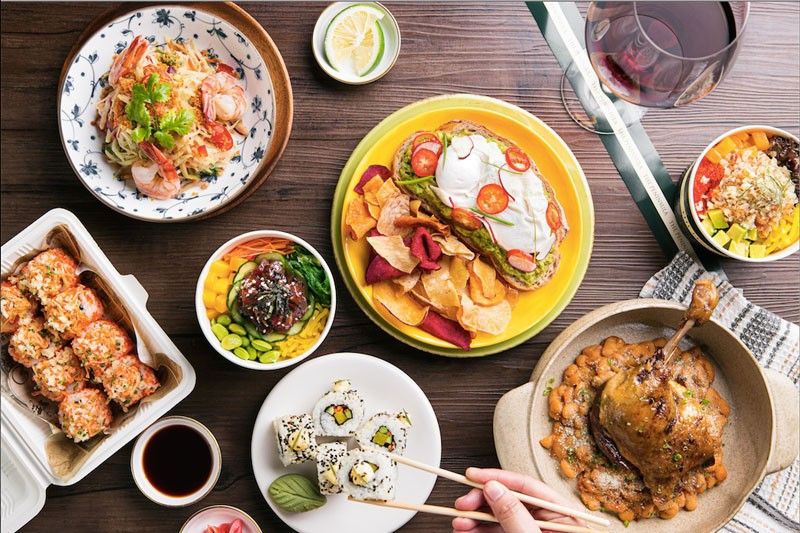 Beloved flavors: The Pen Boutique offers bestsellers from The Lobby, Old Manila and Spices for takeaway and delivery.
The new-normal staycation
Everyone's got memories of The Peninsula Manila Lobby. Hanging out after a concert (or stalking band members staying there); ordering the Pen Pals ice cream dessert as a "nightcap" after dinner; taking pictures of their Christmas tree and seasonal décor. So arriving for an overnight staycation after a long lockdown was, in many ways, like coming home.
This "home away from home" now has strict safety protocols, but always gilded with The Pen's refined brand of service and now-sustainable luxury. An overnight room package includes a rapid antigen test at a clinic of your choice, 24 hours before check-in.
When you arrive you step in front of a high-tech temperature scanner, and have the option of filling out contact information by hand or via QR code. (The latter is much more convenient because all your information is saved and you can virtually breeze into The Pen on your next visit.)
We entered The Lobby and were dazzled by the 45-foot-tall Christmas tree standing by the entrance. Jingle bells hang from the ceiling. And the reception desk is made of… gingerbread. Yes, The Pen's public relations director Mariano ("Garch") Garchitorena tells us some 620 actual gingerbread tiles went into the making of the festive reception desk, which leads all the way up to a mezzanine-level clock tower.
Lunch at The Lobby is a bit different, too: QR-scan menus instead of paper, a handy plastic folder to hold your facemask, and gloved servers now clad in white polo shirts instead of suits (to reduce laundry and air-conditioning costs) bringing your utensils covered in a linen napkin (which you will unfold yourself, for extra safety).
In the corner is a pop-up offering decadent pastries made with rare Philippine chocolate — products of The Pen's collab with Davao chocolatier Auro. The Pen Boutique, meanwhile, is doing brisk business in beef Wellington, according to Garch. They also deliver bento boxes made by the chefs of Old Manila, The Lobby, and Spices to clients' homes and offices, not to mention their Cakeaway Afternoon Tea box set, which actually includes a three-tier Villeroy & Boch tray and Peninsula page hatbox for those who miss afternoon tea at The Lobby.
The festive mood is enhanced by their pianist Martin, who reels out jazzy Christmas carols upstairs from 2 p.m. onwards. And, as guests and walk-ins fill up the Lobby tables (with staggered seating, for health reasons), it feels a lot like the familiar seasonal vibe of the storied hotel.
The Pen wants you to know they're back, open, and ready for guests. The 44-year-old hotel, which has withstood a tank invasion (during the Trillanes escapade) won't let a thing like coronavirus keep it down forever.
Rooms come with a personal sanitary kit (mask, alcogel, hand sanitizer wipes) in lieu of a minibar. Gone, also, are paper room-service menus; instead, you scan a QR code to call up the menu, or ask a question through "PenChat," a 24-hour messaging service. You can also use it to get all your morning newspapers (local editions, The New York Times, Financial Times, etc.) as well as complimentary access to 6,000 other newspapers and magazines online from their Pressreader account.
Our 10th-floor room overlooked a stunning view of Makati, and the art on the walls caught our attention, too, featuring as it did Filipino motifs like jeepneys and local textile weaves. (For those interested in the hotel's art, Garchitorena offers a tour through The Pen's Ang Kiukoks, Malangs and other notable artworks.)
The Pen is walking distance from Ayala Center's shopping malls, so we did a bit of shopping before heading back to the hotel for some R&R. Given a choice between The Fitness Center (Garch says they limit access to avoid crowding and have scheduled deep-cleaning periods) and the pool, we opted for the pool and a sunset cocktail.
We took a number of laps then sat poolside, where other guests were relaxing a safe social distance apart. Some were having drinks by the outdoor bar. Following their lead, Scott ordered a cold Sapporo beer, while Therese had a superb margarita conceived by The Pen's beverage manager Rico Deang. With our cocktails in hand, it was perfectly easy to get into staycation mode.
We then had dinner at Spices, the only other dining outlet open at the moment and brought back by popular demand. Its scenic pavilion area facing the swimming pool is already attracting lots of diners who miss Spices' Asian flavors, helmed by Indian chef Radhey Shayam. After perusing the contactless menu, we ordered our favorite crispy vegetable samosas, Pad Thai, shrimp cakes and pomelo salad.
The restaurant's servers are gloved but not in the usual white gloves of bellhops; The Pen's "new normal" rubber gloves are color-coded: white to bring your orders, blue to bus out used plates — all in all, it's a smooth operation.
The Pen has also added "The Seven Loves of The Peninsula" —experiential tours that you can book free with a room package. These include savory and chocolate-based tours at selected Poblacion restaurants; an art tour in the upper lobby coordinated with the Met; and "55 Cocktails Inspired by the Movies," wherein guests can enjoy cocktails in the upper lobby accompanied by movie themes played on piano. "We'd had lots of time during this period to reinvent and come up with ideas," Garch says, though implementation is largely dependent on health guidelines.
According to Garch, it's been a period of readjustment for The Pen's 450 employees. No one has been downsized, to their credit. "We just rotate their schedules so everyone has a chance to earn," he says.
And now, as Christmas season is in full swing and we turn the page on a very difficult year, they're just waiting for that most special gift to arrive: a new sense of normal, with guests finding their way back to The Peninsula Manila.
* * *
Rates start at P6,300 for room packages including rapid antigen test, breakfast for a family of four, and taxes. For details and to learn more about the "Seven Loves of The Peninsula Manila," visit www.peninsula.com/manila or call 8887-2888. The Christmas Gingerbread House Decorating class will be held online this year, with decorating kits available at The Boutique for P1,800.
* * *
Follow the authors on Instagram @scottgarceau and @theresejamoragarceau.