Skewered chicharon? Hai!
August 15, 2019 | 12:00am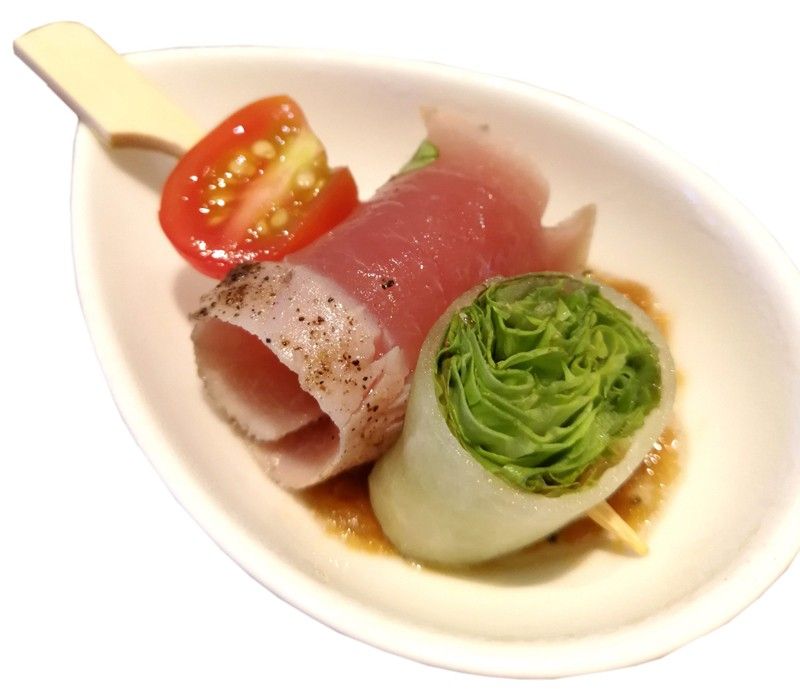 Nobu Manila's new head sushi chef Keiichi Hirukawa wishes to fuse Filipino flavors into iconic Nobu-style dishes. 'To create this Nobu dish that you can only eat in Manila,' he says.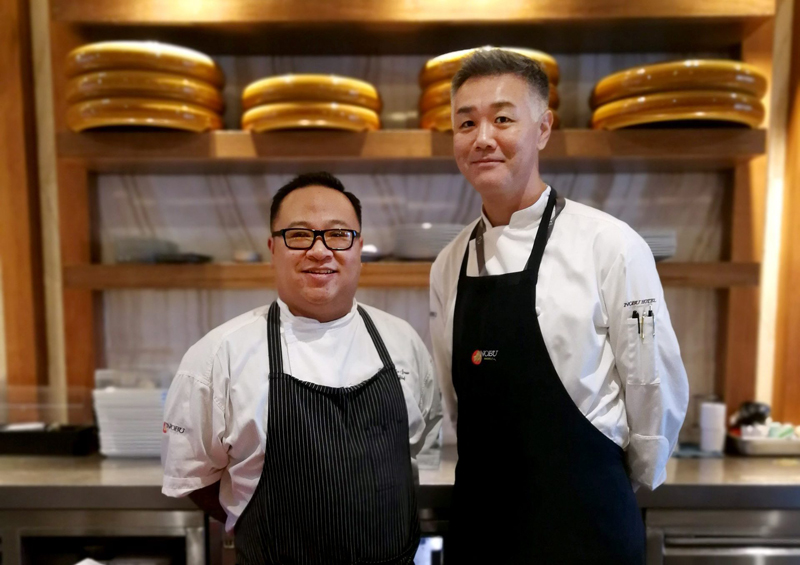 Chef Michael de Jesus and Nobu Manila's new head sushi chef Keiichi Hirukawa
Millie: You can't get me out of bed on Sundays unless it's for work or something yummy! Knowing it's my absolute rest day, Karla planned a Sunday surprise brunch at Nobu and I got so excited.
We came early, as Karla wanted to take good pictures before guests came in and messed up the food display. As she went from station to station taking food pictures, I looked around and drooled. The seafood station had blue crabs, fresh boiled shrimps, clams and mussels displayed on crushed ice. I was amused to find sinamak as one of the dipping sauces offered alongside the Nobu cocktail sauce and ponzu.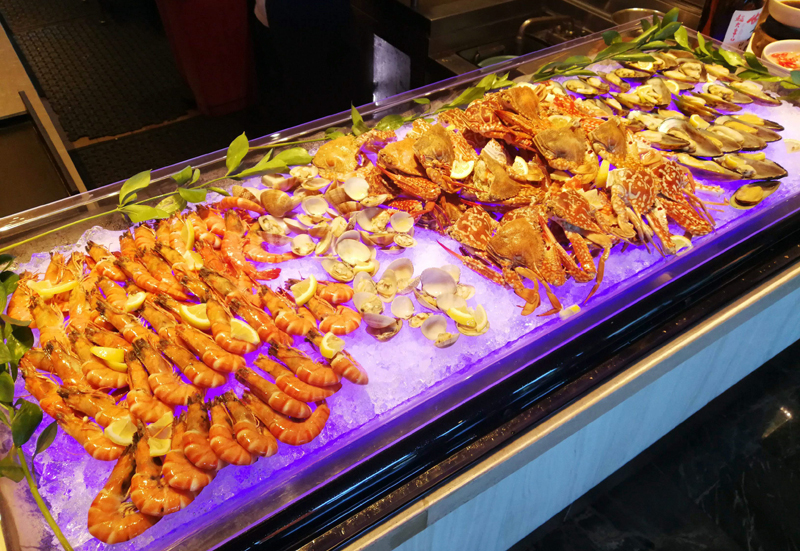 Seafood station with blue crab, clams, shrimps and mussels
The sushi-sashimi station definitely looked interesting to me, and I knew right away which items were my choice picks. First to catch my eye was the Norwegian Salmon Toro Nanbanzuke. I was intrigued by this new-style sashimi, which was Emperor fish with ginger, lemon, sesame oil and olive oil, as explained to me by new executive chef Kei Hirukawa. I am told that the Emperor fish is called betilla locally, a kind of white snapper also known as maya-maya.
Another new item I found was the Sawara with chimichurri and chef Kei says he used fresh tanigue for this. The salmon Oshizushi was also delightful and I ended up popping a few pieces into my mouth.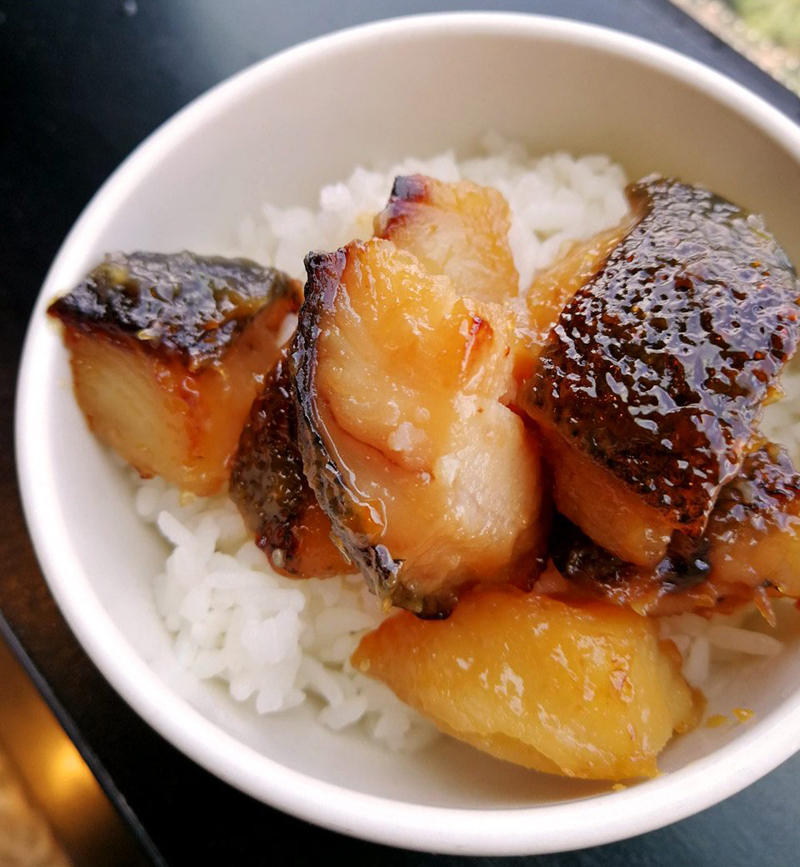 Karla's favorite: Gindara, or black cod, which she made into a rice bowl.
Karla: Chef Hirukawa was born in Tokyo, Japan, and raised in Florida, USA. With over 20 years of experience as a sushi chef in US-based Japanese restaurants, he finally found his way to Nobu Malibu in 2017.
The recently arrived chef shared with us his vision: "To create this Nobu dish that you can only eat in Manila," one of which is the Salmon Sashimi with Gata Salsa, a medley of thinly sliced fresh salmon, coconut milk, bits of pineapple, ginger, green chili, onion leeks, and a drizzle of amazu. Chef Kei wishes to fuse Filipino flavors into iconic Nobu-style dishes, creating signature dishes that you can only find at Nobu Manila.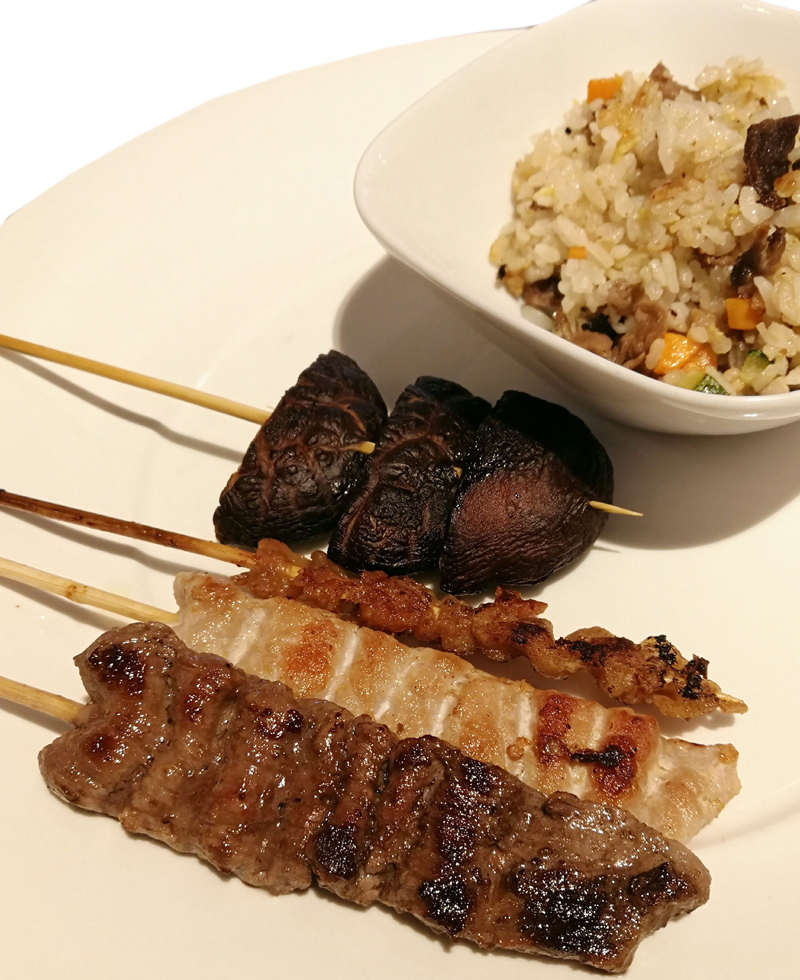 Beef, chicken, chicken skin and Shitake mushroom kushiyaki
Millie: Moving on to the hot dishes, I had a slice of Okonomiyaki topped with bonito flakes. It was freshly made and so fluffy I could have eaten another slice! Instead, curious me picked the crispy rice topped with beef, perfect for those who like "tutong" rice like me. I also had a plate of mixed vegetables and seafood cooked with red chili and garlic — so powerful and spicy but delicious! The black cod cubes were soft and tender; I kept popping them into my mouth.
Onto the carving station: the salmon honey sesame aioli was also good, but I went back to the black cod for a second helping. I was already quite full when I walked into the Kushiyaki station, so I just picked a skewer of beef kushi and dipped it in anticucho, a delightful Peruvian sauce.
Then I saw the chicken-skin kushi and smiled. I had two skewers! Imagine, skewered chicharon!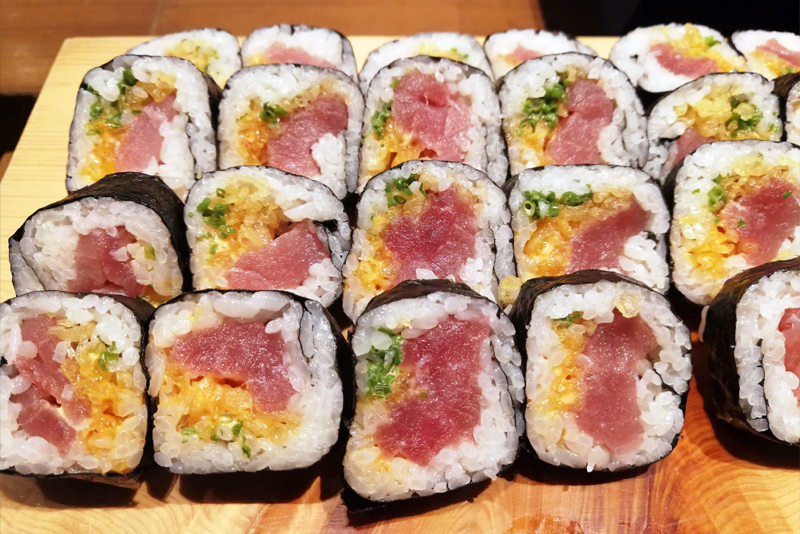 Crispy spicy tuna rolls from the Nobu Sunday Brunch
Karla: It took me a while to actually go around the buffet since I was taking photos. But I was salivating at the same time. I think my favorites for the day were all the Norwegian salmon variations at the sushi bar. They had it with goma dressing, salmon oshizushi and salmon aburi oshizushi. Oshizushi means "pressed sushi." It is a traditional style from Kansai, Japan. The sushi rice is pressed into a wooden mold to form a block. From there, you can cut it into different shapes like triangles, squares or rectangles.
Once I decided to move on to the hot buffet, my eye immediately locked on the black cod, or gindara. The gindara was at the far end of the buffet and was portioned into bite sizes. I got a soup bowl and filled it with rice, then topped it with gindara. Boy, was I happy! I had made my own gindara rice bowl. Right after, I moved on to the kushiyaki station, having a stick each of the beef, chicken, chicken skin and mushroom. But after having my fill, I decided to go back for a second gindara rice bowl. Ha ha!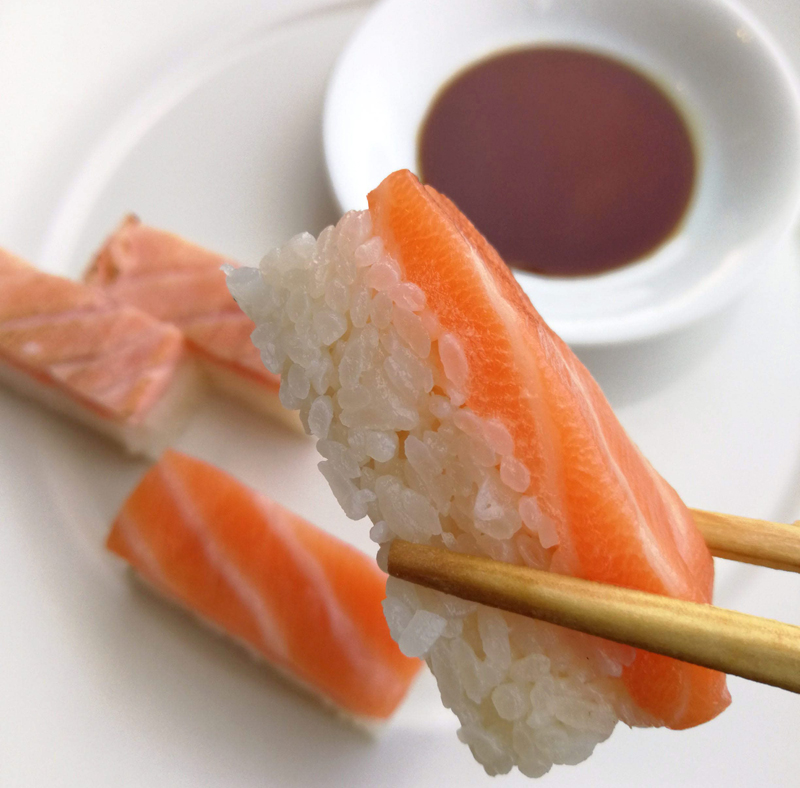 Pressed sushi: Salmon oshizushi and salmon aburi oshizushi
There normally is a carving item and the time we were there, it was salmon. I felt like I'd already had my fill of salmon from the sushi bar, so I opted not to try. I think I was happy enough with my gindara.
Millie: Finally, for the sweet toothed, the Black Forest Verrine was gorgeous! I could have had a second one. The hazelnut and milk chocolate layered cake was creamy-licious. The baked cheesecake had a slight taste of lemon, just enough to wash away the mix of spices still alive in my taste buds.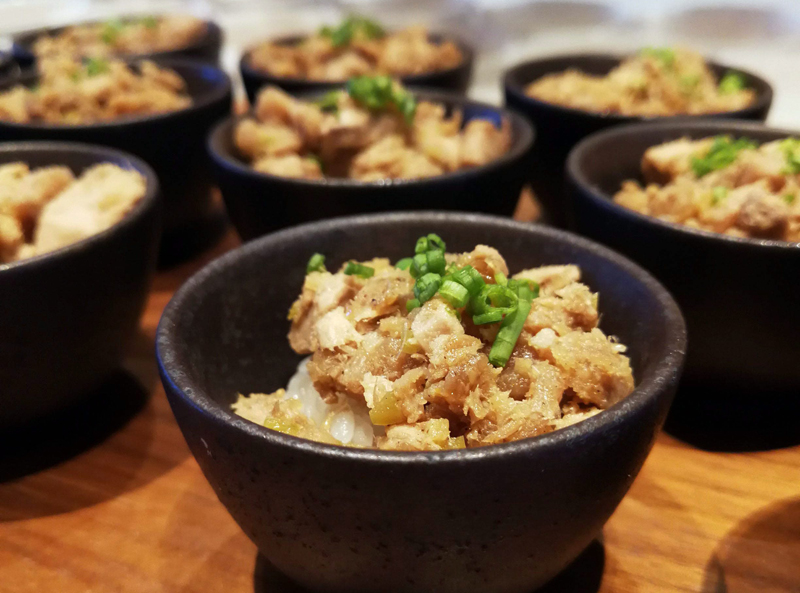 Cup sushi: A mini sushi rice bowl with toppings
* * *
The Nobu Sunday brunch is priced at P2,699+ and P1,475 net for kids 6-12 years old. You may upgrade and add on alcohol. There are packages for sake, cocktails and champagne. The champagne package includes champagne cocktails and mimosas as well. Nobu Restaurant Manila is located at City of Dreams 1, Nobu North Tower, Aseana Ave, Parañaque, Metro Manila. For inquiries and reservations, call 691-2882 or 691-2885.