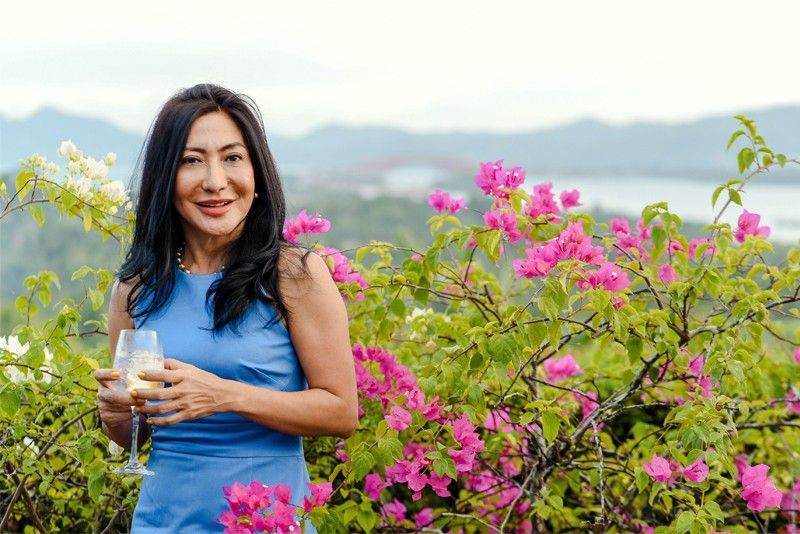 Cathy Añover-Bonavitacola brings the taste of Italy to Tacloban with her restaurants Giuseppe's Ristorante Italiano-Filipino and Pasqualino's Ristorante Italiano.
With a feisty waray spirit and a prayer in Fatima, an Italian Resto rises in Samar
'I am such a fighter and I wouldn't let a tragedy like Yolanda scar us for life,' says Cathy Añover-Bonavitacola.
When life gives you (canned) tomatoes, make a delicious puttanesca!
This simple Italian fare helped a restaurateur's family in Tacloban get back on its feet after the devastation wrought by typhoon Yolanda.
Cathy Añover-Bonavitacola couldn't help but tear up as she recalled that fateful day on Nov. 3, 2013. "The storm surge created waves as high as a coconut tree, so everything was wiped out," she shared.
Though the Bonavitacola's residence, which is located near the airport, suffered minor damage, their Italian restaurant Giuseppe's in Tacloban was totally ruined.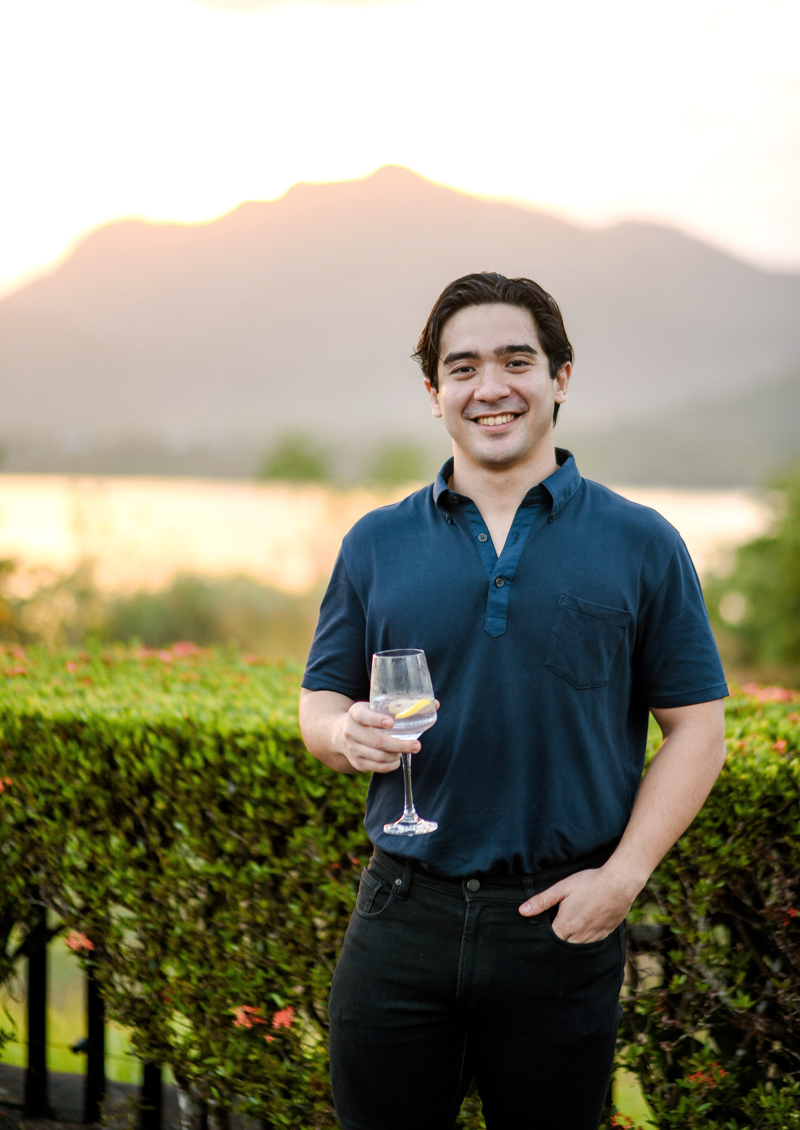 Giuseppe Bonavitacola is now in charge of Pasqualino's operations.
"Giuseppe's wasn't insured," Cathy admitted. "I guess most businessmen here at that time didn't have insurance, so it was really hard to start all over again."
That was when the Waray in her kicked in.
"I'm such a fighter and I wouldn't let this tragedy scar us for life," Cathy enthused.
And so, a week after the typhoon hit, Cathy put her game face and sneakers (the only footwear she managed to save) on and made a sweep of her other restaurant, Pasqualino's, in Sta. Rita, Samar, to look for things and food items that could still be salvaged. There, she found sacks of flour and canned tomatoes.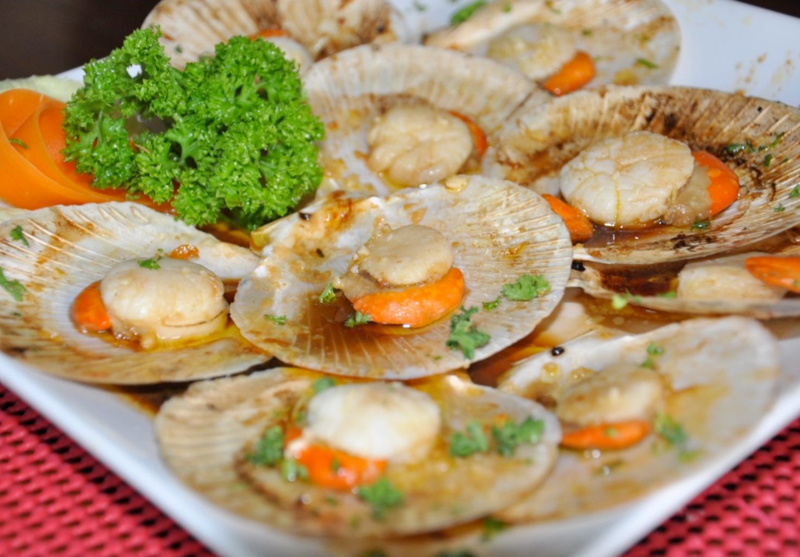 Baked scallops with butter & garlic
"It was like seeing a pot of gold," Cathy said with a hearty laugh.
Perched on the rolling hills overlooking the San Juanico Bridge and Strait, Pasqualino's Ristoranti Italiano was spared from floodwaters.
"At that time, foreign aid workers were flying in to Tacloban to distribute relief goods and conduct rescue operations. They were just so tired of eating from cans," Cathy related.
And so she decided to bake some pizza and whip up pasta using the ingredients she managed to save. And since there wasn't electricity yet, she used the brick oven her Italian husband Joseph made for Pasqualino's.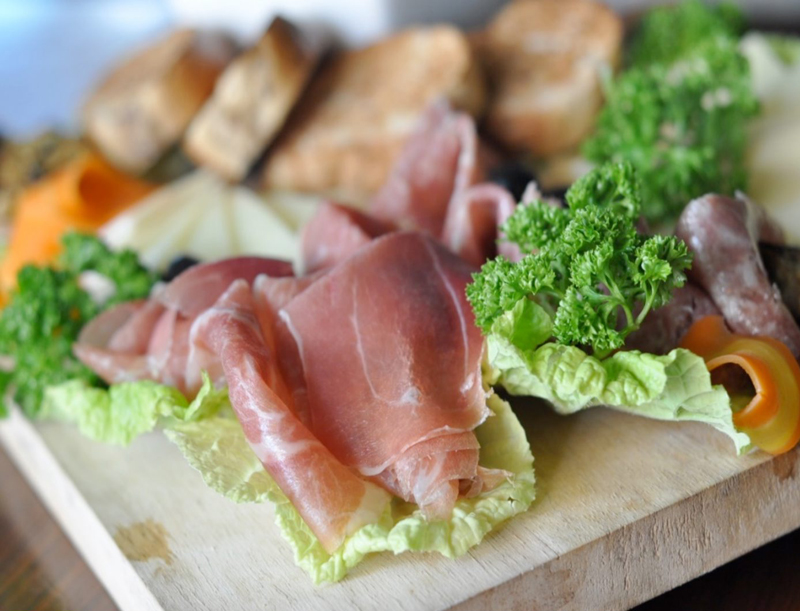 Antipasto of cold cuts, prosciutto, salami, olives, mixed cheese and bread.
"Thank goodness there were loads of firewood from the debris," Cathy said.
Needless to say, her pizza and pasta combo, which went well with "hot" beer, were a big hit among the foreign aid workers.
And yes, the feisty Waray was back on her feet!
With the earnings she saved from selling pizza and pasta, Cathy managed to fix the flooring of their home in Tacloban and rented it out to the UK Aid workers for a year and to the US Aid workers after.
"Again, I used the money from the rent to fix Giuseppe's. And it was back in operation in no time," shared Cathy, who's long dreamt of Tacloban making it on the tourist map.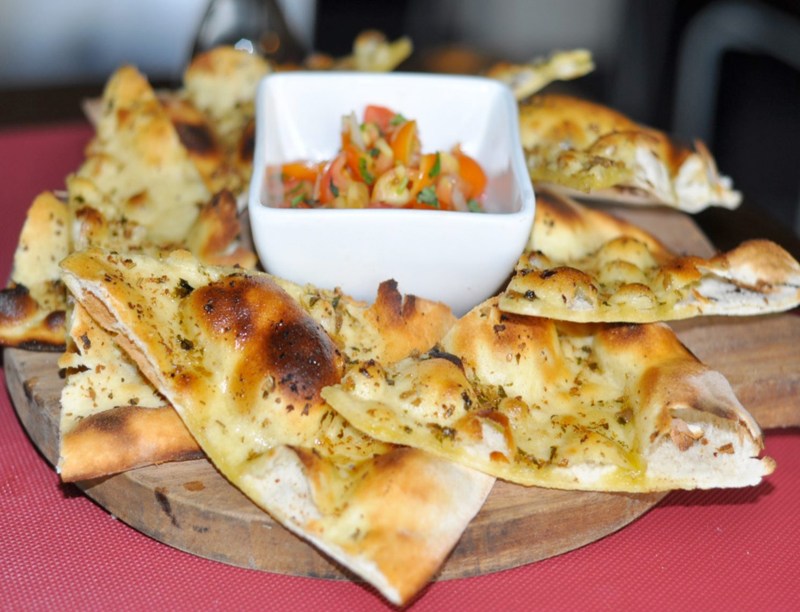 Focaccia bread with the freshly chopped tomatoes
"In September 2013, I went to Portugal for a three-day vigil for the Lady of Fatima. Thousands of tourists/devotees go there every day. Before the apparition, Fatima was just farmland. I want Tacloban to attract as many tourists as Fatima — not in a religious way but perhaps through tourism."
And so, when Tacloban hogged not just the local but foreign headlines because of Yolanda, Cathy was dumbfounded.
"Did I wish for this? Yes, but not in a bad way. Suddenly, Tacloban is now on the radar of local and foreign tourists," she said.
Samar's best-kept secret restaurant
Cathy's family migrated to the US in the '80s. She studied in New York and worked in an investment firm there.
It was also in New York where she met her Italian husband Joseph, whose family used to run a restaurant in Italy. They are blessed with two good-looking sons, Pasqual, who's taking up Medicine, and Giuseppe, who's an artist and is into the culinary arts.
She would go back to the Philippines once a year to visit her now-deceased parents, Dr. Manuel Añover and Fe Tolentino-Añover, who opted to retire in Tacloban.
Cathy fell in love with Tacloban once again, so in 1992, she decided to open Giuseppe's, the 26-year-old Tacloban haunt famed for its handmade pasta and wood-fired brick oven pizza.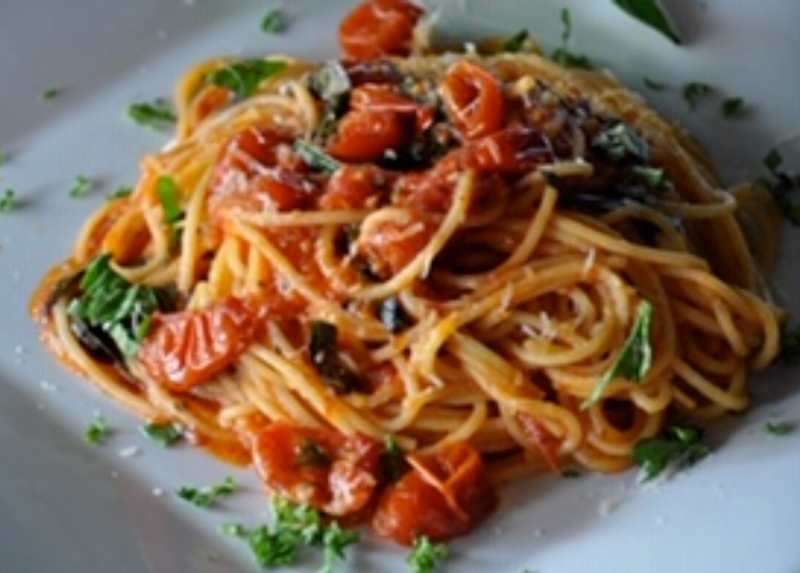 Spaghetti with fresh cherry tomatoes
"I didn't have formal training in culinary arts. I just love to eat. And since my husband's family used to run a restaurant in Italy, I decided to put up one here," Cathy said.
During trips to Italy, Cathy would dine in various restaurants there and made a mental note of the food items she thought would click with the Warays.
"It was so hard to introduce tomato-based spaghetti to my kababayans because they're so used to the sweet variety. To them, savory dishes that taste sour (except for sinigang, of course) is panis (spoiled)," Cathy lamented.
As much as she wanted to tweak the recipes, she didn't out of respect for her husband's Italian roots. Thank goodness the locals' palates adapted.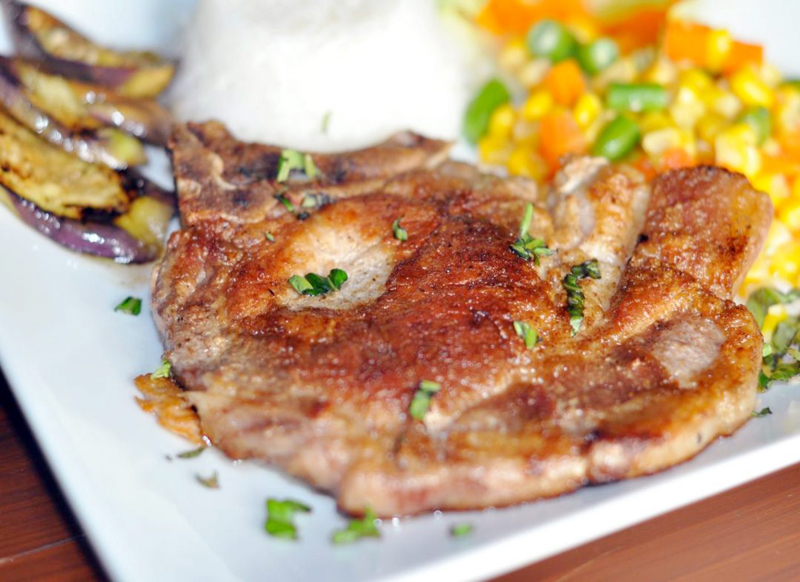 Grilled porkchop with rice & vegetables
And in just a few years, she opened her second restaurant, Pasqualino's.
Just 45 minutes away from Robinsons Tacloban and Summit Tacloban, this Italian restaurant sits atop a hill in Sta. Rita, Samar, with a breathtaking view of the San Juanico Bridge.
Pasqualino's is open four days a week (Tuesday to Friday) and can seat 200 people. Because of its location, one has to take a private car uphill to reach the elegant restaurant with a pool.
Pasqualino's, named after her son Pasqual (much like Giuseppe's was named after her younger son), offers Italian dishes, from antipasto to dessert.
For starters, Cathy teased our palate with Antipasto Italiano, a plateful of cold cuts, prosciutto, olives, mixed cheese and freshly baked flatbread, followed by baked scallops with butter and garlic.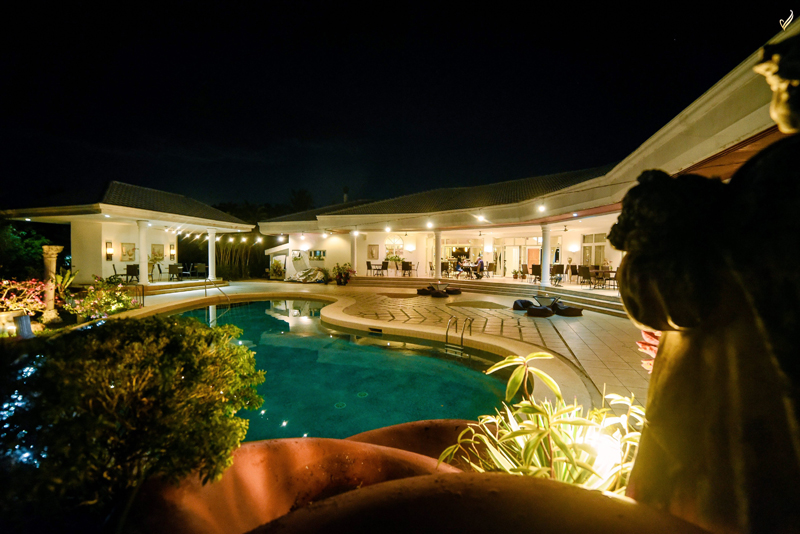 Sitting atop a hill with a breathtaking view of the San Juanico Bridge and Strait in Samar is Pasqualino's Ristorante Italiano, the perfect venue for a romantic dinner or wedding reception.
For the mains, we had beef tenderloin with peppercorn sauce, skewered meat and seafood.
While everything that came out of the open-kitchen that evening was delizioso, Pasqualino's had me at Pasta Amatriciana. This tomato-based pasta dish is made flavorful by guanciale (pig's jowl) bits, sun-dried tomatoes, olives, fresh basil and Parmesan cheese. The pasta, which was cooked al dente, is made from scratch at Giuseppe's.
Hearty eating is a culture shared by Filipinos and Italians, simply because it's the perfect time to bond over good food and wine.
"At Pasqualino's, dinnertime is always on a stretch," enthused Cathy.
Well, we didn't mind at all. Because as they say in Italy, "a tavola non si invecchia (you don't age while seated for a meal)."
* * *
Pasqualino's Ristorante Italiano is at 800M Private Access Rd. (from Pan-Philippine Highway), Santa Rita, Samar.
Giuseppe's Ristorante Italiano-Filipino is at 173 Agenda Veteranos, Tacloban City, Leyte.
For reservations, call (+6353) 321-4910.